Keep reading to know more mistakes brands make that can ruin their Instagram, then avoid them.
Mistake #5: They Purchase Followers / Engagement
Like it or not, buying and selling Instagram followers and engagement is a big business. If you don't want to spend the time building your following organically, Instagram is likely a waste of your time to begin with. If you need another reason not to purchase followers and/or engagement, the network is cracking down on fake and spam accounts, and they're taking them out in massive numbers. However, in case that you can't wait for organic engagement, spend your time finding good provider with high-quality and reliable service.
Overall, engagement rates on Instagram are on the rise. The easiest way to tap into this growth is through quality content and a consistent posting schedule. According to Simply Measured's study, the Interbrand 100 received over 130 million total engagements in Q4 of 2014. And photos accounted for 93% of those interactions.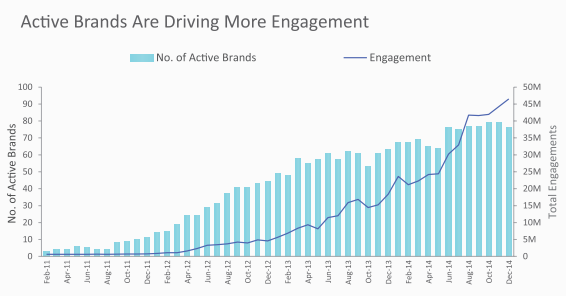 That's a lot of real engagement.
Who's doing it right? Nike
Nike is a multinational corporation famous for their footwear, apparel, sporting equipment, and services. The brand is often referenced for their innovative marketing strategies, and they've earned an impressive Instagram audience with close to 13m followers. On average, each Nike's Instagram post gets 128k likes and close to 900 comments according to PicStats. In addition, TOTEM Analytics shows that Nike increases in the number of followers by roughly 1m / month.
Although they only posts 0.45 times-per-day on average, Nike's attention to quality, compelling and influential messages. And an ability to create genuine connections with their audience through photo and video is what helps them become one of the most dominant presences on the social network.
The high-quality photos, captivating captions, utilization of location tagging, and relevant hashtags are working well for the brand as you'll see below.
Mistake #6: They Fail to Maximize on Their Following
Instagram users approach to brand and they're consuming and enjoying interesting content at impressive rates. The social network continues to give brands huge opportunities for growth. However, an engaged following today doesn't guarantee an engaged following tomorrow. How you interact with and leverage your Instagram following can mean the difference between flourishing and flopping on the social network.
One of the simplest and most effective ways to offset the additional resources needed to create a successful Instagram presence can be found within your audience. Instagram is the perfect platform for promoting UGC, probably more so than any other social network. You're running a photo contest or are encouraging the use of a branded hashtag? Instagram is the perfect platform for building real relationships with real people.
Give your followers the opportunity to spread your message, share your content, use your hashtags, and serve as advocates to your brand.
Who's doing it right? BarkBox
BarkBox is a monthly surprise package for dogs that includes toys, treats, and goodies. The company donates 10% of their profits to dogs in need and has already rescued 800 puppies. According to TOTEMS Analytics, BarkBox grows in follower count by roughly 32k / month.
The brand has one of the funniest, most entertaining accounts on Instagram. They feature some of the most popular dogs of Instagram on their account, which has helped them promote engagement, grow their following, and promote branded hashtags. They've also made a VIP program that allows them to earn business return via Instagram.
There's a reason BarkBox is raking in 15k likes and 1k comments average on each post.
Try not to laugh (volume recommended).
One more for good measure.
Here's an example of their VIP program in action.
Mistake #7: They're Overly Promotional
Is there anything more unflattering than brands posting nothing but promotional content on their social networks? Buy this, sale on this, big savings, free shipping!
Overly promotional posts come across as selfish, lazy, and depending on timing, potentially distasteful. While there's certainly a time and a place to be promotional, brands succeeding on Instagram are the ones delivering powerful and meaningful messages, visually presenting their culture, sharing quality photos and videos, and engaging with their audience.
Moreover, it's no secret Instagram is a Facebook-owned entity. If you remember, Facebook made a News Feed update back in November of 2014 announcing significant drops in organic reach for promotional posts.
Don't be tacky on Instagram.
Ben & Jerry's is a dairy company known for their delicious ice cream, and more recently, their mouth-watering Instagram feed. According to TOTEM Analytics, the Ben & Jerry's Instagram account grows in follower count by roughly 14k / month.
Instead of posting pictures of ice cream every day (which would most likely still work for them), Ben & Jerry's regularly shares fans' photos on their page. What better way to get people excited about taking pictures with your product than sharing them publicly for the world to see? It's worked well for the brand that on average scoops 20k likes-per-post according to PicStats.
Below is an example of user-generated content shared by Ben & Jerry's, along with a video post delivering a very powerful message while utilizing their product.
Mistake #8: They Aren't Sold on Instagram
Do I have enough time to manage another social network? Is it even worth joining Instagram if my business / products / services aren't visually friendly? Do I have the right resources to create quality photos and videos? If you're questioning whether or not Instagram has a place in your social media marketing strategy, you're not alone.
According to Rival IQ's 2015 Social Media Trends research, 38% of marketers stated that Instagram was unimportant, with another 20% stating it was only somewhat important. As the fastest growing major social network with one of the most engaged audiences, it's becoming increasingly difficult to overlook Instagram's value.
In less than five years, the network has grown to a whopping 300 million users who in one day share an average of 70 million photos while liking 2.5 billion.
Instagram is worth the investment.
General Electric is a power and water, oil and gas, energy management, aviation, healthcare, transportation, and capital corporation. According to TOTEMS Analytics, General Electric grows in follower count by roughly 2k / month. While they may not be the first brand that comes to mind when you think Instagram, General Electric has been known for leveraging social media to connect with their audience.
GE gets Instagram.
The brand does an incredible job bringing their core values to life through photo and video on Instagram. In addition, they've found a way to take an otherwise very serious subject matter and make it educational, interesting, and exciting.
Working around the clock to build, power, move, and cure the world is the theme they showcase throughout photos and videos like the following.
Conclusion
Over the last 4+ years, Instagram has gone from a social network known for selfies and food pics to a platform brands are leveraging to deliver meaningful messages, tell stories, and engage with people on a human to human level. We'll continue to hear about, read about, speak about, and experience firsthand the opportunity Instagram presents to brands and marketers as network continues to grow.
Brands getting the most out of the network are the ones posting quality content on a consistent basis, and are doing so with a purpose. Even brands that aren't thought of as visually friendly are leveraging the network and seeing it work.
The Instagram community likes connecting with these brands; so much so that they've expressed interest in learning more about brands and products after they've been inspired by what they're posting.
Are you taking advantage of what Instagram has to offer?