Over the past few years, Instagram Stories has become a great feature for you to express yourself on the platform. Unfortunately, all of your Stories will disappear within 24 hours. Don't worry! You can save these great stories for your audience to engage with by using Instagram Story highlights. Here are the best Story highlights ideas for Instagram.
First, let's explore what story highlights for Instagram are!
What are Story Highlights for Instagram?
Stories highlights are shown right below your bio. Instagram highlights will stay there, on your profile until you remove them. You can also create as many highlights as you would like. This feature allows you to highlight anything you have shared on your story in the past.
Using this feature, you can save all the memories or great images of your loved ones to watch later. Moreover, Instagram story highlights bring a great opportunity to brands to save information that they've announced on their stories for audiences to follow. Then even new audience who just follow you can explore more information about your business via these highlights.
How to Create Instagram Story Highlights
Instagram story highlights are available for both personal and business accounts.
While Instagram stories vanish within 24 hours, Instagram highlights allow you to save your stories then you can continue access to them later. You are able to categorize Instagram highlights into albums and add a cover image on top. Check our guide to get some amazing Instagram highlight cover ideas.
Follow these easy steps to create a great Instagram highlight:
1. Go to your Story, choose Highlight in the bottom right corner.
2. Tap the Highlight you want to include your Story to.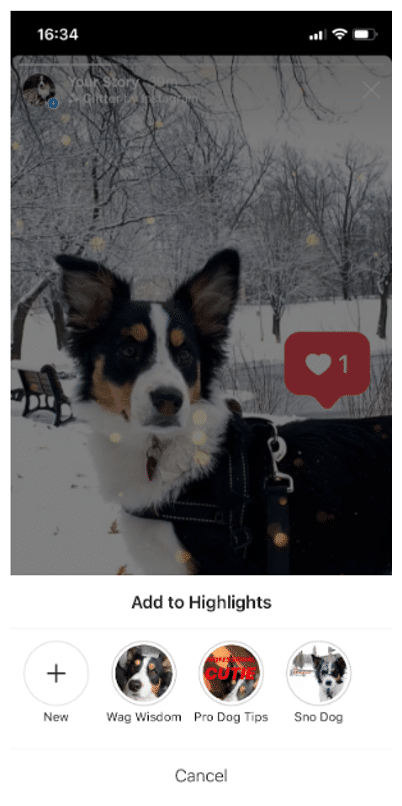 3. Or, choose New to create a new Highlight, and type out the highlight's name. Then click Add.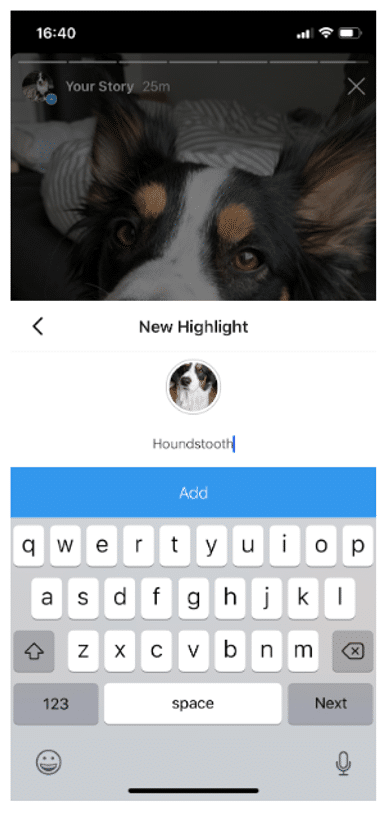 And that's it! You just created an Instagram highlight.
You can also create Instagram highlights right from your profile by following these steps:
1. Go to your profile and tap the +New button (the big plus sign).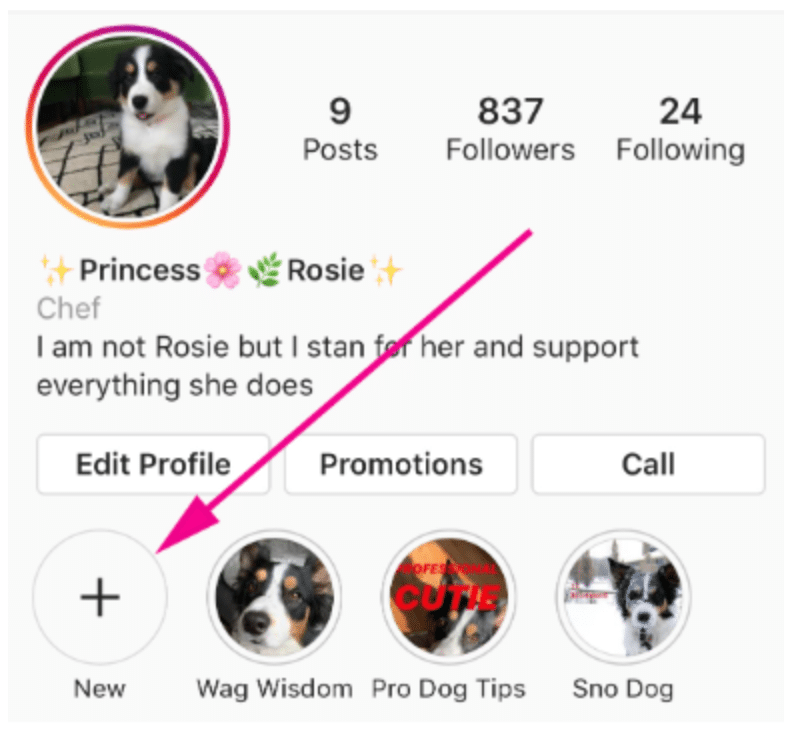 2. Pick the Stories you want to include to your new Highlight.
Hot tip: Instagram gives you an archive of your old stories going back years. So don't be afraid to do a little digging for those Story gems.
3. Choose Next and type out the name your new Highlight.
4. Tap your Highlight cover, and choose Done.
Story Highlights Ideas for Instagram
If you don't have any Instagram story highlights ideas, let's take a look at these ideas from brands that successfully use highlights to engage their community. They will give you more inspiration for making your amazing highlights and highlight covers.
Cute Instagram Highlight Covers
Cute highlight icons and great use of brand colors in Greetabl's Instagram highlight covers!
It Cosmetics makes all of their Instagram Highlight covers to match their brand's aesthetic. They divide their highlights into groups of skincare products for each different body parts 
Bright, colorful, and using her own branded icons, Eleanor Bowmer has some of the cutest Instagram Highlight covers we've seen! She saves their stories of products into groups. 
Aesthetic Instagram Highlight Covers
Informative and very much on-brand, Enneagram Ashton makes it easier for followers to learn more about their type with her titled Instagram Highlight covers.
While each cover icon is different, the overall style and aesthetic are the same making Refinery 29's Instagram highlights unique. 
Mixing her own beautiful photos with other graphics is very on-brand for Hey Claire. And it fits the aesthetic of her Instagram account.
Creative Instagram Highlight Covers
Documenting her stories in a visual diary, Beatrice Rigby uses her Instagram Highlight Covers in one of the more unique and creative ways that you can get inspiration.
The clothing brand Saturday by Megan Ellaby uses their own print designs as their Instagram Highlight covers.
Kinfolk creates a new highlight for every new issue of their magazine.
Ways to Use Instagram Story Highlights to Engage Customers
Here, we recommend you some ideas that you can make use of the Instagram story highlights.
1. Promote your products
With Instagram highlights, you can advertise and showcase your best-selling products. In that highlight, you can also show reviews for specific products, photos, features, benefits, and more.
This is such a great way to engage your audience on Instagram and increase the chances that your followers will buy your products.
2. Show blog posts
You can include blog post links and save the most recent content on the highlight. Then it will be easier for your audience to access your latest blog posts, even if they read these posts after you've already promoted them on social media.
3. Reveal behind-the-scenes footage
The BTS footage is compelling and helps your audience connect with your brand. By keeping this footage on your highlights, you'll extend the engagement and hopefully boost interested and long-term viewers who keep coming back for more.
4. Answer FAQs
When users have questions, they go to find the answers on social media. A great way to reach those customers is to have a FAQ highlight where you discuss the top questions that users ask.
5. Include reviews and testimonials
We all know that people tend to buy products that have great reviews and testimonials. In fact, it's one of the top elements that impact purchasing decisions. That's teh reason why it's a great idea to engage those users who are researching your product by looking at social media with a "Reviews and Testimonials" highlight.
6. Display sales and discounts
How do you get the word out about current sales and discounts? One way to do this is through Instagram story highlights. You can save all this information on a highlight so that customers know they can always check this highlight before buying. Again, this keeps users coming back to your profile and react to your content.
Conclusion
Highlights can be interesting and totally unique to your company if you want them to be! If you know how to make use of Instagram story highlights, it will be a great opportunity for your brand to engage with customers.
Here are some free custom Instagram story highlight covers on Canva that you can use to create your own.