In the previous post we have stated about the benefits of setting up groups for Facebook business, the different types of facebook groups as well as how to create them.
In this article we will go into more detail on how to add an admin, together with how to rename the Facebook groups and finally tips to run effective marketing campaigns on Facebook groups.
How to add an admin to your Facebook Group
Whether it's your Facebook Page or your personal account, whoever creates a Facebook Group becomes an administrator by default.
Follow these steps to add another person or Page as a Facebook Group admin:
Click on Groups, then Your Groups, from the main Facebook page.
Go to the member list of the group to which you want to add an admin. You must already be a member of the group in order to add someone or a page. If they haven't already, invite them to join.
Click the three dots next to the person's or page's name, followed by Invite to be an admin or Invite to be a moderator.
Adding a person or a Page as an administrator follows the same steps.
Admins have the ability to remove other admins, including yourself, so you may want to elect others to be moderators instead. Here's a quick rundown of each's abilities: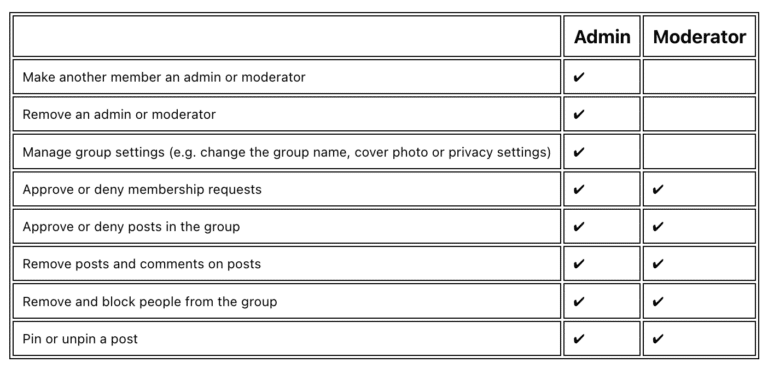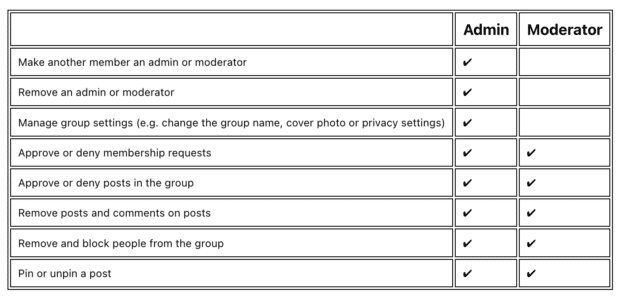 Source: Facebook
How to change the name of your Group on Facebook
Administrators can change the name of the group at any time, but only once every 28 days. In addition, all group members will be notified of the name change via Facebook.
Here's how you can rename your Facebook Group:
Click on Groups and then Your Groups from the Facebook home page.
In the left side menu, select Settings.
Next to the name field, click the edit button (pencil icon on desktop).
Enter your new name and press the Save button.
How to post in a Facebook Group
This is the simple part! Posting in a Facebook group is similar to posting anywhere else on Facebook. Simply go to the group, type your post in the post section, and hit the Post button.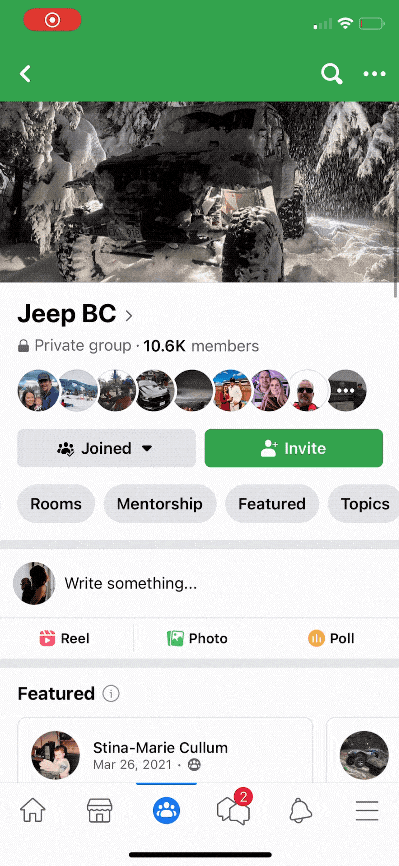 How to delete a Facebook Group
You can pause or delete your Facebook group if you no longer want to run it.
When you pause the group, you can keep all of its content, including the group itself, posts, and the existing member list. It effectively locks the group, preventing members from posting new content. You have the option to rejoin your group at any time.
Source: Facebook
To put your group on hold:
While logged in as an administrator, navigate to your group.
Click the three dots at the bottom of the cover photo for the group.
Select the Pause group.
Select a reason for pausing and then click Continue.
Make an announcement to your members explaining why the group has been put on hold and when you intend to resume it. You can also set it to resume at a specific date and time.
If you need a break from your group, try pausing it first, but if you really need to delete it, follow these steps:
Navigate to the Members tab in your group.
Before you can delete the group, you must first remove all of its members. This can be time-consuming because you must manually
remove each member from the group by clicking on their name.
After you've removed everyone, click on your own name (or the name of the Page) and select Leave group.
The organization will cease to exist.
When you delete a group, it simply vanishes, and your members are not notified. Not a good user experience for your most important brand fans. Furthermore, manually removing all of the members takes a long time.
The better option is to pause your group, regardless of whether you intend to reactivate it.
5 tips for Facebook Group marketing success
Create a clear code of conduct
This is a good idea for any group, but especially one representing your company. In your group's settings, you can add up to ten rules.
Your Facebook Group rules can be as simple as reminding people to be kind or encouraging discussion, or as specific as asking people not to mention competitors or their products.
You set the tone for the group's behavior by stating your rules up front. Rules can encourage desired behavior while discouraging undesirable behavior, such as spamming. Rules also provide you with something to refer to if you need to remove or ban a member.
Source: Facebook
Post welcome messages and announcements
While it may be tempting to let people talk amongst themselves, make an effort to butt in on a regular basis. With a weekly welcome message, you can make new members feel at ease. Schedule important announcements for product launches or special events for your group members ahead of time.
Engage with members, but let them lead
It is your responsibility to keep the group productive, on track, and respectful. But don't try to exert too much control. Encourage members to initiate conversations and to feel safe enough to speak their minds.
Perhaps your most recent product launch did not impress you as much as you had hoped. Rather than policing negative opinions and maintaining the group as a positive echo chamber, welcome feedback. Allow users to express their true feelings about what went wrong, thank them, and continue the conversation.
You don't want your members to go rogue and constantly criticize you, but attempting to control people's speech will backfire in the long run.
Ask admittance questions to keep out bots
This is essential for keeping spammers out. You can ask up to three questions that participants must answer when they join. This allows you to screen new members in some ways.
Among the most common requests from groups are:
Users must read and agree to abide by the group rules.
Addresses via email (both for marketing and verification purposes).
A simple but specific question to demonstrate humanity.
Not only will robots be unable to answer your questions aimed at carbon-based lifeforms, but this will also allow you to limit access to your group as needed.
For example, if your group is only for current customers, asking for their work email address allows you to determine whether or not they are a customer.
Source: Facebook
Offer high-value, unique content in your group
Why should one of your long-term customers or fans join your organization? What are they getting out of it that is unique? If you can't answer that, you have a serious problem.
Being involved in your group requires a higher level of commitment than the average customer, unless they are given a compelling reason to do so. These are your most valuable associates! Give them something tasty.
Here are some ideas for Facebook group-only content:
An AMA (Ask Me Anything) thread is held once a month.
Livestreams and other real-time events
Special offers
Early access to new product launches
Survey invitations in exchange for money or a special discount
Voting on new product alternatives (colors, features, etc.)
The ability to become affiliates and earn commissions on sales made on your behalf
There are numerous ways to make your group members feel special, but you only need to do one or two. Consider what you can provide that is both valuable and scalable to your group.
Are you stuck for ideas? Don't be concerned. Simply ask your group members what they desire. Isn't it convenient to have a focus group at your disposal?