Keep reading to know more ways to gain TikTok followers in 2020.
4. Look for TikTok Trends
TikTok users can sometimes be fickle. They love to follow the latest trends, and then discard anything they feel has been fashionable for too long.
You will often see multiple variations on one type of video – where many TikTok users have created their take on the trend.
Remember, in most situations, TikTok users aren't looking for you and your videos. They are looking for fun, exciting videos that follow the prevailing trends. This gives you excellent opportunities to join in, building brand awareness if you are a business (or even your personal brand if you're just an individual).
---
5. Use Trending Hashtags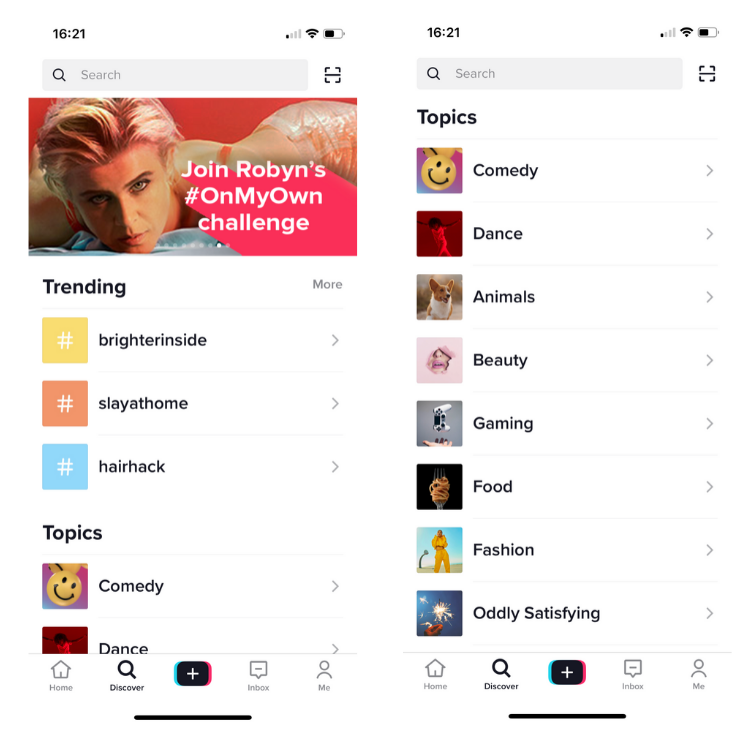 One specific type of trend that you can use to gain TikTok followers is to use trending hashtags. These add to your discoverability on the platform. People who search for those popular hashtags might come across your video. If they like them, they may follow you, in the hope of seeing more similar-type content.
As always, however, think carefully about the appropriateness of any hashtags you use. Some were created for specific uses, and if you misuse them, you might not attain your goals. Also, keep in mind your target audience. Not all trending hashtags will be relevant or of interest to them.
TikTok also has a few hashtags that may help you gain positions on people's "For You" pages, including #fyp and #ForYou. You will, of course, be competing with everybody else who uses these popular hashtags, so the quality of your videos remains paramount.
---
6. Post Quality Videos Regularly
We can't emphasize enough the need to post quality videos on TikTok. Sure, this doesn't mean that you employ a professional camera crew to make your clips; most successful TikTok videos are filmed using a smartphone. But it does mean that you plan your videos, film in high definition (everyday phones can do this now) and follow basic filming techniques.
While it's fine to follow the current TikTok trends, it is also essential that your video includes some original ideas. Indeed, the first step is to plan your video. Too often, people make their TikTok videos on impulse, without any planning. TikTok videos are short, so you can't include any wasteful footage. Make each second count.
Think about the lighting for your videos. If you must film at night, consider adding extra lighting. If you're shooting indoors, take advantage of any natural light without whiting-out or glaring the screen.
Buy a tripod to keep your camera steady. These don't have to be the professional quality giants that you have to lug from place to place. You can easily and cheaply buy small tripods suitable for use with a smartphone.
Music plays an essential role in TikTok, and the app has rights clearances making most music clips legally usable on the platform. Use music judiciously, so it fits in with your video content.
TikTok offers many filters, transitions, and effects. Use these with care. They can really add to a video, but use too many, and they can overwhelm the onscreen action.
Also, remember that your followers will expect regular content. And the more videos you make, the more chances you have of them appearing in "For You" feeds, being liked, and resulting in more followers.
---
7. Post Your TikTok Videos at the Right Time for Your Audience
As well as posting videos regularly, you should post them when your target audience is most likely to be online. TikTok experiments by sharing your videos on a small number of "For You" pages to begin with, and if they appear popular, TikTok shares your videos with a broader audience. If you post at the wrong times, your preferred audience may not be online at that time, and fewer early viewers show interest in your videos. As a result of this, TikTok might stop adding your videos to additional people's "For You" pages.
Over time, you should be able to see from your analytics the times of day when people are most interested in your videos. You can then use one of the social media management apps that recognizes TikTok to schedule your future videos at the optimal times.
---
8. Collaborate with Others
TikTok users love variety. One way you can do this is to collaborate with other TikTok creators. This means that you can create videos with double the value – two TikTok personalities in a single video. This gives you access to your collaborator's audience (and them to yours).
We have previously written on How to Find TikTok Influencers, as well as the Top Platforms for Finding Influencers on TikTok.
---
9. Engage with Your Audience
Finally, we emphasize the most important rule of social media. You must be social. You can't look at TikTok as a broadcast mechanism. It isn't one-way like television. We talked above about how you want an engaged audience. For that to occur, however, you also must engage with them actively.
If you want to gain your TikTok followers, you need to spend time communicating with other TikTok users. This means watching videos that interest you that you find in your "For You" screen, following those creators you particularly enjoy. In many ways, you need to model the behavior you are looking for in your target audience. Watch videos, like them, share them on your other social sites, and write engaging, informative comments. Keep a close eye on the comment streams on your videos and ensure that you are part of the conversation.