Keep reading to explore more knowledge from the guide to Livestream shopping on Instagram and other social media platforms.
Brands pay Livestream hosts to be featured, and these hosts take a commission on each merchandise sold. So, selecting which influencers to spend money on, an essential step in any influencer marketing campaign. It becomes even more essential in Livestream shopping.
Studies show that friends and family are still the most trusted sources when it comes to making purchasing decisions, with customers more likely to purchase a product they have experienced.  Up against this kind of scrutiny, it is necessary for brands to select a host with a proven following and high engagement rates, and up to the influencer to promote the event and highlight merchandise that will resonate with their base.
Micro-influencers check off these two boxes. Because their followings are smaller, they tend to get more right targeted insights into the type of content or products their audience is in search of.
The greater intimacy that defines the connection means that they are more likely to have followers tune into the Livestream.
Hard Work and ROI 
However while the best Livestream hosts boast higher engagement rates, putting on an event takes more than just a name and an engaged following.
Content has come to define the post-influencer era we currently find ourselves in, and the latest generation of creators understand this well. Keeping a following has become a balance between creating quality content that resonates with viewers while adding value to sponsorships.
Livestream shopping is no different and needs an equal amount of dedication from the hosts.
Planning a Livestream event is important to work, with influencers doing hours of research on the products they will feature, creating an authentic buzz around the event with their following, and sometimes even reaching out individually to followers they know might be interested in certain items.
All that is done to make sure that the audience stays engaged throughout. The curated content and host relationship to the audience is what drives the commercial aspect of the event.
And while the scenes aspect may be grueling, and the market competitive, when all these parts come together what you are left with is a virtual event that draws thousands of consumers, fifty or sixty items being sold in a second.
It is an approach that mixes convenience for the customer with ROI for the brand.
How It Differs From Home Shopping
However, haven't we seen this kind of approach before? After all, home shopping was huge during the '90s and early 2000s, with channels like the Home Shopping Network and QVC becoming household names.
So how is Livestream shopping different from its predecessor?
Well for starters, Livestream shopping takes benefit of the complete spectrum nature of social media. Whereas at home shopping afforded its viewers a modicum of interaction via call-ins and the like, Livestream shopping allows for more personal interaction between the host and those following.
Via comments, anyone viewing the stream can ask questions about the product, request to view a different angle, and so on and so forth.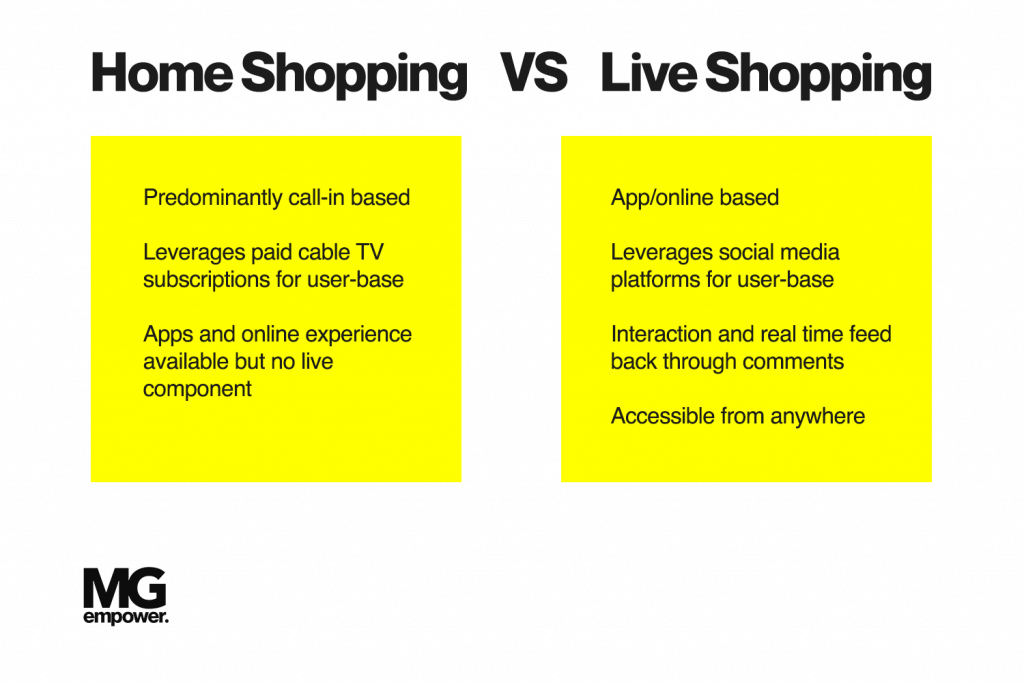 Harnessing the Power of Social Media
This sense of community is one of the most essential aspects of Livestream shopping. Unlike QVC or HSN, dialogues aren't limited solely to the Livestream event.
Hosts can begin to drum up interest around a particular event well in advance. They can also tease images and special offers and interact with members of their following.
And because social media is a two-way road, there is a near-constant dialogue between influencers and their followers, an exchange of information that is paramount for the success of the dwell stream.
A great host is able to get a feel for what they should show based on interactions with their followers. They shouldn't showcase anything that doesn't mesh well with their personal brand.
This dialogue furthers the loyalty between those who join in the live stream and those who host it, allowing Livestream shopping to reach a level of authenticity that QVC fails to match.
However, maybe the most important differentiator is that consumers can take part in a Livestream event from anywhere.
The real-time nature and on-the-go accessibility mean brands can get their products in front of a more diverse audience and hear instantaneous feedback.
Retail, Untethered 
With more than half of all online shopping traffic coming via mobile, the convenience that mCommerce affords the user, of being able to access the products they need from anywhere, cannot be underrated.
With Livestream shopping, customers can be a part of an event from anywhere, whether that be on the go, on break, or cozy at home in quarantine.
More importantly, they are not simply filling up a shopping cart, they are taking part in an experience.
And while this type of accessibility is key for consumers, it is equally important for brands looking to expand their audience and raise engagement with their products.
Rather than relying on top-down advertising or even sponsored posts, a product is featured in a natural way, with the complete weight of an influencer's platform behind it.
Diversifying the Experience
A great example of the above is the makeup brand NYX. In a live-stream hosted by a popular influencer, the brand saw an opportunity to combine live shopping and makeup tutorials. Users that tuned in for the live make-up tutorial were able to shop the makeup items directly from the stream.
At the end of the day, Livestream shopping allows brands to give power to the hands of the consumer. It affords them options while they take part in something experiential; something they might not get elsewhere or in a traditional retail store.
The Big Picture
In the aftermath of the global pandemic, our world has moved increasingly online.
However, Livestream shopping shows us that online experiences don't have to be rote or devoid of connection. Nor do they have to completely replace their physical counterparts.
Livestream shopping is less of an end-all solution and more of a companion to retail. It is a tool that forward-thinking brands can use to engage new audiences both foreign and domestic, in a space where experimentation is ripe.
It is also a space that is growing.
In August Instagram Live Shopping was available in the U.S. And brands are already beginning to utilize the newest feature in Instagram's mini-economy.
Meanwhile, independent eCommerce streaming solutions like Livescale have begun to emerge as well, offering an alternative to the major players.
Livestream shopping is changing the relationship between consumers and brands. People who were once passive participants are now active ones, either by hosting the event or by informing the goods featured.
For brands seeking to connect with their audience in authentic ways, this type of dialogue is invaluable. And for consumers, the experience it provides bridges the physical and digital worlds
To put it simply: The future of eCommerce is to dwell.