Looking for ways to boost your social media ads? Are you curious about what the competition is up to? You'll discover how to investigate your competitors' ads on Facebook, Instagram, LinkedIn, and Twitter in this post.
#1: Research Competitors' Ads on Facebook
With 2.89 billion monthly active users, it's no wonder that many businesses have chosen Facebook as their social media marketing platform of choice. Ads on the platform provide more visibility, which is important given that organic reach for company sites is just about 5% on average.
Conducting some research on your competitors is good before digging in and developing a new ad. Through this way, you'll be able to see what sorts of advertising they're running. Anyone with a Facebook account may view the advertising connected with a Facebook page, thanks to a privacy policy change a few years ago. While the ordinary user may be uninterested, businesses that run advertisements on the site will want to take advantage. Here's how to do it.
Access the Facebook Ad Library
You may locate the active Facebook advertising of your competitors in two methods. The first method is to use your browser to access the Ad Library. This will lead you to a screen where you may select a location, an ad category, and your competitor's name.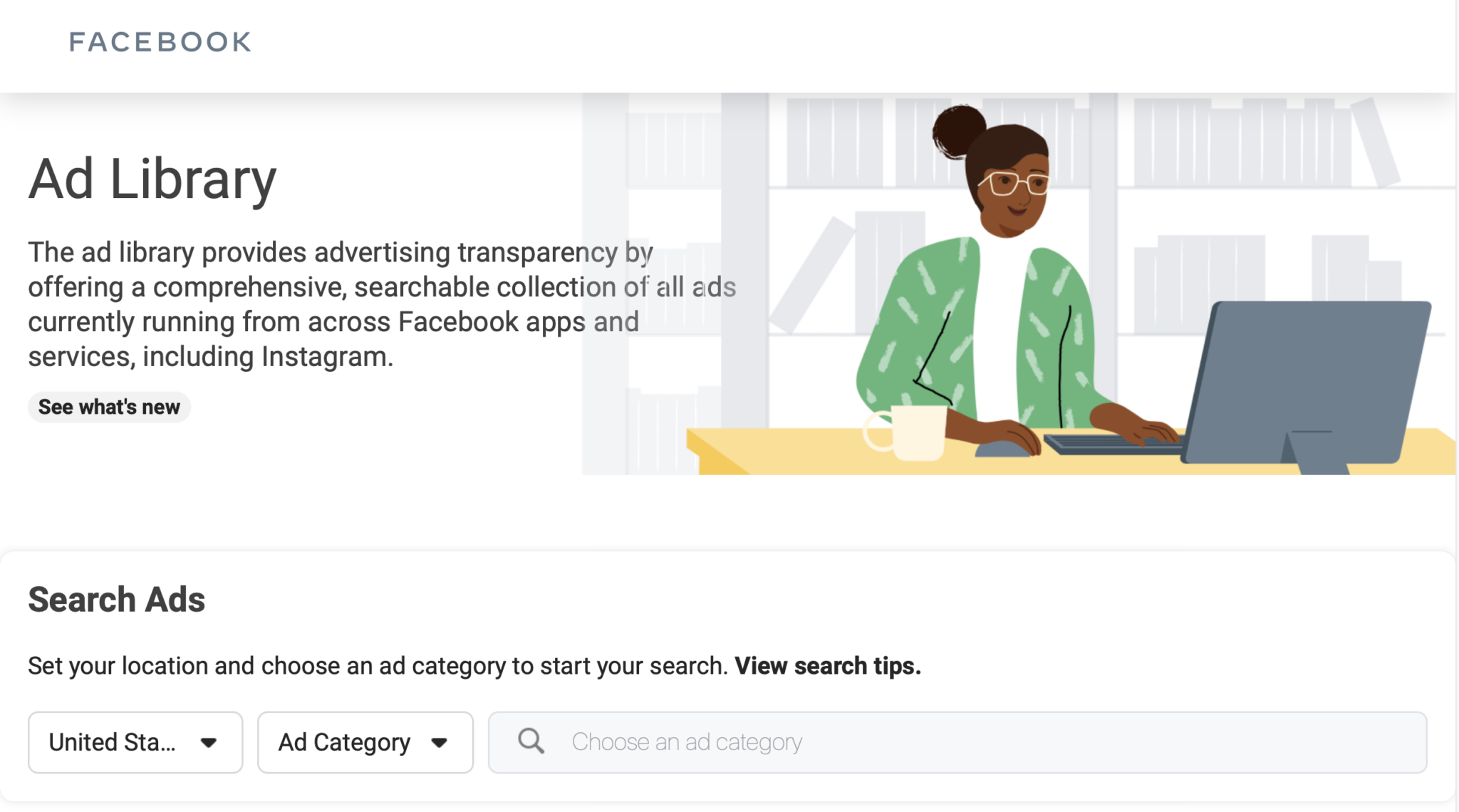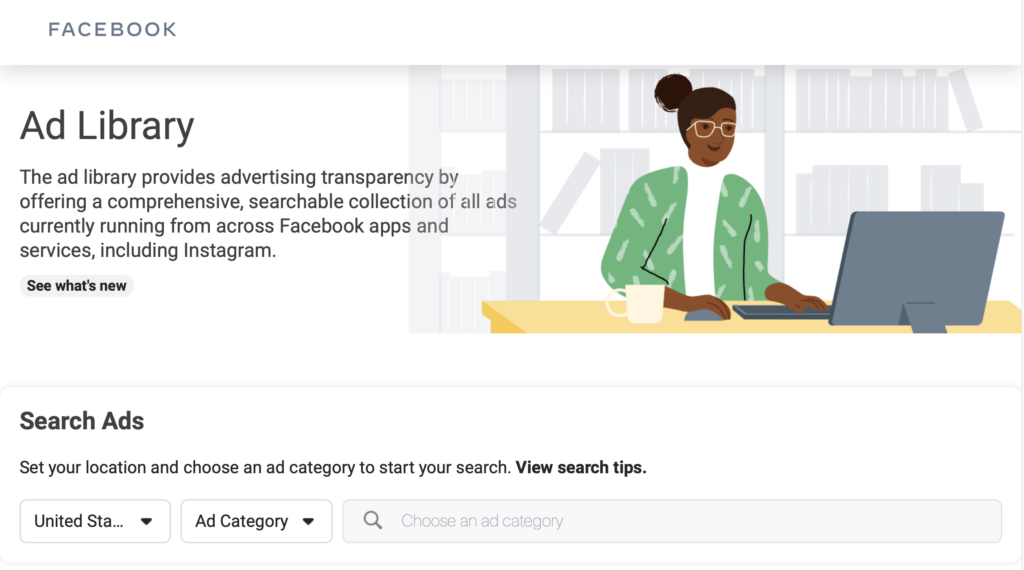 You can access competitors' adverts through their Facebook page. Click See All in the Page Transparency box on the sidebar.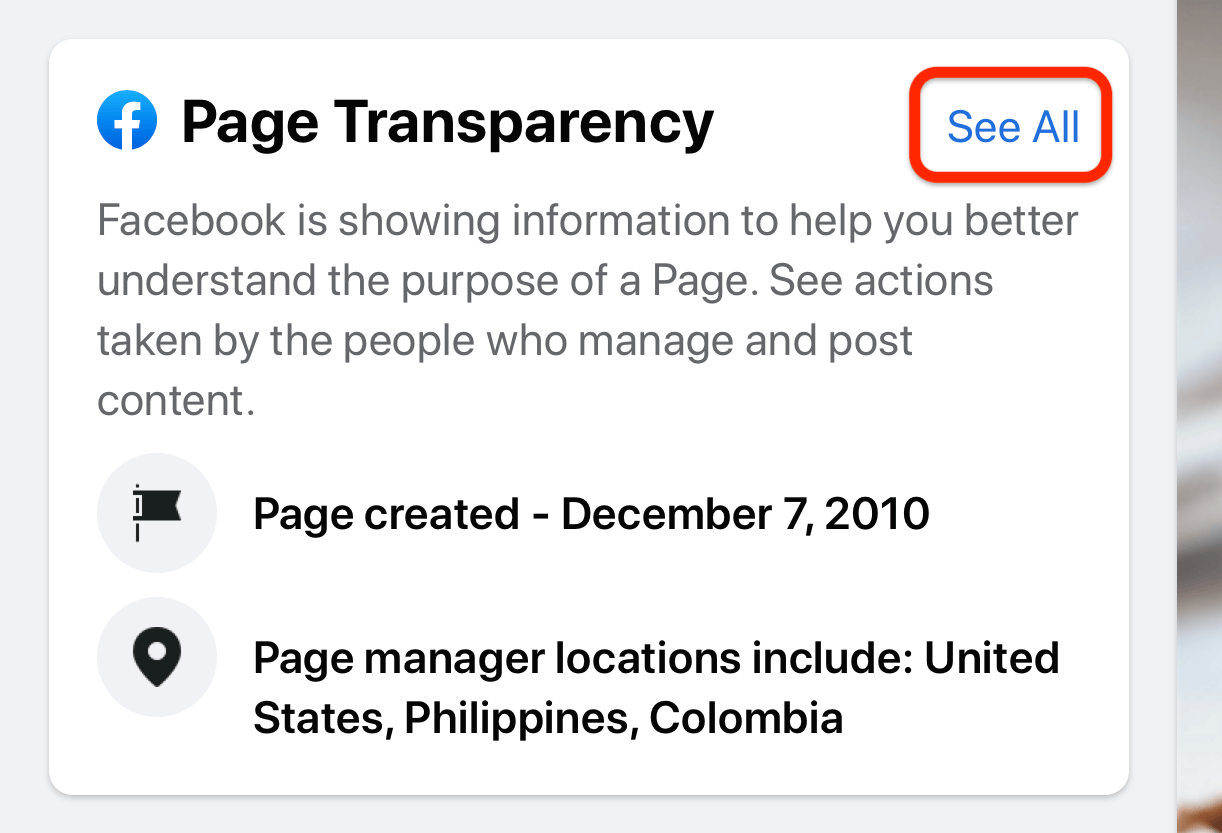 You can check who maintains the page and other information in the pop-up box. Ads From This Page may be found at the bottom of the page. Click Go to the Library of Ads.
You'll be able to see all of a business's active advertising on Facebook, Instagram, Audience Network, and Messenger no matter how you visit the Ad Library.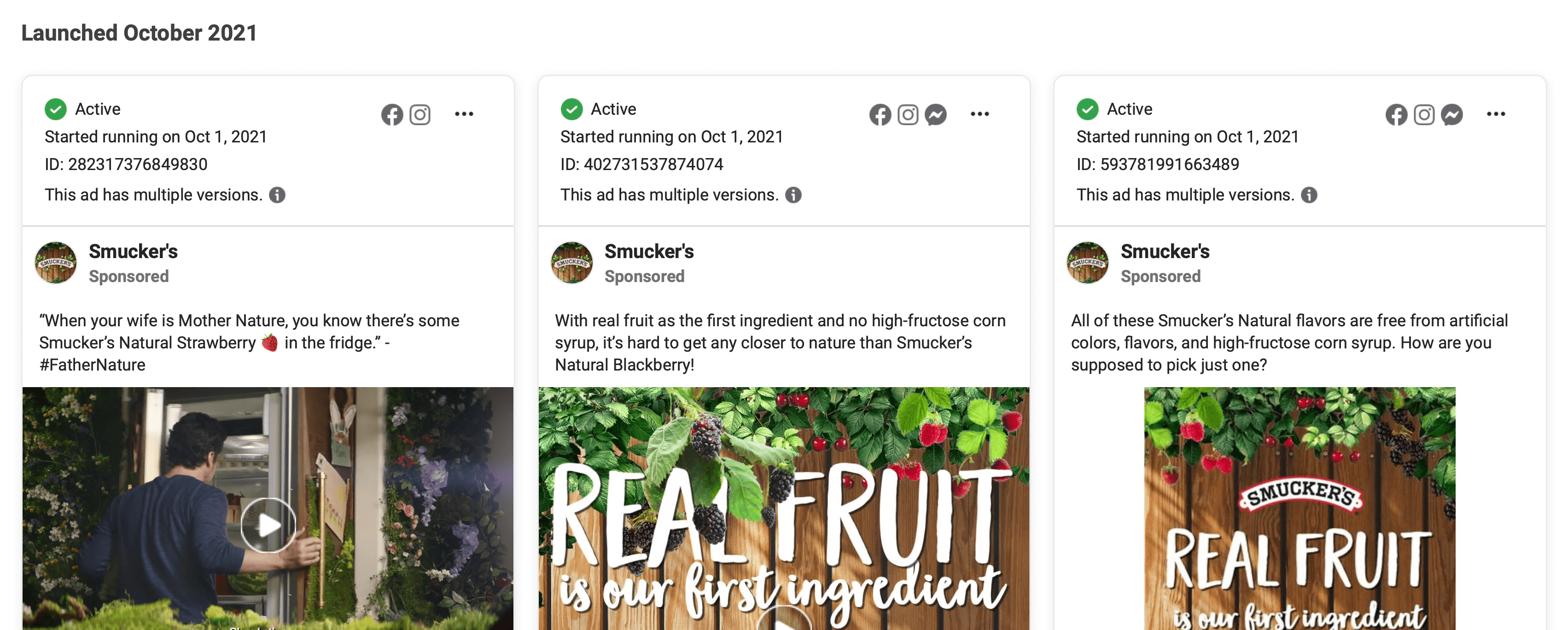 Use Filters to View Certain Competitors' Ads on Facebook.
It is difficult to filter through all of your competitors' advertising if they are all running at the same time. As a consequence, you may utilize the provided filters to reduce your results and only see the relevant adverts.
You can specify whether you want to see adverts in a certain language or on a specific platform. You'll want to look at only the ones that are being run on Facebook in this scenario.
You may also filter for other forms of media. Images (with little to no text), memes (images with text), images and memes, videos, and no image or video are among the alternatives.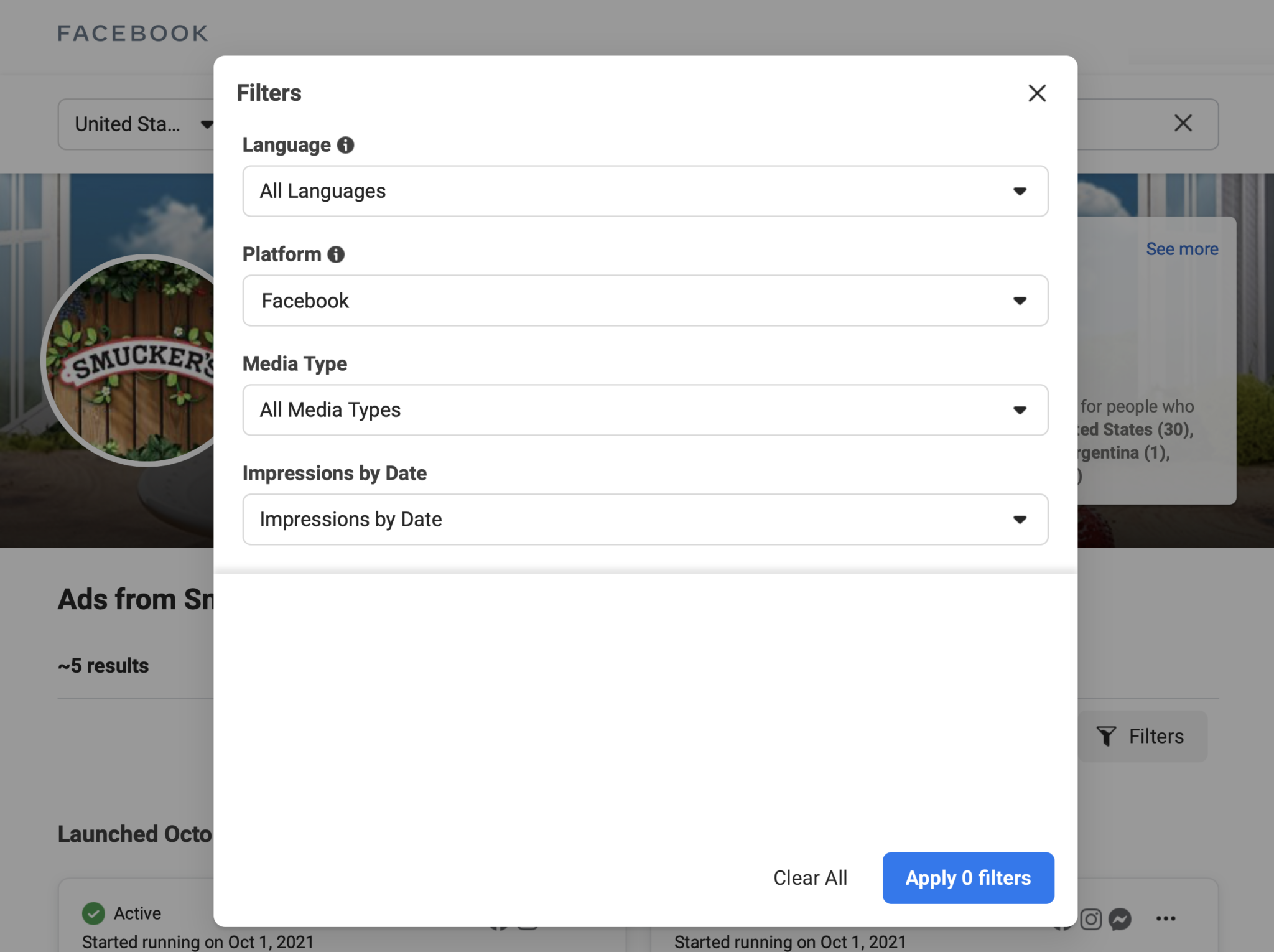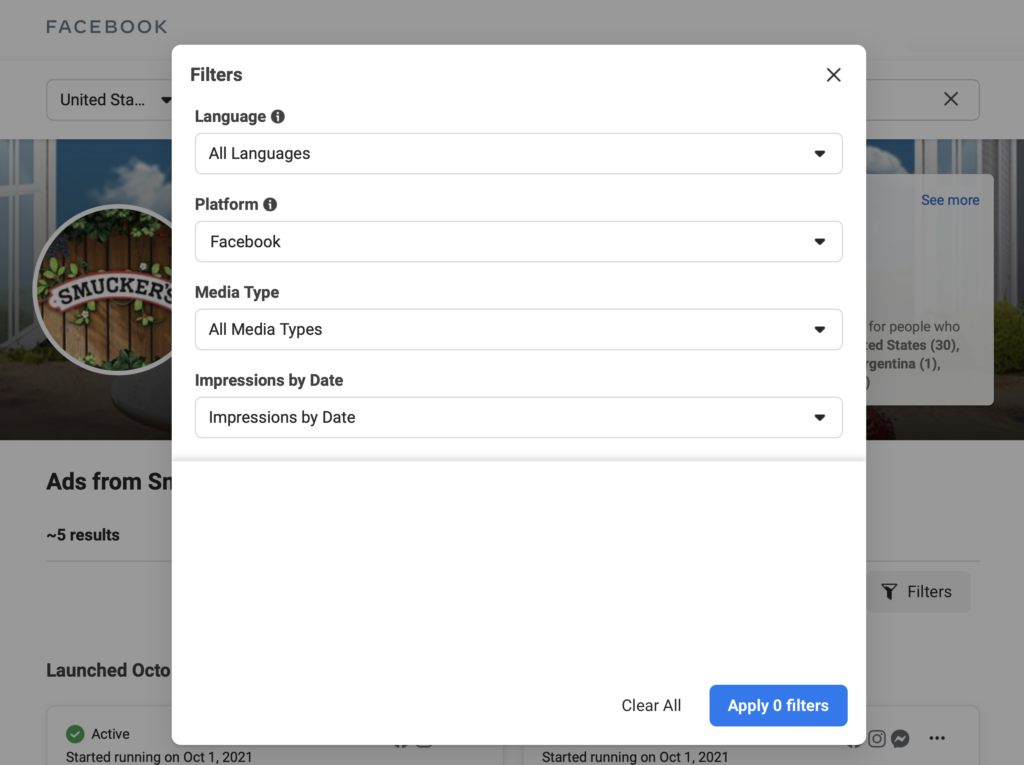 Finally, you have the option of filtering by impressions by date. Because you can pick a certain date or range and observe which ads generated the most impressions, this will come in useful. Impressions are the number of times an ad was shown for the first time on a screen, which is useful for determining which ads are the most popular.
Examine the information on Facebook ads that appear on your newsfeed.
Don't disregard a competitor's ad in your Facebook feed by scrolling past it. Instead, you may learn more by choosing Why Am I Seeing This Ad from the three dots in the top-right corner.
When you select this, Facebook will explain why this ad was placed in your feed by revealing the demographics of the business. This could help you figure out who you want to target with your adverts.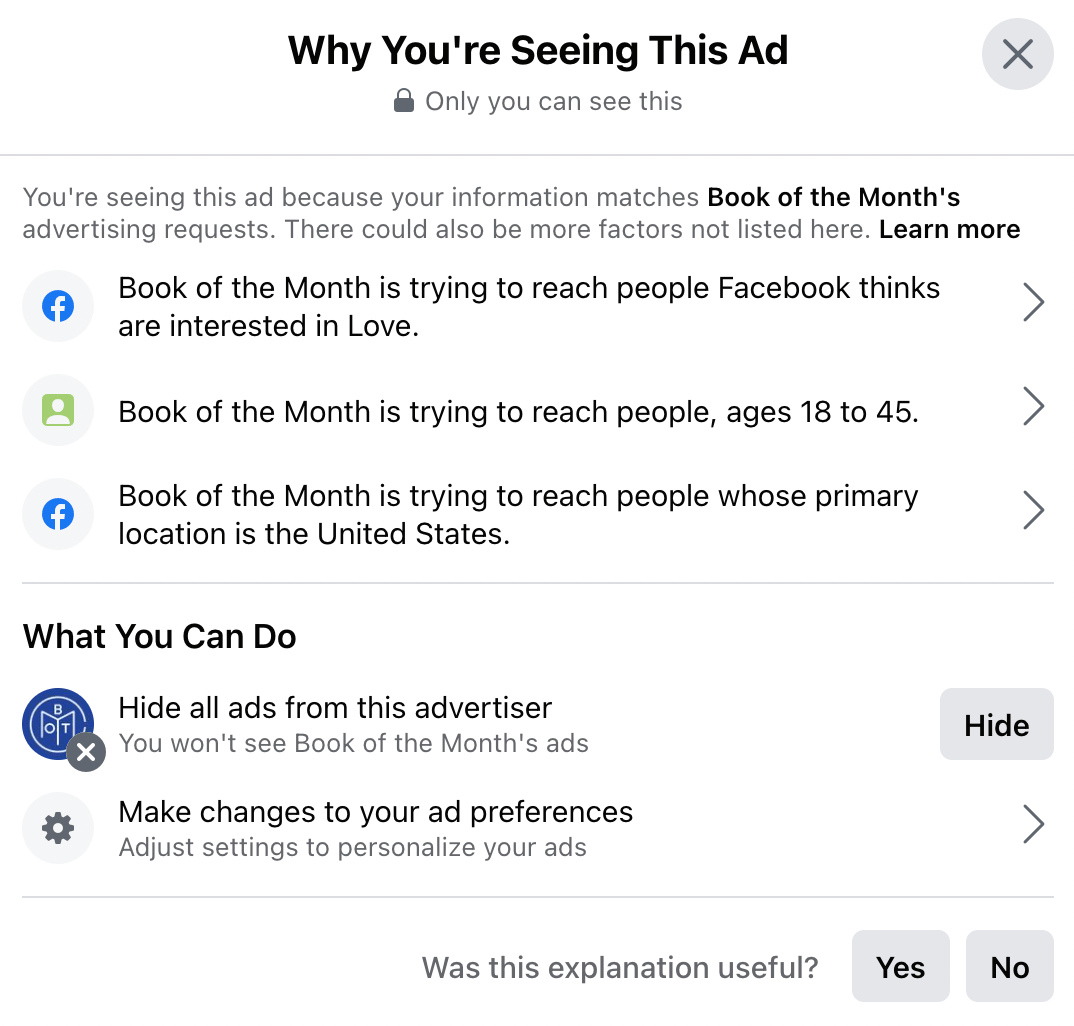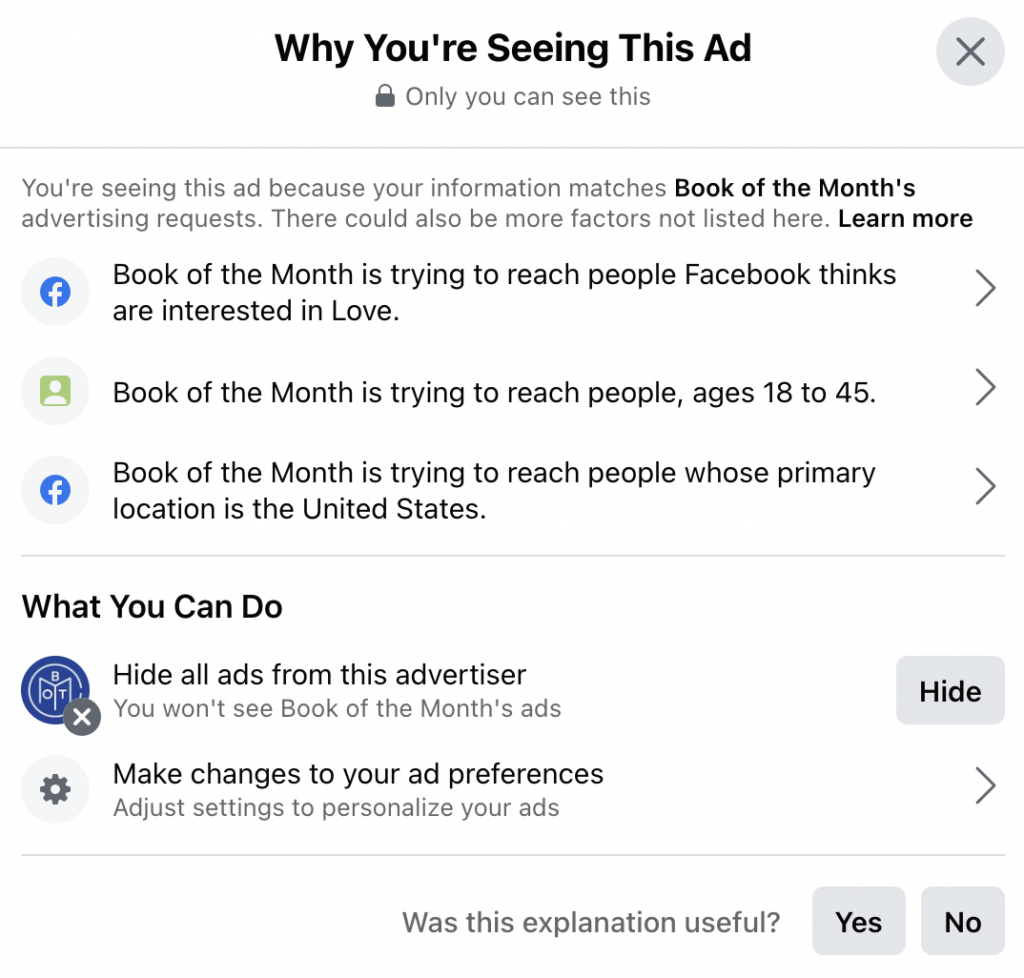 What to Look for in Competitors' Ads on Facebook.
You may be wondering what to search for now that you have access to all of your competitor's active adverts. Here are some things to keep in mind:
Check out which commercials are getting the most views: As previously said, the first step is to filter the adverts by impressions. This will show you which advertising is the most effective, as well as what your competitors' audiences are reacting to.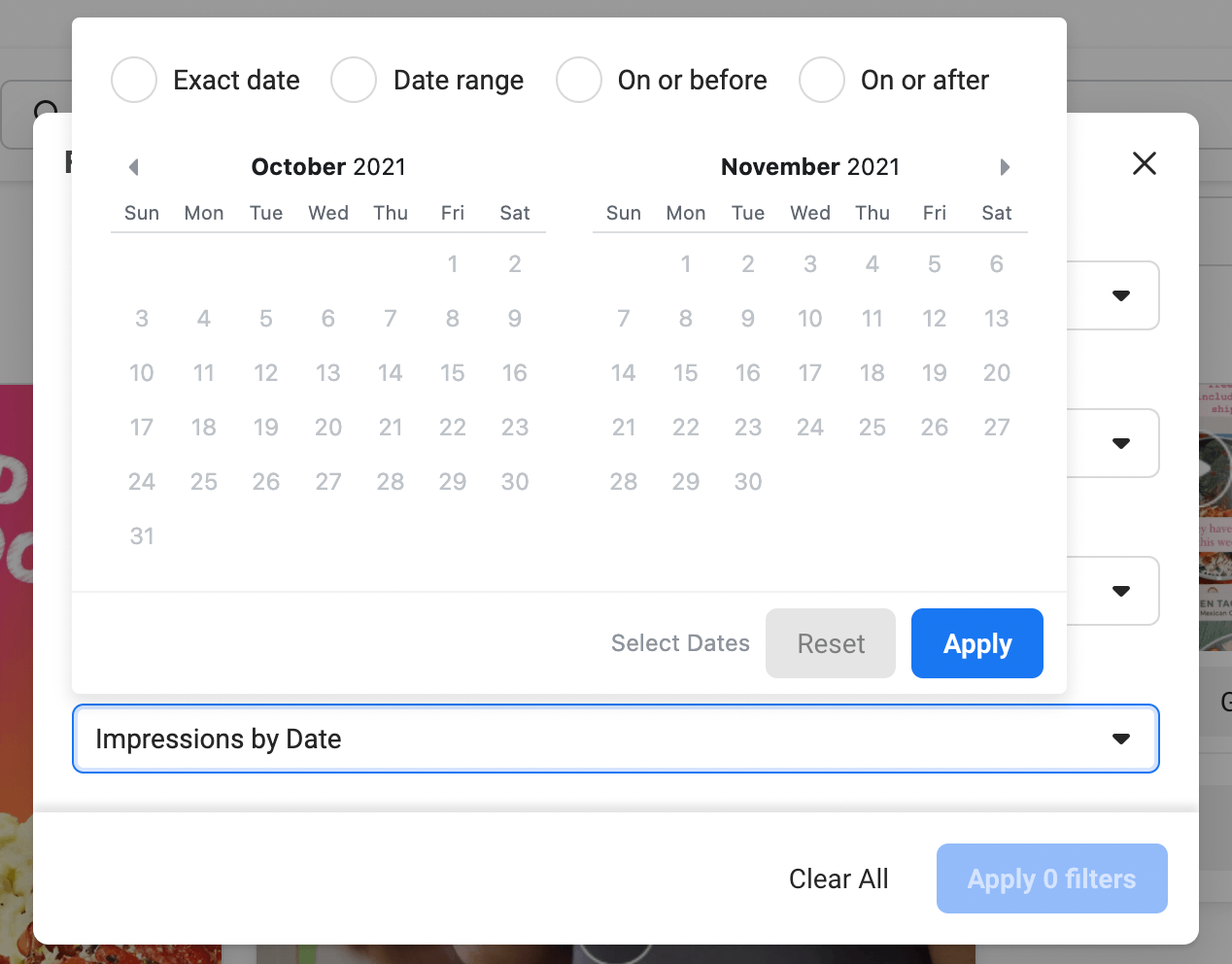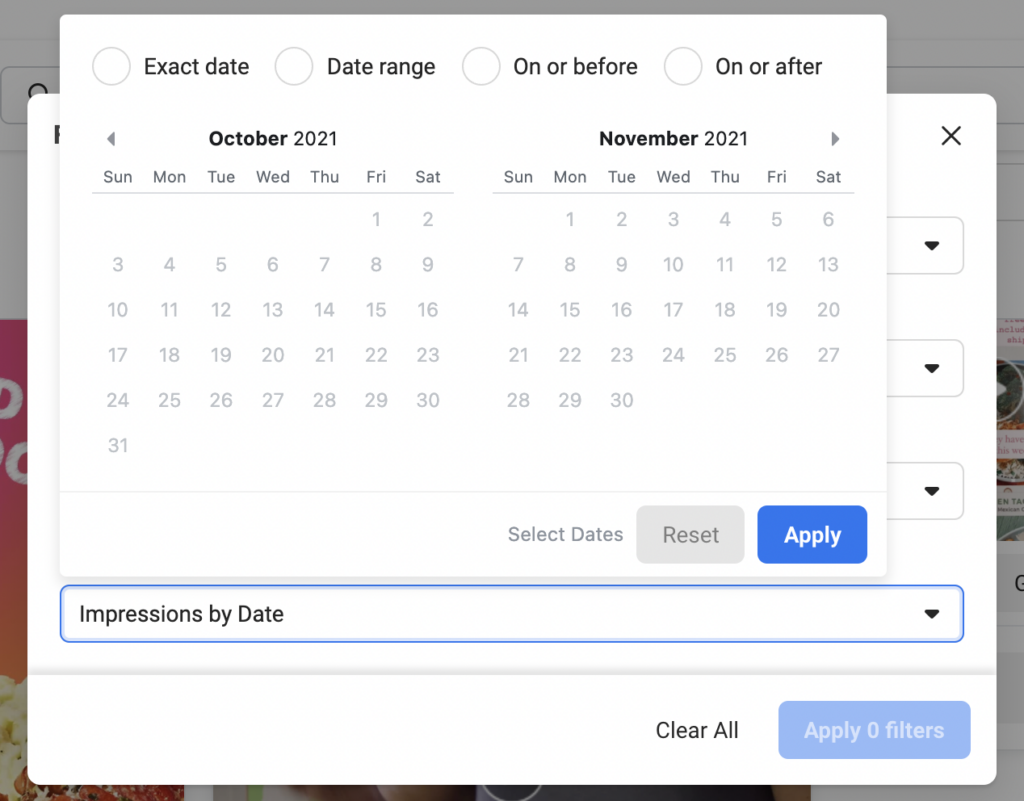 Determine which of the following media types is the most common: Are there videos, photos, or no media in the ads with the highest impressions? This will give you an indication of what is most popular with the target demographic. If video advertising appears to be doing well, you'll know it's time to make one.
Examine the top advertisements' messaging: Does your competition keep their Facebook ad wording short and sweet or go for a lengthier message? Do they use emojis to create visual appeal and break up long passages of text?
Determine how long the advertisement has been running: Businesses will not spend their marketing money on advertising that does not work well. It's a good sign of a high-performing ad if they have any ads that have been live for more than 90 days.
#2: Research the Competitors' Ads on Instagram
According to an Instagram poll, 81 percent of people indicated they've used the platform to investigate products and services. Don't you want them to find your company instead of a competitor's? You may leverage Instagram's 1 billion monthly active users to build an amazing ad that will capture their attention and help you expand your following.
The secret to creating a successful Instagram ad is to look at what's currently working for your competition. Then you may save time and effort by repurposing their tried-and-true technique with your own unique spin. Here's how to see what your competitors are currently advertising on Instagram.
Access the Facebook Ad Library
Because Facebook owns Instagram, you can simply view your rivals' Instagram advertising in the Facebook Ad Library. As previously stated, you have two options for gaining access to it. You may go straight to the Ad Library and look for the name of your competition. Alternatively, go to their Facebook profile and look for Page Transparency in the sidebar, then click See All. Then select the Advertisements From This Page option.
View Instagram Ads with Filters
After you've viewed your competitor's advertisements in the Ad Library, you'll need to filter them so that only those that are now running on Instagram are visible. To do so, select Filters from the drop-down menu. The same criteria as before are available in the pop-up window: Language, Platform, Media Type, and Impressions By Date.
You may use any filters you want here, just make sure the platform is Instagram. This will display any Instagram feed or Instagram Stories ads that have been created.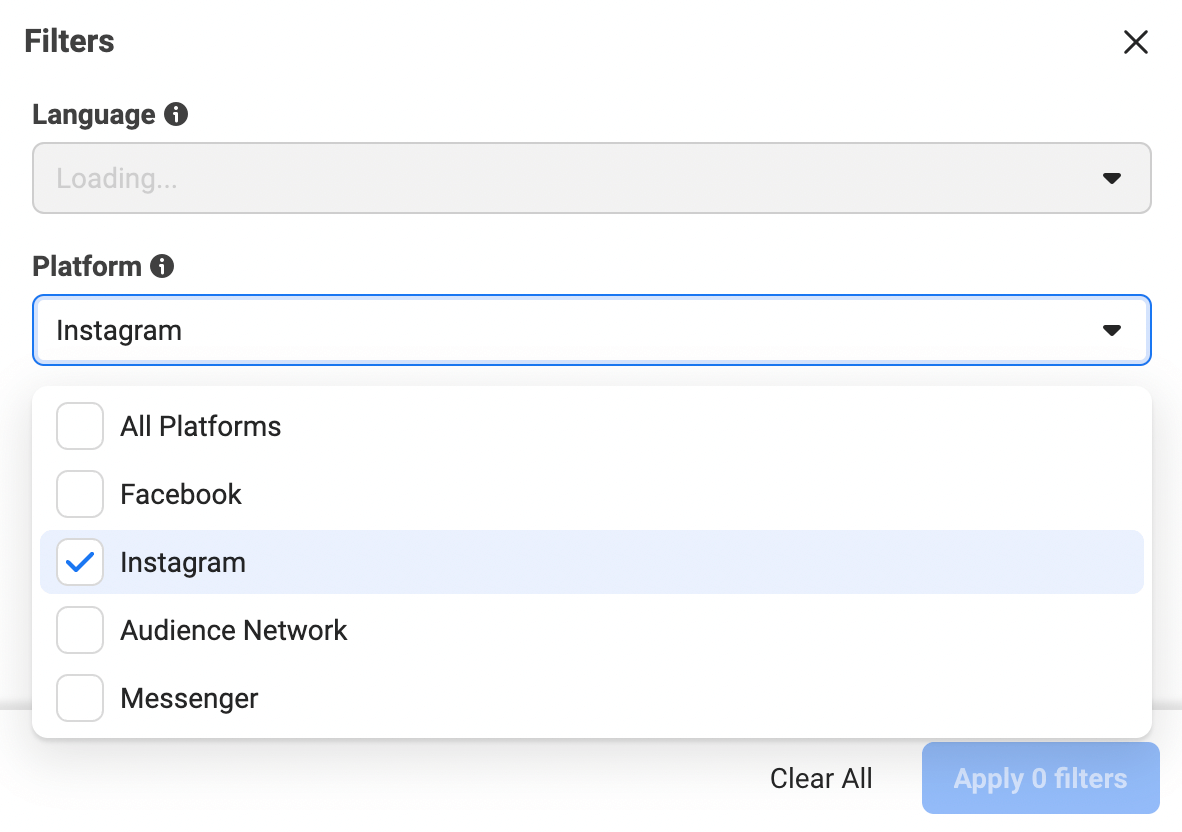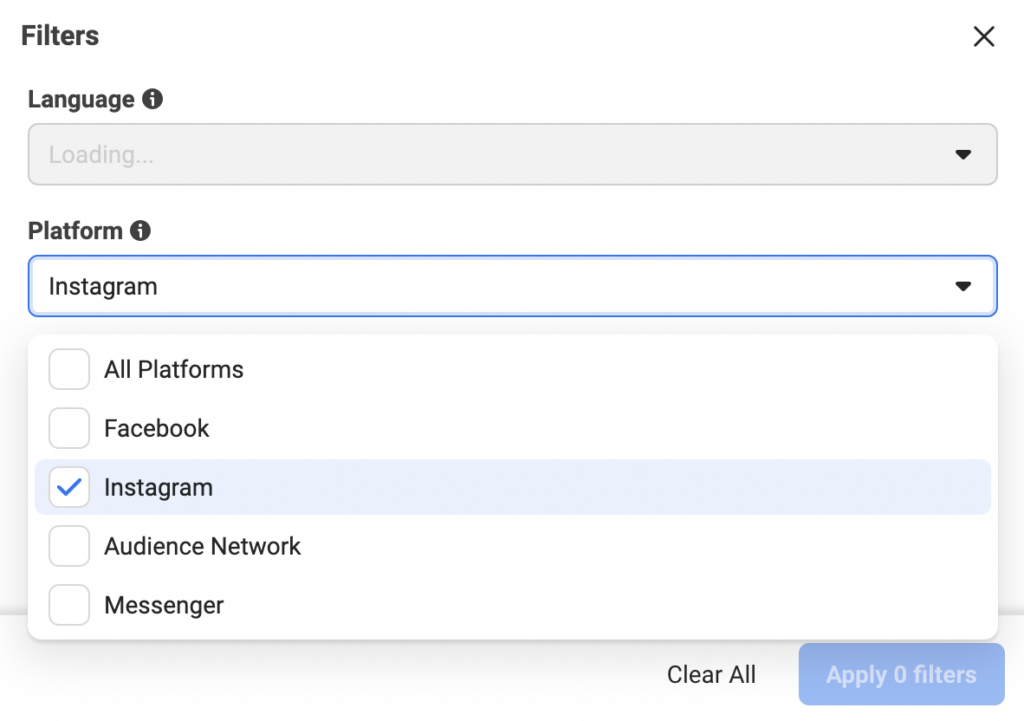 What to Look for in Competitors' Ads on Instagram
You'll know what you're up against now that you can see all of your competitor's current Instagram advertising. When examining what your competitors have developed, keep the following points in mind:
Examine the location of their advertisements: Instagram allows companies to put advertising in the feed or Stories for a variety of placement choices. Knowing what your competitors are doing might help you decide where you want to go. You may create advertising there as well if their feed ads are functioning effectively. If your rivals are disregarding the Stories ad placement, you might want to be there to target a population they're overlooking.
Examine the kind of media they're producing: Are they concentrating on picture advertisements or video ads? Is carousel advertising in the stream proving to be successful? You may examine the top advertising for a certain timeframe and find your competition's top-performing media kinds by filtering the impressions by date.