Do you want to earn a living as a professional creator today? Continue to figure out how to earn your Instagram money as creators & influencers now!
Earn Instagram Money From Enabling Ads on your Instagram Reels
Instagram offered in-stream video ads as a monetization method until February 2022. This enabled brands to run ads on your Instagram profile before, during, and after video posts (formerly known as IGTV ads). Similar to TV commercials for Instagram, creators will receive a portion of the ad revenue.
Now that Reels have taken over as Instagram's primary video focus, the platform has announced the discontinuation of the regular video post ad monetization option. It will be replaced by a new ad revenue share program for Reels in 2022.
Instagram Reels are the most effective way to grow your account, so you should focus on them now, even before this new monetization option becomes available.
 Eligibility requirements
Currently under development by Instagram. Continue to monitor Instagram's announcements or follow their @creators account.
The same as with any other Instagram video post: Use a 9×16 aspect ratio and make sure that no important text is obscured by the app's overlays.
It's also a good idea to consult Instagram's content recommendations guide for the best results. A critical component is the creation of original content for Reels, or, at the very least, the removal of watermarks from other platforms if re-posting (i.e. the TikTok logo).
Earn Instagram money with milestone bonuses
Meta has announced bonus programs for both Instagram and Facebook content as part of an effort to attract new creators and retain existing ones. These are currently only available by invitation.
Currently, the three bonus programs are:
The video ad bonus is a one-time payment made to select American creators who sign up for the feature. As previously stated, this type of ad monetization is no longer available for enrolment but will be replaced shortly with an ad monetization option for Reels.
Bonus live video badges, which reward achieving specific milestones such as going live with a secondary account.
Summer bonus for Reels, which rewards the most popular Reels with cash bonuses.
It can be inconvenient that these bonus programs aren't available to everyone. How do you get invitations to events like this? By posting high-quality, engaging content that your target audience loves and leveraging "app favorite" formats like Reels.
Eligibility requirements
These Instagram bonus programs are only available by invitation. To be considered for these or future opportunities, you should start taking your Instagram growth seriously by posting great content on a regular basis.
Enable Instagram subscriptions
Instagram announced the launch of subscriptions in 2022 as another new feature. Subscriptions on Instagram, which have been available on sister platform Facebook since 2020, allow your followers to pay a monthly fee to support your work and gain access to exclusive content directly within Instagram.
This is currently in testing and not available for public enrollment, but it should be available soon.
This will be an extremely valuable monetization opportunity for these obvious reasons:
Consistent and predictable monthly earnings.
The ability to market it to your current audience, who are more likely to become paid subscribers.
Expand your business by providing new tools and services to this core group of subscriber supporters.
The best part? Subscriptions can be profitable for anyone. People like what you're doing if you already have a following on Instagram. So, do it more often! Inquire as to what people expect from you and why they follow you. Give them what they want as long as it aligns with your authenticity and business vision. That's how simple the marketing strategy for subscription businesses is. (Well, sort of.)
In contrast to monetization methods that rely on view counts or having "better" content than others, you have complete control over growing your subscriber base. It makes no difference how many people you market to as long as you have the right offer to entice people to subscribe. And, unlike competing with other people's content, you always have full control over your offer and marketing strategy. #peptalk
Eligibility requirements
This feature is no longer available for enrollment as of March 2022. As with other Instagram monetization features, expect it to first be available to US creators before expanding to other countries.
Future Instagram monetization possibilities
While nothing has been officially announced, Instagram CEO Adam Mosseri has stated that there is more in store for Instagram creators in the future. According to a source, Instagram is considering creating an NFT marketplace within the app.
Mosseri recently stated, "…[It's going to be] a consistent focus of us to do all that we can for the creator community."  Expect to hear more throughout 2022 since Instagram ramps up creator tools, including the new Creator Lab.
How much Instagram money can you make?
Short answer: It depends.
Shorter answer: A lot.
While there are no definitive statistics for how much creators earn on Instagram, there have been several surveys on the subject: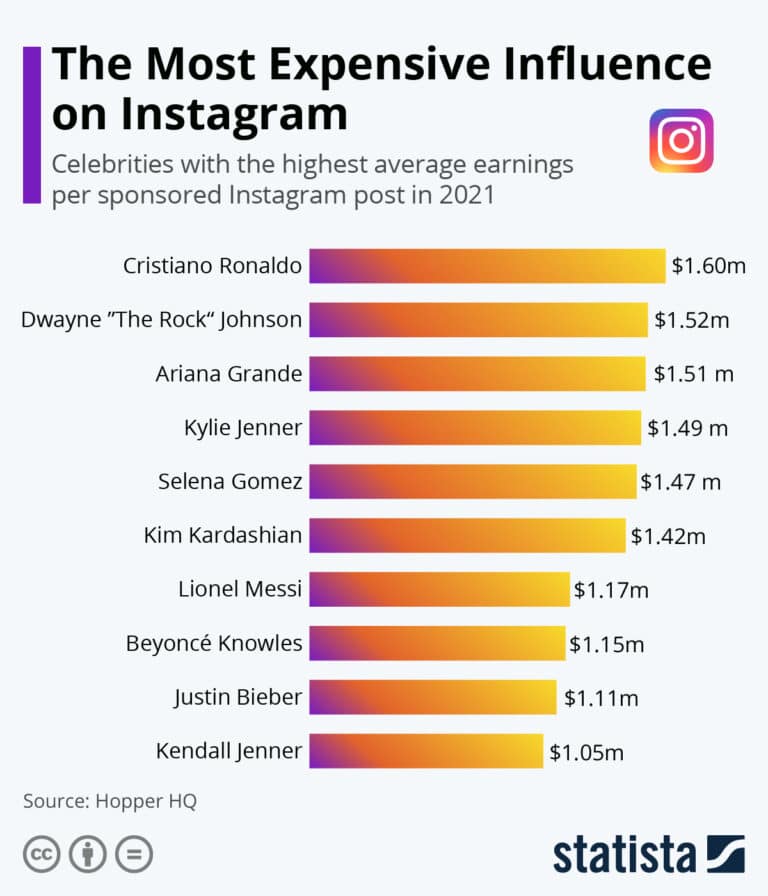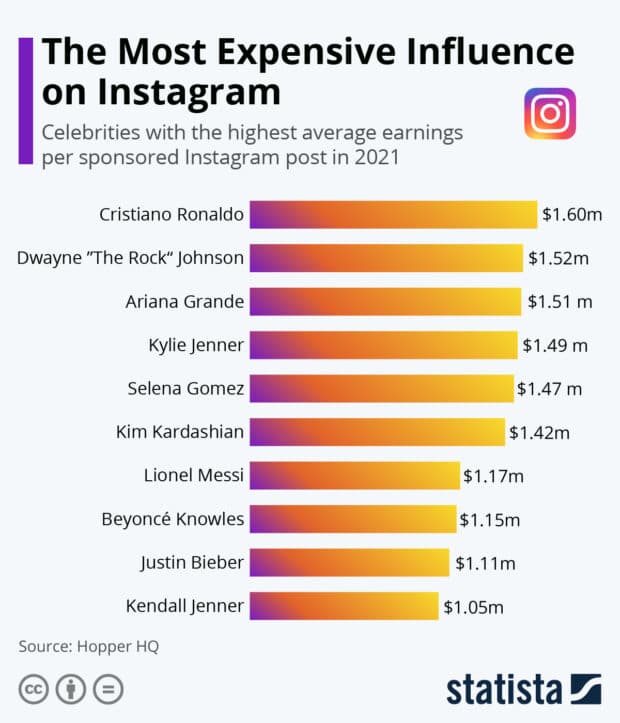 Source: Statista
Racism and bias, unfortunately, are factors in how much creators earn across all platforms. Adesuwa Ajayi created the @influencerpaygap account to highlight the pay disparity between white and black creators. Seeing what brands are offering for various types of content campaigns allows creators to set more informed rates and – more importantly – ensures that Black, Indigenous, and creators of color are paid equally.
As you can see, calculating Instagram money earnings is not easy. So, how much should you charge for brand work?
There's an old rule of thumb that says a good starting point for a sponsored in-feed photo post is $100 per 10,000 followers. Is that enough now, with creative options like Reels, videos, Stories, and more? No, I'd say.
Another popular method is to charge based on the number of engagements:
Average price per IG post (CPE) = Recent Average Engagements x $0.16
Most influencers use anywhere between $0.14 and $0.16. The total number of likes, comments, shares, and saves are referred to as engagements.
So, if your recent posts averaged:
2,800 likes
25 shares
150 comments
30 saves
Then your calculation would be: 3,005 x $0.16 = $480.80 per post.