We all know that you can use up to 30 hashtags for Instagram doesn't mean you should. Also, the most popular Instagram hashtags are not necessarily the best. So, Having a good hashtag strategy will help you get success easier.
Here are the information you need to find the best Instagram hashtags for your account!
How to Find the best Instagram hashtags
Check out the competition
You don't necessarily want to model your competition's strategy too closely, however, taking a look at the hashtags they use could bring you some good ideas about what's working for others in your industry.
Maybe you will uncover new hashtags to add to your repertoire. Or you can determine you don't want to compete for the same eyeballs, in which case you could search for alternative hashtags to use.
See what hashtags your audience is already utilizing
After all, in case your audience is already utilizing a certain hashtag, then other people similar to them are probably utilizing it too. Discovering these existing Instagram communities is a good way to broaden your audience and reach the people who are most likely to be excited about your business.
Control your top followers and see what hashtags they are utilizing. Instagram's search tool could give you some additional information about which hashtags the people you follow to care about. If you conduct an Instagram hashtag search, the search tool will show you if anybody you follow also follows that hashtag. (Note that this only works on mobile, not on desktop.)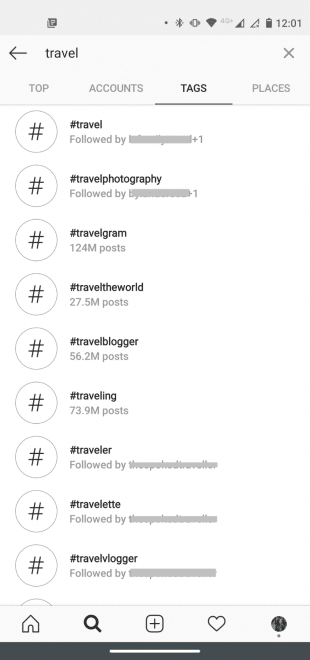 Source: Instagram
Use Instagram's Related Hashtags feature
On any hashtag page, right above the "Top" and "Recent" tabs, you will see a list of related hashtags that you could scroll through by swiping left.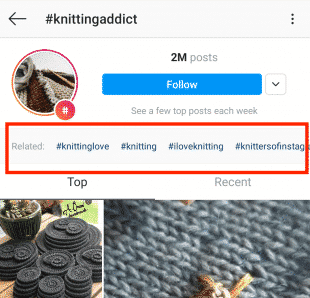 Source: Instagram
It is a good method to discover relevant hashtags that might be a bit more niche than the big keyword-based hashtags you originally searched for. That means extra targeted audience with less content to compete with. These could be a few of the best hashtags for Instagram brands wanting to connect with passionate communities.
Create a branded hashtag
The best hashtag for your brand might be one you make yourself. A branded hashtag is simply a tag that you make to promote your own business or strategy.
You could then let your follower know about your hashtag by adding it in your Instagram bio and highlighting it in your captions and Instagram Stories. You can also consider running a contest with a branded hashtag to popularize the hashtag while also collecting user-generated content.


Source: Lululemon on Instagram
Make sure to follow your branded hashtag, both within the Instagram app and utilizing a stream in your social media dashboard, so you could monitor how it's being used. Search for chances to reshare good content or connect with influential members of your audience.
To follow a hashtag within Instagram, simply tap it, then tap the blue Follow button on the hashtag page.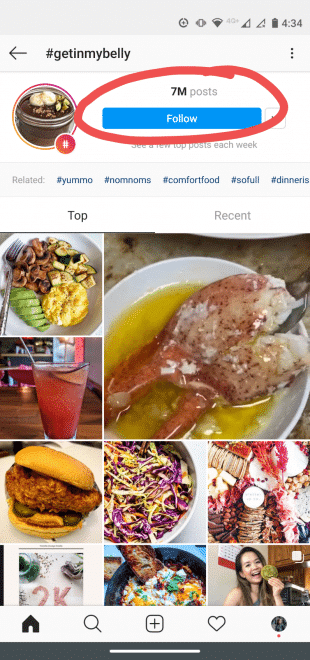 Source: Instagram