Keep reading to learn more great tips to set up and sell products with Instagram shopping.
9 tips to sell products with Instagram shopping
To sell your products with Instagram shopping is simple, but that doesn't mean you don't need to put your effort on it. You still need to be thoughtful and creative with your shoppable Instagram posts and Stories.
To help you stand out, we've lined up some of our best tips to sell products with Instagram shopping below:
1. Use striking visuals
No matter how much the platform evolves, the value of striking Instagram images and videos remains constant. Taking perfect photos and publishing high-quality videos is key to standing out in the crowd and stopping users from scrolling on by.
Occasionally, Instagram updates its image and video specifications. Ensure you're uploading the correct file sizes to make your photos look sharp.
Product images should be exciting and editorial, with surprising details that encourage your audiences want to look closer. A shirt on a hanger ain't gonna cut it. Try using these exciting collage tools, or explore some Instagram photo trends for inspiration.
2. Add hashtags
Making use of relevant Instagram hashtags is a clever marketing strategy for all posts, including shopping content. They increase the discoverability of your content, boosting the engagement on each post.
They can also help you land on the Explore page, which has a special "Shop" tab and is visited by more than 50% of Instagram users each month (that's more than half a billion people).
A few best practices for hashtags:
Do your research. Check out the hashtags your competitors are using, and investigate which hashtags are popular in your industry.
Don't add hashtag clutter. Just because you can include 30 hashtags on a post, doesn't mean you should. Nine is the magic number
Double-check meanings. There are many horror stories from brands that hopped on a trending hashtag bandwagon without doing their homework. (Here's one NSFW example!) Read and try to avoid the same mistake.
Read more about best practices for Instagram hashtags.
You should be monitoring the hashtags you use on each post. Instagram Analytics will allow you to see how effective your hashtags are, so you can refine your strategy.
3. Share a sale or promotional code
The power of a good promotion is undeniable. How many of us have mulled over a purchase for months (okay, days) before finally hitting "Purchase" when a perfectly-timed 15% off code appears?
Running a promotional campaign is a surefire way to drive sales. And when you can promote the code directly in your shoppable Instagram posts, it's even easier for customers to act.
Offering your Instagram customers an exclusive sale is a different way to build audience loyalty and gain engagement. For example, Vancouver retailer ARC Apparel launched a "$50 Friday" weekly sale, where users could buy a limited selection of special pieces exclusively through Instagram Stories.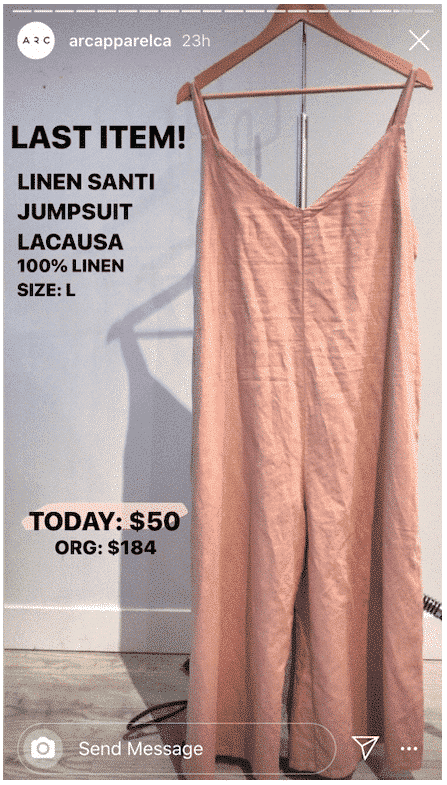 Imagine how much more effective this unique strategy would be in case the Stories were shoppable!
4. Show your product in action
The most popular type of video content on Instagram is the tutorial or how-to video. And this format is great for shopping posts, because it offers viewers product education and proof-of-concept.
Fenty Beauty regularly shares educational beauty tutorials, with featured products tagged for purchase. They're compulsively watchable, and they also showcase the quality and versatility of each product.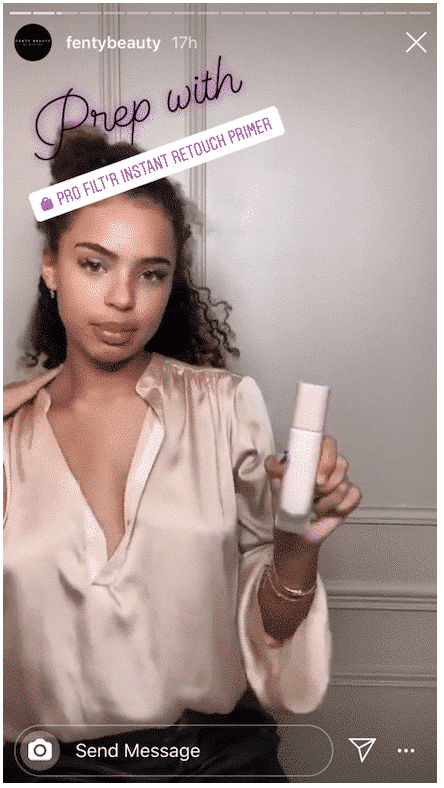 5. Be authentic
When sharing posts including products information, don't miss this special chance to connect with your audience. There's no need to stick to product copy. Your personality and voice should shine through here.
Pair your photo or video with a thoughtful caption that offers a surprising insight, an interesting fact, or an emotional connection. Talk about how the product was made, or who inspired it.
Many Instagram shoppers care about more than the way a product looks (or how much it costs). Gen Z shoppers in particular want to support businesses that share their values, and resonate with their personal identities.
Learn more about establishing your authentic brand voice.
6. Play with color
If you've ever watched a nature documentary, you know that birds use bright plumage to attract a mate. (If you didn't know that, here you go!) Take a tip from them and make your product shots vibrant and eye-catching.
For a show-stopping post, try shooting against a colorful accent wall like Your Bag of Holding.
Or go monochrome and match shades, like the Saltwater Collective.
7. Establish a signature style
Having a consistent Instagram aesthetic will help you improve your brand recognition and establish your identity. It also helps customers scrolling through their feed or browsing the Explore tab to recognize your posts at a glance. Plus, it adds up to a very pleasing feed:
Your signature style on Instagram should be consistent with your brand visuals elsewhere. Your website, ads, and the packaging of products should all fit together, with complementary images.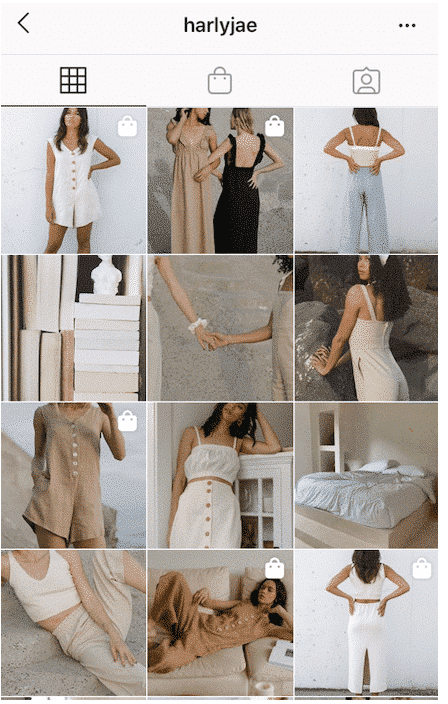 It can also help you differentiate your brand. Take a look at your competitors and consider how you can stand apart.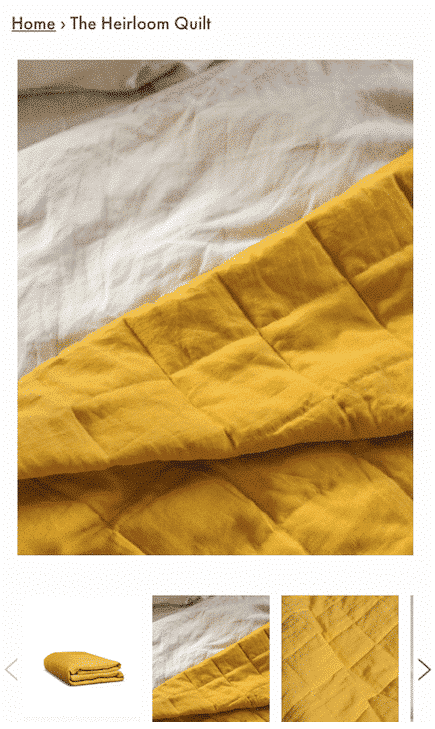 Tips:
Reinforce your brand identity with your signature palette. Are you refined and muted? Sweet and pastel? Dark and sultry? Bright and energetic? Your style guide can be a helpful tool
Use the same filter on all your Instagram posts for a consistent look.
Include at least one of your signature colors in each post.
8. Be inclusive
If you want your brand to reach a wide audience, you need to ensure your images are meaningfully representative.
With over a billion users, it's safe to say that Instagram users are a diverse group. But too often, the people in Instagram promotions and images look the same: white, able-bodied, slim. Only 2% of advertising images feature plus-size women.
And Instagram users who don't see themselves reflected in that narrow slice of humanity are understandably fed up. Boring brand images aren't just a failure of imagination; they're also bad for business, as customers who feel excluded will take their business elsewhere.
Context matters too. Without even realizing it, we may reproduce stereotypes in advertising, like depicting women in the kitchen and men in the office. Think about the story you're telling in each photo and what it communicates to your audience.
9. Share user-generated content
User-generated content (UGM) refers to any Instagram posts or Stories from users that feature your products. UGM is a huge asset when it comes to promoting your products!
Not only do these posts provide new, real images of your photos in action, they also boost your credibility. That's because posts from real users are considered more authentic, and that authenticity translates to higher trust. They're like visual testimonials. In fact, 79% of survey respondents say UGM influences their purchasing decisions.
If those photos come from high-profile customers, all the better. Lizzo makes me feel many things, but until recently, she had not made me feel an intense longing for a forest-green unitard. That all changed with this post:
Before sharing UGC on your own feed, make sure that you're following best practices for sharing user-generated content:
Ask permission before reposting
Tag the original creator
Ensure the photo fits with your brand aesthetic
Shopping on Instagram is continuing to grow in popularity, and it's only a matter of time until features like Instagram checkout are everywhere. There's no time like the present to dive in and find out how much it can benefit your business!