When Instagram stories launched, we're worried about their limited time – just 24 hours – then they disappeared as they had never been there. Thanks to Instagram story highlights that make our Stories live forever and our followers can enjoy over and over again on our profile
Actually, Instagram highlight covers will be one of the first impressions when someone looks through your profile. If you don't want your highlight series to be a mess, don't forget to create a highlight cover theme. You can easily download the image for covers on Google or something but it will be great if you can make it unique for your own, right? And, it is totally simple, trust us!
In this article,  we're going to walk you through step by step how to make custom highlight covers for your Instagram feed — plus, some examples of beautiful Instagram highlight covers to inspire your creations.
First of all, we will show you some steps to help you make a new Instagram highlight. If you already know, just ignore this part.
How to Make a New Instagram Highlight
1. Go to your profile and tap the +New button as the picture.
2. Choose the Stories you want to add to your new Highlight.
Pro tip: Instagram now allows you to see your stories going back years in the archive. So don't be afraid to do a little digging for those Story gems.
3. Tap Next and name your new Highlight.
4. Choose your Highlight cover if needed, and tap Done.
How to make custom highlight covers
It's easy to make custom highlight covers thanks to free graphic design platforms. We personally like Canva, which you can actually access when you have a Facebook account or a Gmail!
Step 1:
Navigate Canva.com, sign in, and find "Instagram Story" through the search bar. Choose "Create a blank Story" after the search results are displayed.

Step 2:
Choose "Elements" from the sidebar and then click "GRAPHICS". Now you'll see thousands of different illustrations to chooses free icons for your covers, of course, there are paid icons as well if you don't mind about the money.
Hot tip: You can find desired icons quickly by type contents in the search bar. For example, type "flowers" if you're looking for flower illustrations.
What happens if you just want text on the cover? Let's choose Text in the sidebar, choose your favorite font text, and fill in the content.
After you create or choose the icon you want, just change the background color if needed by clicking the background and choose color at the top left corner (next to the sidebar). Don't forget to check the cover once again after you click "download"
Note: Instagram's circular cropping so make sure your icon isn't too large.

Step 4:
Go back to Instagram, and post it as a new Story. At this step, you could zoom in or zoom out the image to make sure your icon isn't cropped when you add it as your highlight cover.
To set the cover, from your profile, just tap and hold on to the Highlight you want to customize and choose "Edit." You'll land on a screen like this: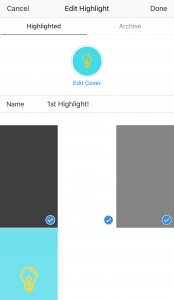 You'll see the option to choose which Stories are in or out. Just swipe right, you'll see your Story Archive where you can select the cover you made if it's not selected already. You will want your custom Instagram Highlights cover story at the end so people don't miss the actual Highlight.
Tap "Edit Cover" and choose your image using the slider on the bottom. You can edit the image size before you finalize the cover. When you're finished, just tap "Done.
You can totally create highlight cover images on your phone by downloading the Canva app and do steps the same as on desktop.
6 examples of beautiful Instagram highlight covers
If you need some inspiration? Here are some stunning Instagram highlight covers that bring you new ideas.
#1: @amyporterfield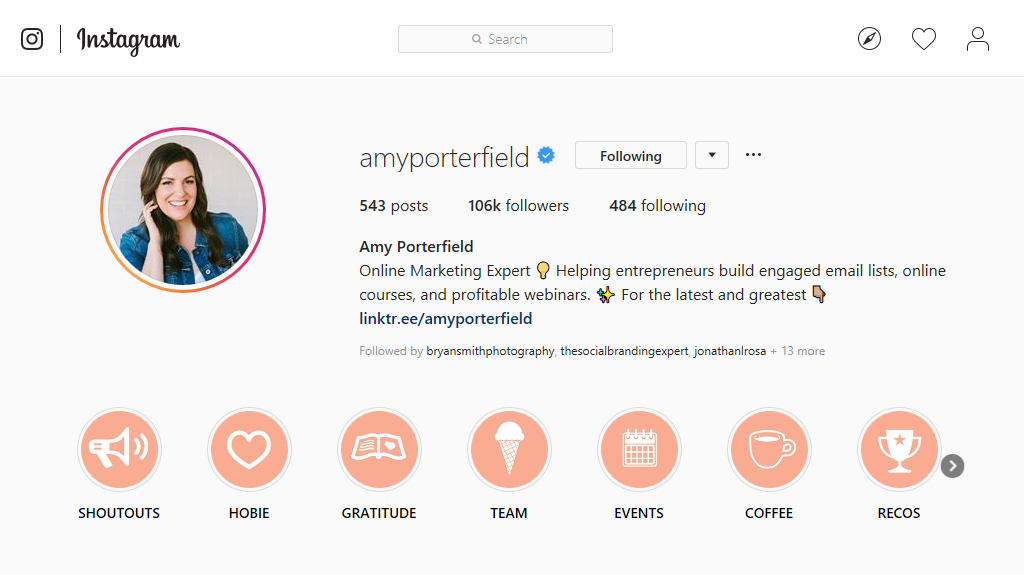 #2: @refinery29

#3: @the_indigo_project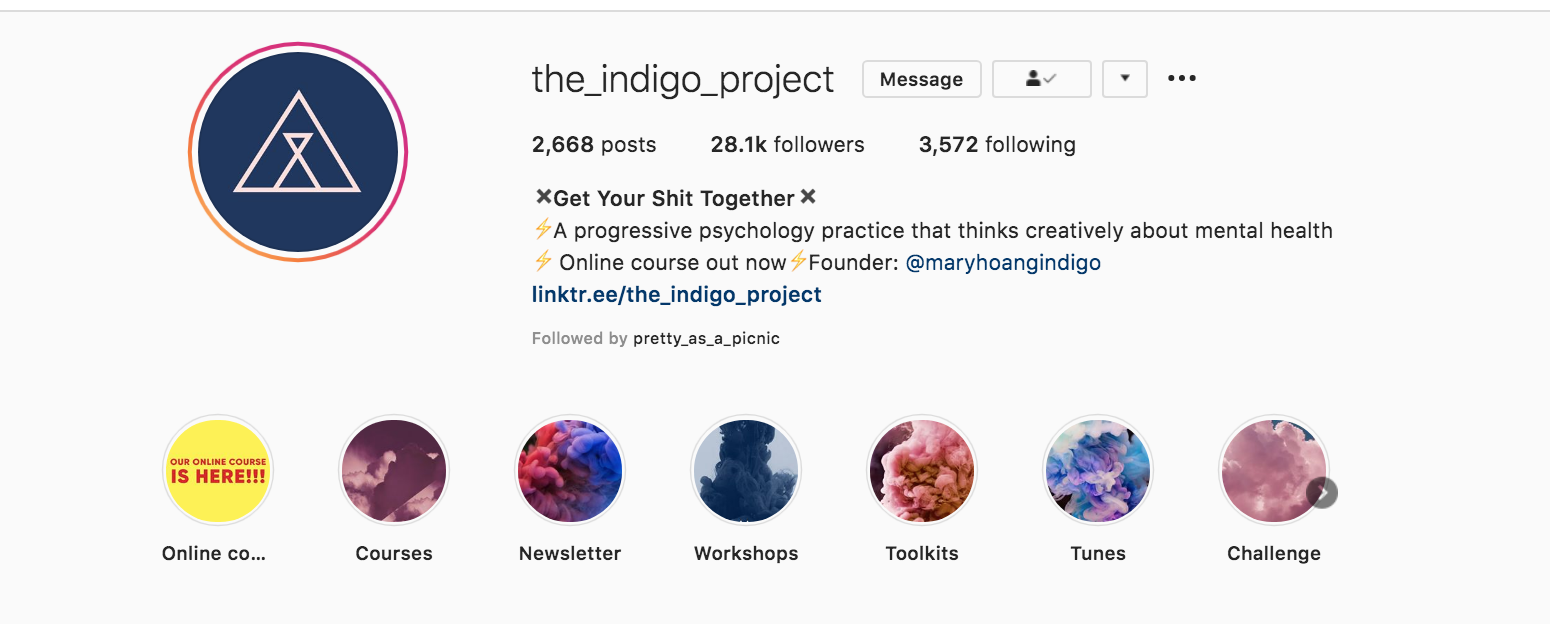 #4: @getoffline.co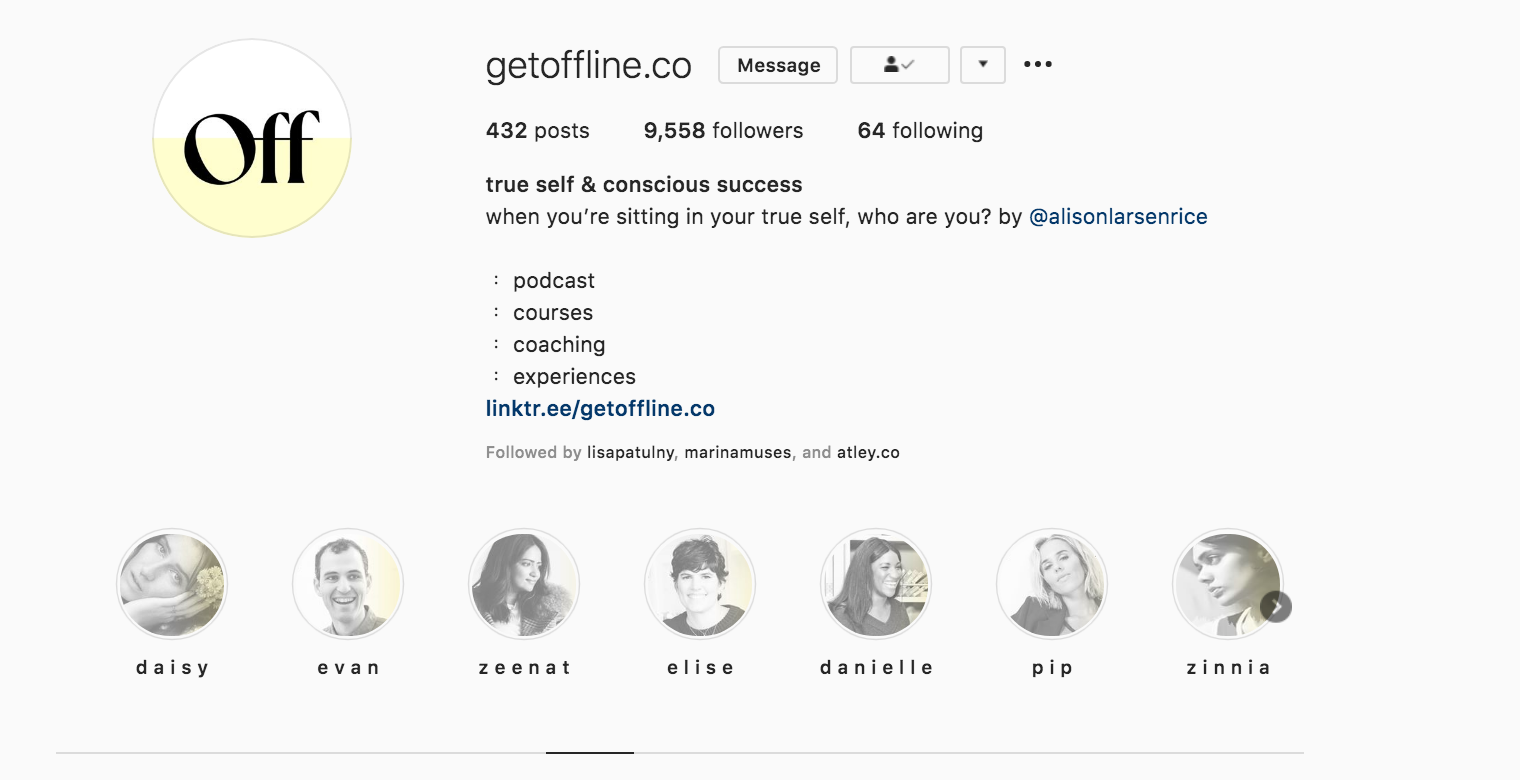 #5: @growglow.co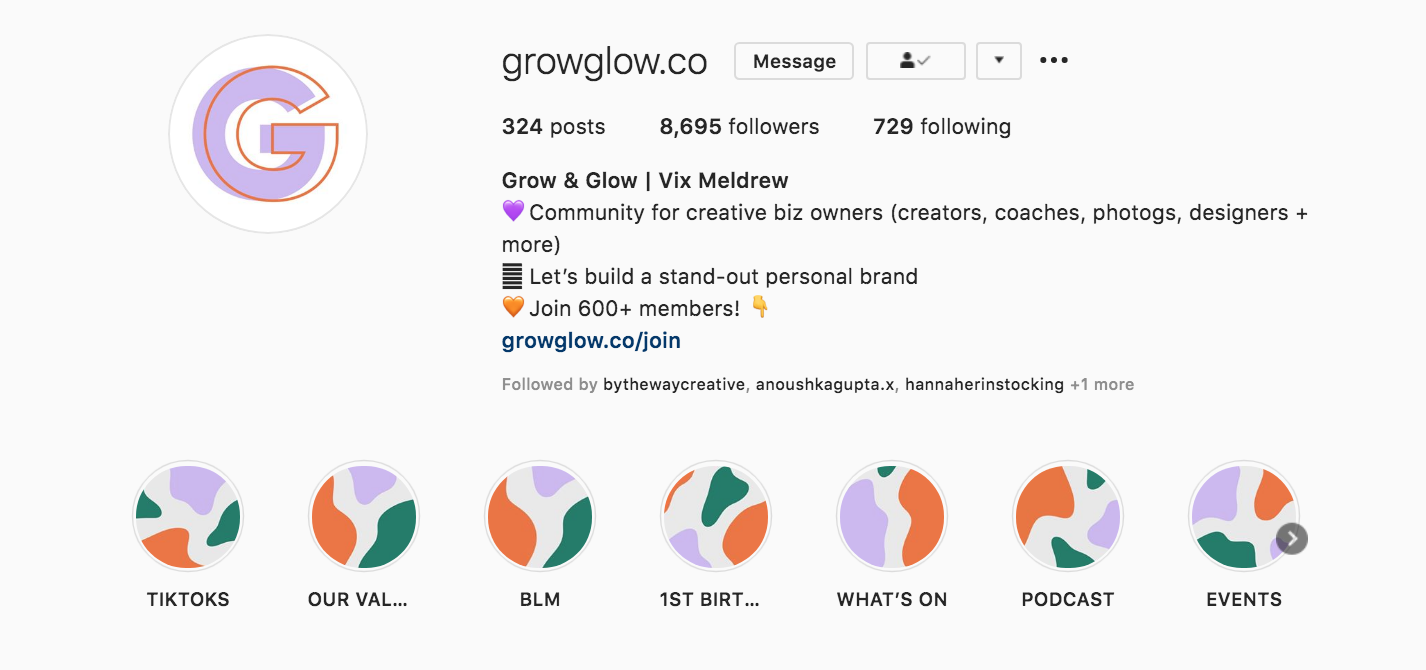 #6: @vitablevitamins