Keep reading to explore more information about Instagram Support Small Business Stickers.
How Can Brands Leverage Instagram Support Small Business Stickers?
Brands can get added visibility through these stickers. They can also build their online presence on Instagram. A small business that earns loads of appreciation from its followers will naturally find it easier to attract new followers, investors, influencers, and collaborators.
Here's how it all happens.
When a user's followers click the shared Story, a small pop-up appears, carrying a brief description of the business tagged with the sticker.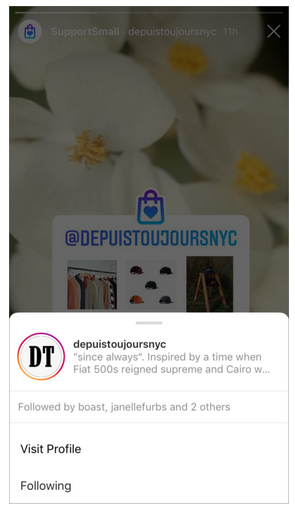 The pop-up contains two options, namely "Visit Profile" and "Following."
As you can see, the stickers will help people explore and connect with small businesses related to their interests. Since brands have more or less halted their advertising on social media channels, these stickers can allow them to remain visible and relevant during this difficult time.
Brands can also repost these stickers to their Stories as social proof. Such user-generated content fosters trust from existing and potential customers and followers.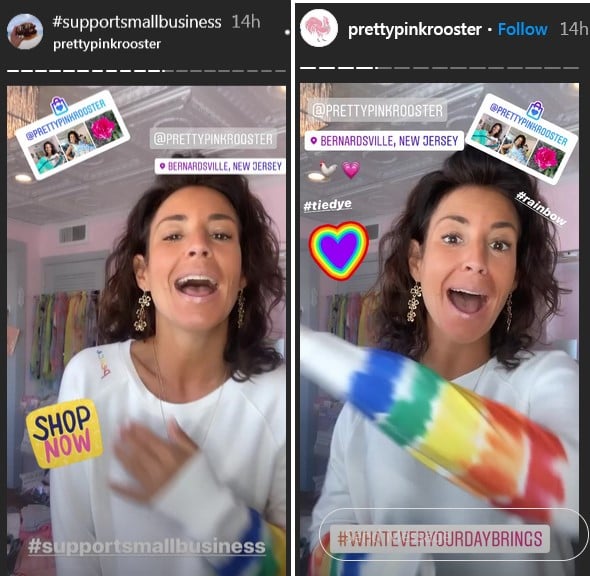 Brands can also directly send messages followers who posted these stickers and nurture their relationships further. They can also reach out to the people who liked the Story and get new followers or leads in the process.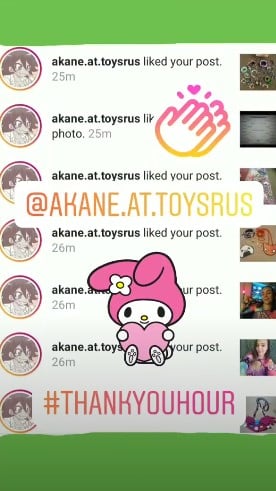 It's also an opportunity for brands to connect with other relevant small businesses. They can give shoutouts to entrepreneurs in their domain and lay the foundation for mutually beneficial relationships with them.
So, Support Small Business stickers can become an effective brand-building strategy for small-scale businesses who otherwise find it difficult to shine on the saturated platform.
How do Instagram Support Small Business stickers help?
Instagram, like all progressive social media brands, believes that brands that deliver real value to their customers, and act responsibly, earn customer trust in the long term.
A Kantar survey on customer expectations from brands during COVID-19 found that how a brand behaves during crisis periods is likely to impact their relationship with the brand in the future. It also found that brands that ethically delivered value were 2X more respected by customers than brands that don't.
That's why Instagram has come up with a set of new tools and resources to keep small businesses connected with their customers and communities during this time of isolation. They have put together the Instagram for Business COVID-19 Playbook.
The playbook contains hacks and guides about how to use the platform's digital tools and keep communication lines open.
Instagram recommends that brands need to be digital-savvy to stay connected with their customers. Brands should strive to educate and inform their customers about the way they can shop online in this period.
Brands can use the following features to boost their digital presence:
Instagram Live: Behind-the-scene (BTS) videos and webinars with experts to keep engaging and informing the customers.
Instagram Shopping: Shopping tags and stickers to boost sales.
IGTV: Use long-form videos to give information about your services or products.
One of the inspiring examples in the playbook is oliveandjune. The manicurist duo conducts manicure boot camps on Instagram Live.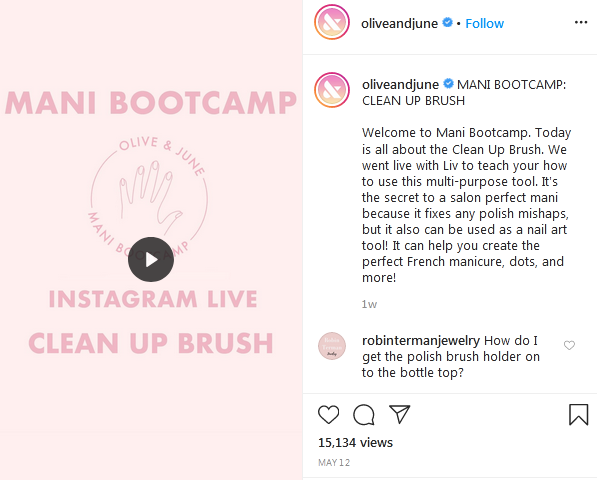 No wonder why they were sold out before the director said cut!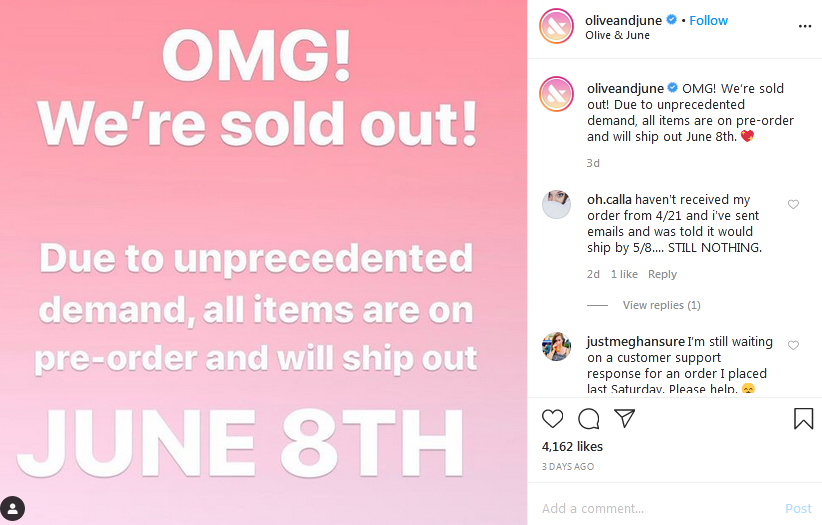 In their Playbook, Instagram lists tons of tips for brands to optimize their profiles to make them more shoppable:
Include your website URL in your bio
Mention your store operation times in case you're opening your store for limited hours
Highlight in case you're offering free delivery or have pick-up spots
Promote gift cards and offers to entice shoppers to stay at home and shop
Use shopping bags so that people can shop right from their accounts
Post the special measures you are taking to support the society and corona warriors.
Take inspiration from @chipotle. They have started free delivery and launched a mobile app so that people can enjoy great treats without stepping out of their homes.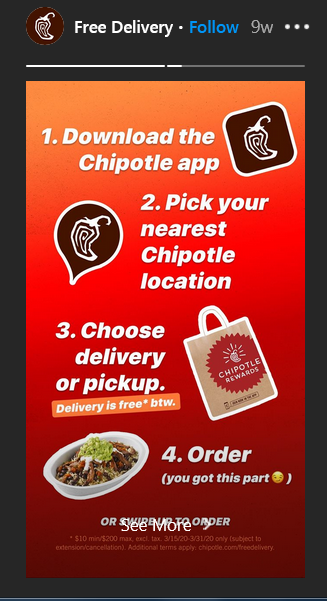 Brands on Instagram are thinking of creative ways to keep running their businesses while acting responsibly. To encourage them, Instagram's @shop page gives small businesses regular shoutouts.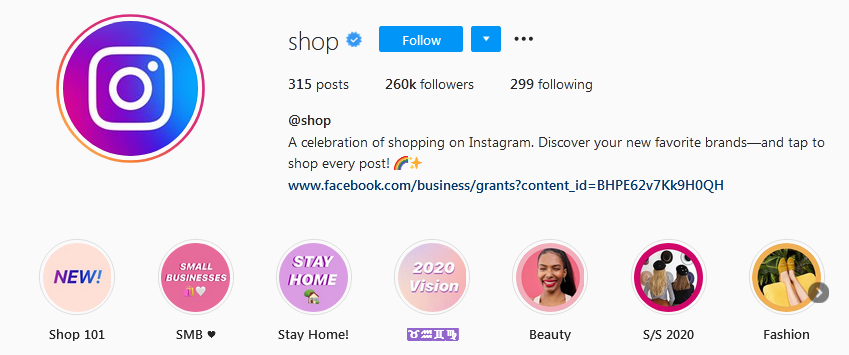 One brand that has taken Instagram's advice to heart is butter_and. They have come up with small cakes that people can send to their loved ones to show their care. The cakes are frosted with texts like "don't touch your face" or "stay at home."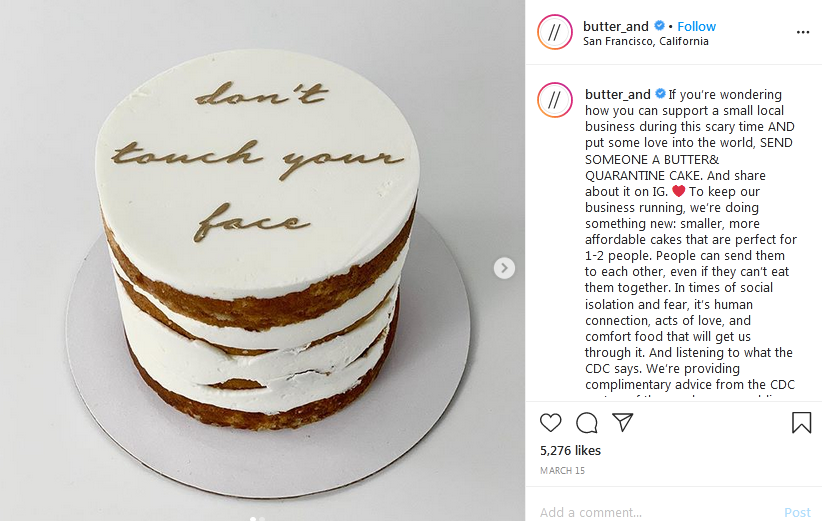 Writing a message on a cake is good. But doing something more concrete like a fundraiser is even better. And small businesses on Instagram are putting forth their socially-responsible side by doing just that.
@anomalie, a wedding courtier, raised funds by hosting an Instagram fundraiser. They made use of the money collected to get manufacturers in their supply chain to make surgical masks for nurses battling COVID-19.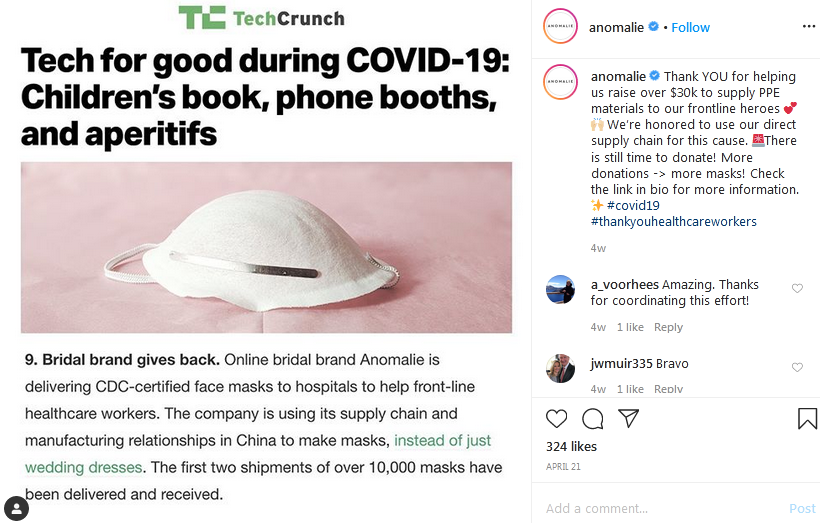 It was a wonderful way of using resources and mobilizing support for a worthy cause. Instagram users are bound to remember the brand for their good deeds when the good times return.
Conclusion
COVID-19 has made a sense of disconnection, fear, and insecurity among people. It's as important to remain connected as it is to remain safe in this period. Instagram's Support Small Business is an effective strategy for businesses to remain relevant and connected with their Instagram communities.