User-generated content (UGC) is original, brand-specific content created by customers and published on social media or other channels. Images, videos, reviews, testimonials, and even podcasts are examples of UGC.
UGC is used to influence engagement and increase conversions at all stages of the buyer's journey. Customer-centric content can be used on social media as well as other channels like email, landing pages, and checkout pages.
Let's continue reading for more useful information about UGC for your business.
User-generated content types
This season's must-have strategy for social media marketers is user-generated content. That comes in a variety of styles and formats to help you find the right fit for your brand.
Images
Videos
Social media content (e.g., a Tweet about your brand)
Testimonials
Product reviews
Live streams
Blog posts
YouTube content
Best user-generated content examples
Brands of all sizes use user-generated content to raise awareness, increase conversions and social engagement, broaden their reach, and grow their business more cost-effectively.
GoPro
GoPro, a video equipment company, uses UGC to sustain its YouTube channel, with its top three videos all shot by customers. By December 2021, those three videos had received over 400 million views.
Not bad for content created for free by GoPro.
In fact, UGC for the company got so big that they now have their own awards show and promote daily photo challenges to encourage their customers to be creative.
GoPro: Backflip Over 72ft Canyon - Kelly McGarry Red Bull Rampage 2013
Video user-generated content for the GoPro YouTube channel.
LuluLemon
LuluLemon, not to be confused with the multi-level marketing company LuLaRoe, is primarily known for its expensive leggings and yoga clothing. To increase the company's social media reach, they asked followers and brand loyalists to share photos of themselves wearing LuluLemon clothing with the hashtag #thesweatlife.
This not only created a trove of easily searchable UGC content for LuLuLemon to repurpose, but it also organically increased the company's brand awareness and reach across social media as they shared content from brand ambassadors.
Sparkling water brand La Croix, like LuluLemon, uses a hashtag (#LiveLaCroix) to mine for UGC on their social media channels. La Croix, on the other hand, relies less on brand loyalists and shares content created by anyone, regardless of follower count.
Audiences will see themselves reflected in these photos, rather than brand ambassadors or loyalists with higher follower counts. So, their user-generated content will be more relatable.
UGC isn't just for big, well-known brands. Smaller businesses also use UGC in their social campaigns. Well Traveled is a community-driven travel brand that uses member-generated content to highlight the benefits of membership, the quality of property partners, and other exclusive offerings from brand partners.
According to Laura DeGomez, Well Traveled's Director of Partnerships and Brand Marketing, "as a service in such a visual industry, the "proof" provided by member content is immeasurable." The beautiful trips discovered, planned, and booked on Well Traveled are a phenomenal marketing and retention tool."
DeGomez uses UGC to not only visually engage members and prospective members, but also to increase brand awareness, reach, and community.
"No one tells our story better than our members. The Well Traveled community is the key here, whenever we can let their experiences shine, we do." – She continues.
Instagram isn't the only place to find user-generated content. Copa90, a soccer media company, used UGC on Snapchat to raise awareness about the 2018 FIFA World Cup, which was held in Russia.
To reach out to younger soccer fans, the company used Snapchat to share relevant and exciting story-driven UGC that made the audience feel as if they were present in Russia. They also encouraged their audience to "swipe up," which shifted traffic away from Snapchat and toward other platforms.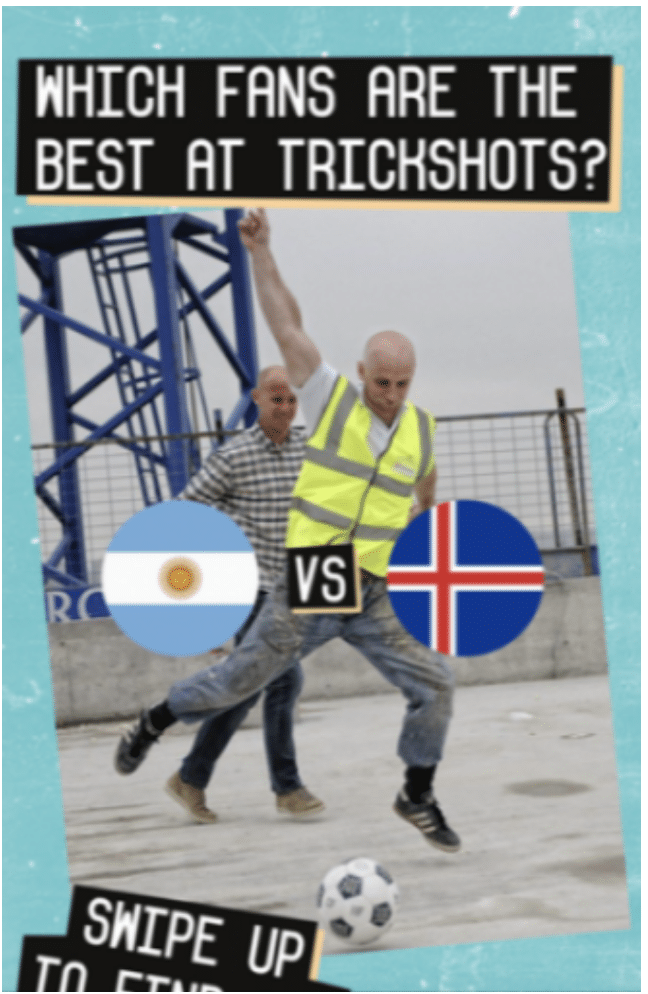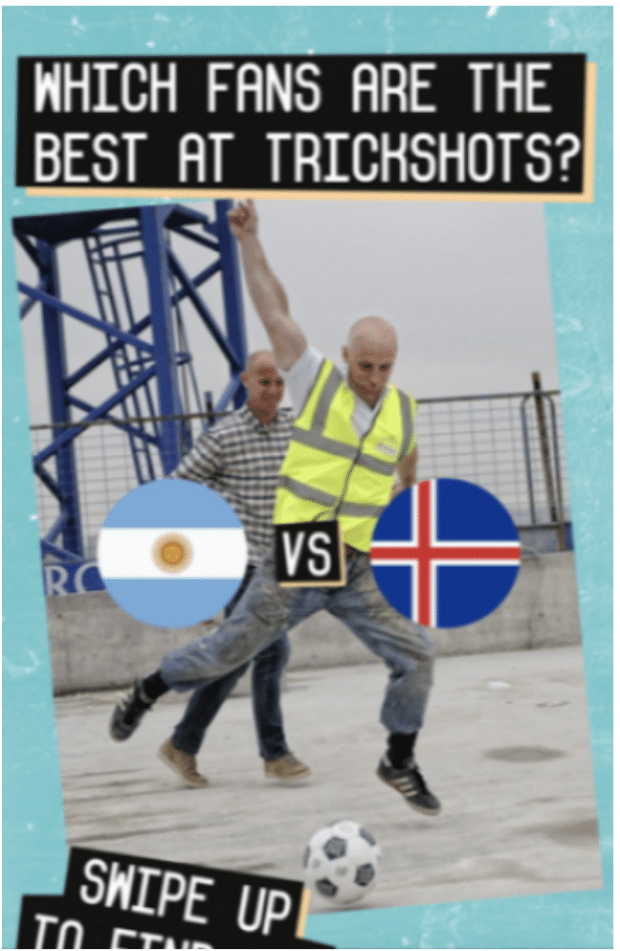 The end result? Over the course of 45 days, there were 31 million unique users, with 40% of viewers swiping up to see more.
User-generated content (UGC) tips
Always ask for permission of using user-generated content
Consent to share content is a must. Always request permission before republishing or using a customer's content.
People may use your branded hashtags without realizing they're part of a user-generated content campaign. Unfortunately, re-sharing that content without explicit permission is a surefire way to destroy goodwill and irritate some of your most ardent brand advocates.
When you request permission, you demonstrate to the original poster that you value their content. That helps you get them excited about sharing it with your audience. You also avoid getting into trouble with copyright issues.
Credit the original creator
When sharing user-generated content on social media, make sure to give proper credit to the original creator. This includes directly tagging them in the post and specifying whether you're using their visuals, words, or both. Remember to give credit where credit is due.
If you intend to share user-generated content across social media platforms, inquire about how the creator wishes to be credited on each channel. If you want to share an Instagram photo on your Facebook page, for example, ask the original creator if they have a Facebook page you could tag.
Giving proper credit to content creators is an important way to recognize their efforts. It also keeps them interested in using and posting about your brand.
It also makes it simple for fans and followers to confirm that the content was belong to someone outside your company.
Make it clear what kind of content you're looking for
UGC creators want you to share their work. That is, they want you to tell them the type of content you are most likely to share.
Only 16% of brands provide clear guidelines on the type of user-generated content they want fans to create and share, but more than half of consumers want brands to tell them exactly what to do with UGC. So don't be afraid to be specific and make it simple for people to share content that meets your requirements.
How will you know what kind of UGC content to request if you don't understand how it fits into your campaign strategy? Sure, it's nice when people tag you in beautiful photos. But, how can you use that content to further your marketing objectives?
To begin, go over your social media strategy document and look for ways UGC aligns with your current marketing goals. Then, based on that information, write a simple statement that tells users exactly what kind of content you're most likely to feature.
Once you've established a clear UGC request, share it wherever people are likely to interact with your brand:
your social channels bios,
in other user-generated content social media posts,
on your website,
in your physical location,
or even on your product packaging.
Understanding the types of content you require from your customers is only the first step in developing a UGC strategy. You should also align your UGC campaign with your overall social media goals.
For example, do you want to raise brand awareness or increase conversions (or both?)
If you're serious about scaling user-generated content, consider investing in a UGC management platform like TINT to help you discover relevant user-generated content and insights for your campaigns.