A social media policy is an important tool for any organization that uses social media.
Actually, it's a vital tool even if your organization does not use social media. Because your employees nearly certainly do: 72% of Americans utilize at least one social media platform. Yet 63% of Americans say their employer has no social media policy.
A social media policy is not only a set of rules. It guides, advises and inspires in best and worst-case scenarios.
Not sure where to begin? Read on.
What's a social media policy?
A great social media policy is a living doc that gives guidelines for your organization's social media use. It covers your brand's official channels, as well as how staff utilizes social media, both personally and professionally.
Because social media is constantly changing—platform popularity shifts all the time, let alone the specifics of how they are used—a social media policy could not just sit quietly in a drawer (or a Google Doc.)
You want a simple, up-to-date doc that's simple to know and act on whether the person reading it's a new hire or a social media manager in the middle of a PR crisis.
Advantages of a social media policy
Maybe you have skirted some social media issues already. Or maybe your social media strategy is going swimmingly. Either method, why go to the trouble of crafting, revising and launching an official social media policy for your organization?
There are just a few compelling reasons. An official policy could help you:
Maintain your brand id consistently across channels
Treat legal and regulatory sensitivities with awareness
Prevent a security breach
Prevent a full-blown PR crisis
Act rapidly if a crisis or breach does occur
Be upfront with your employees regarding their own social media responsibilities
Encourage your employees to own and amplify your brand's message
What to include in a social media policy
1. Define your team's roles
Who owns which social accounts? Who covers which responsibilities on a daily, weekly or as-needed basis? It may be useful to include names and email addresses so that staff from other teams know who to contact.
Responsibilities to assign may embody:
Daily posting and engagement
Daily customer support
Strategy and planning
Advertising
Security and passwords
Monitoring and listening
Approvals (legal, financial, or otherwise)
Crisis response (see #3)
Social media training for other employees
At the very least, this part should set up who is authorized to speak for your brand on social media—and who is not.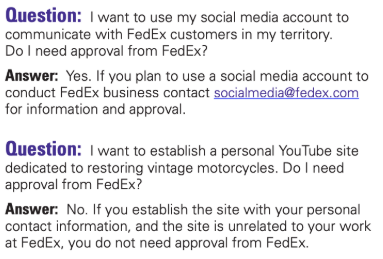 2. Establish security protocols
There are lots of social media security risks out there. In this part, you have the chance to offer guidance on identifying and dealing with them.
How often do your account passwords get changed? Who maintains them, and who has access to them? Is your organizational software up to date frequently? What about devices? Who should employees talk to if they need to escalate a concern?
3. Make a plan of action for a security or PR crisis
The purpose of your social media policy is to prevent the need for a social media crisis management plan. Nevertheless, it's greatest to have both. Do consider whether those need to be two separate documents—particularly in case your social media policy will be public-facing.
Your crisis management plan should embody an up-to-date emergency contact list with particular roles: not just the social media team, however, your legal and PR experts, all the way up to the C-suite.
Guidelines for identifying the scope of the crisis, an internal communication plan, and an approval process for response will also assist you to handle it as rapidly as possible.
4. Outline how to stay compliant with the law
Details will vary from country to country, or even state to state, so consult your legal counsel. However, at minimum, your policy may touch on the following:
Copyright is a no brainer, so it's greatest to explain how to comply with copyright law on social media, particularly when utilizing third-party content.
Privacy is vital. Do all your employees know how to handle customer info, for example?
Confidentiality refers to respecting your organization's internal info. Whether you have your people sign non-disclosure agreements or not, they need to be aware of the ramifications of disclosing info on social media that the organization considers private.
5. Provide guidance on how employees behave on their personal social media accounts
According to Pew, only 32% of Americans report that their employer has a policy about how they present themselves online. (Though 51% have a policy about utilizing social media at work—which your policy could also cover when you like.)
Posting hate speech, threats of violence, harassment, or racial epithets on social media could violate the law, or your organization's code of ethics, or both. Regardless, employees need to know that they will be held responsible for what they say.
Even when the posts in question are not outright illegal, it may be fascinating for your employees to think about how 17% of American workers admit they use social media to find out more about the people they work with. And they are more likely to find info on social media that lowers their opinion.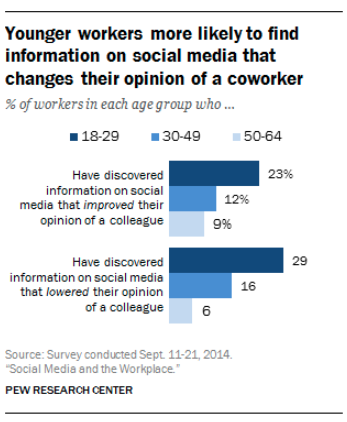 6. Encourage employees to participate appropriately in the conversation around your brand
Your social media team probably speaks your brand's voice in their sleep. And your official spokespeople are drilled to reply hard questions on the fly. However, what about everybody else? How do they stay accountable to your organization?
You might want to advise your employees to post disclaimers stating their relationship with your group, and that their opinions are their own. For example, Adidas encourages employees to identify themselves and "make clear that you're speaking for yourself and not the Adidas Group."
Meanwhile, Walmart asks that employees avoid engaging in conversations about Walmart entirely. Of course, that does not apply to former employees:

How to implement a social media policy
In 5 easy steps:
1. Download our social media policy template
It's free and it asks all of the questions you should get began.
2. Seek input from stakeholders
Your organization's power users, HR team, and public spokespeople probably have some key ideas that will help round out your unique needs. The most essential consultation, of course, will be with your legal team.
Pro tip: as you draft your policy, do not get caught up in tutorials or details. The nitty-gritty will inevitably change, and quick. Concentrate on the big image.
3. Decide where your policy will live
We highly recommend including your policy to your employee handbook, so that new hires could read (and enjoy!) it during onboarding.
However, where will existing employees access it? Will it live on your firm intranet or shared drives? Depending on your organization's needs, you might consider posting it to your external site, as well.
4. Launch it (or relaunch it)
Whether it is a revision or a brand new doc, you will need to ensure everyone is aware that it's ready for their eyes. Whether you announce it through internal email or at an all-hands meeting, ensure you leave plenty of room and opportunity for questions.
5. Flag it for review at this time next year
It isn't unusual to see social media policies that date back to the dark ages of 2013 or 2011. (You could tell because they utilize neat buzzwords like "Web 2.0" and "microblogs.")
Committing to an annual or biannual review will ensure your policy stays helpful and relevant. At the very least, you will want to make sure all the details and contact info are updated.
And if you make adjustments, keep in mind to note the date of a revision somewhere within the doc.