Continue with some last social media content ideas for your brands…
20. Memes
Just as GIFs are a way to use social media content ideas to engage with wider cultural conversations, meme posts help your organization's social media accounts appear relevant and fun. They also encourage sharing, when they are well done.
Before you post to social media using a meme, make sure you understand its meaning. Don't post a meme that might be offensive or embarrass the organization by using it incorrectly. (If you're really good at this you'll manage to create your own meme, as the Museum of English Rural Life once did.)
The Monterey Bay Aquarium uses social media in a lot of fun ways, including in this tweet that makes a pun with both an '80s song and a sea creature via a visual meme.
Here are some Instagram accounts that are harnessing the power of memes.
21. A peek inside your product
This is a twist on product photos. Instead of just showing your product in a photo or video, give your followers a look inside that they otherwise might not get until they buy it.
Unboxing videos are a popular iteration of this idea that can be found all over YouTube. You can make these yourself or reach out to creators who have made them with your products for reposting. But these posts can also be as simple as sharing photos of a few pages inside the covers of a book.
Petite Drawn and Quarterly often shares glimpses between the covers of the children's books it carries via Instagram.
22. Customer photos
Search your own hashtags and user names on the different social media platforms your organization uses. Chances are good that someone, somewhere has posted a photo of themselves using your product or service. These posts are another great way to thank your customers, and provide new content to be shared on your own account (with permission, of course!).
The aesthetic of these posts matters more for some platforms than for others. For Instagram and Pinterest, look for customer photos that match the rest of your social media content. On Facebook and Twitter, this is less important.
Simply Made by Bekah includes photos taken by their customers, featuring the company's earrings, on its Instagram feed regularly.
23. Client feedback
It might seem like you only ever hear about things going wrong, but chances are you have received flattering feedback or reviews from a client. Ask those clients if you can share a quote from that feedback on your social media accounts, or offer regular customers a discount for their feedback and then share it. It's a great way to highlight positive experiences from real-life customer interactions.
As with quote posts, you can use Adobe Spark or A Design Kit to create a visual way to share this feedback. If the client is willing to make a short video sharing their experience, even better.
24. Questions
Engagement is important on social media, and one simple way to get that is to ask your followers an open-ended question—one that can't be answered with a yes or no.
You can ask a question in a text post but that's less likely to get engagement, and not as fun. One way to ask questions on social media is to use Instagram's Questions sticker in Instagram Stories. You can then share some of the responses you get in Stories as well.
Lingerie company Knixwear recently used Instagram Stories to answer questions from followers about their founding and business journey.
25. Tips and tricks
If your product or service has a bit of a learning curve, or if you just have some insider advice to share, put those on your social media accounts. There are a variety of ways to do this, from live and pre-recorded video to visual tutorials with photographs.
Consider using TikTok for short videos if you can share the information quickly, or Instagram Stories if you want a mix of photo and video or need a few panels to make your point. YouTube, Facebook, and Instagram's IGTV feature are options for longer videos.
Fenty Beauty regularly shares photos and videos on social media, including YouTube, that explain how their products can be used and show them on different skin tones. This makes customers who might not be able to test Fenty Beauty samples in store much more likely to buy online.
26. Events
Event posts are obvious in some instances, like if you are hosting a party or workshop. But think about using event pages on Facebook for more than just physical gatherings.
You could post an event on Facebook for a webinar, for example, or an upcoming sale. Think about creating events like Twitter chats or social media promotions as well. Promoting things like this via an event instead of a regular social media post means anyone who indicates they are interested or attending will get a reminder when it starts.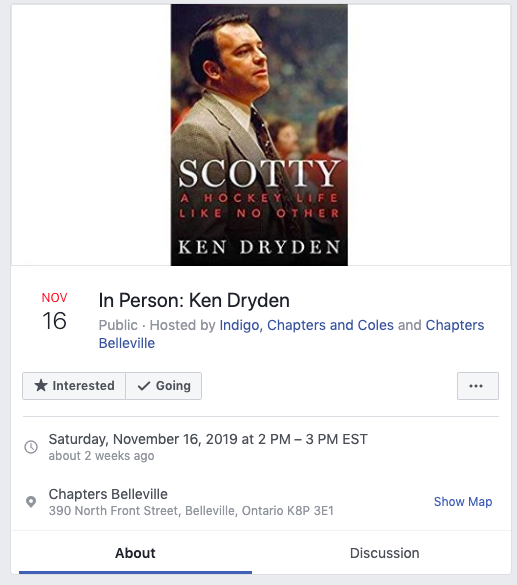 Indigo promotes in-store events, like this Ken Dryden book signing, via Facebook Events.
27. Polls and surveys
People love to be asked their opinion, and many social media platforms make it easy to do that. You can engage with your followers via polls and surveys on most major social media sites now: Facebook, Instagram Stories, and Twitter.
Think about how you can make these polls and surveys fun. Ask your followers which color an upcoming product should be, for example. Make the input feel meaningful.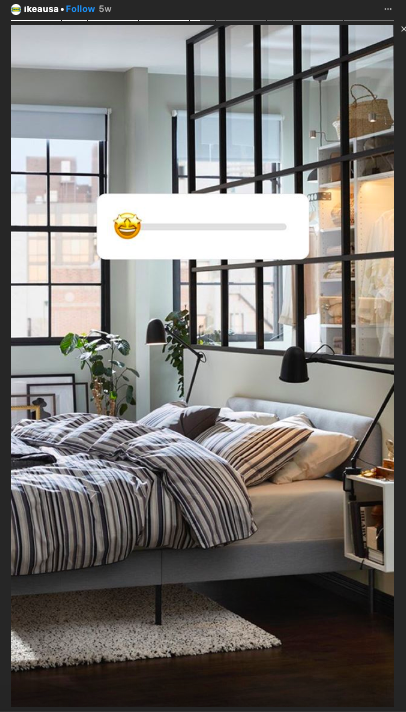 IKEA's Instagram Stories featured slider polls, complete with starry-eyed emojis, asking followers how much they liked different bedroom setups.
28. Press mentions
Has your brand received positive media attention lately? Brag about it! Share flattering press mentions of your brand, or your industry, with your social media followers on your various platforms.
When you share these posts, be sure to tag the accounts of the reporter and outlet and use any relevant hashtags. It will help the posts be seen by even more people.
We do hope these 28 social media content ideas will help your brands get more followers!