Facebook's ad tools simplify the creation of profitable ad campaigns on one of the world's most popular social media platforms. These tools, which focus on design, optimization, and analytics, save time and resources for social media marketers while providing valuable campaign performance data and insights. Are you eager to explore the top-tier Facebook ad tools that allow you to serve delectable campaigns to your audience? Let's begin.
Facebook ad automation tools
1. AdEspresso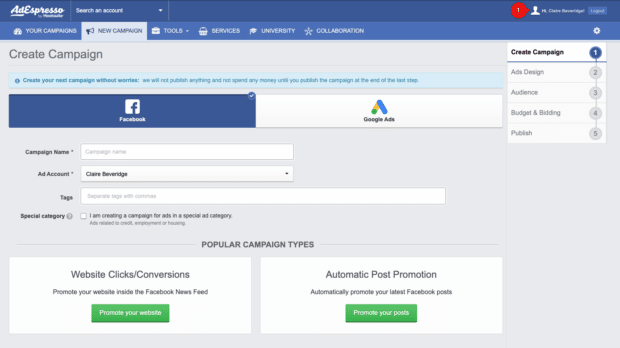 AdEspresso, the reigning monarch of Facebook ad tools, is a trusted choice for brands and businesses worldwide. With AdEspresso, you can easily create, manage, and analyze campaigns from a single, convenient interface. In addition, the platform enables you to conduct A/B tests and determine the top-performing Facebook ads for your brand.
Pros
All-in-one Facebook advertising tool
Collaboration and approval tools are built in.
User-friendly, straightforward interface
Organizes creative elements for quick access
Creates dynamic advertisements with audience targeting
Cons
There is no smartphone app.
Pricing
AdEspresso provides a 14-day free trial. Paid subscriptions begin at $49 per month.
2. Hootsuite Social Advertising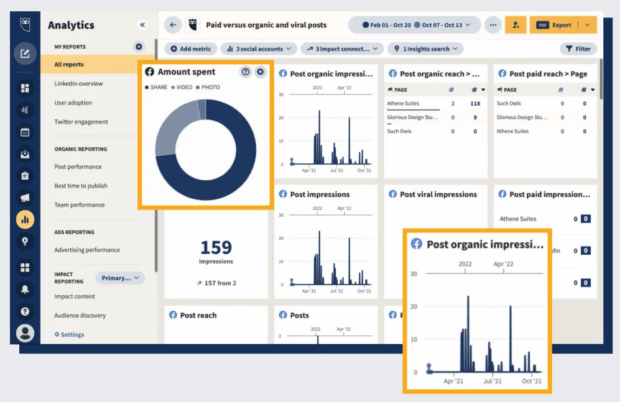 You are likely aware that a combination of paid and organic content is necessary to succeed on social media. Fortunately, Hootsuite Social Advertising can assist in managing both types.
With Hootsuite, you can create and schedule Facebook ads, review organic and paid content side by side, obtain actionable analytics, and generate custom reports. A holistic view of all your social media activity allows you to make data-driven adjustments to active campaigns swiftly and optimize your budget.
If an ad is performing well on Facebook, you can adjust ad spending across other platforms, or if a campaign is unsuccessful, you can pause it and reallocate the budget, all without leaving your Hootsuite dashboard.
Pros
Make Facebook, Instagram, and LinkedIn ad campaigns
Control the spending and targeting of your advertising campaigns.
Create advanced and similar audiences.
In the Planner, you can compare paid and organic posts.
In Hootsuite Analytics, examine the performance of paid and organic posts.
Cons
Only available on the Hootsuite Enterprise plan.
Pricing
Hootsuite pricing starts at $99 per month, with the social advertising feature available only on the Enterprise plan.
3. Hootsuite Boosted Posts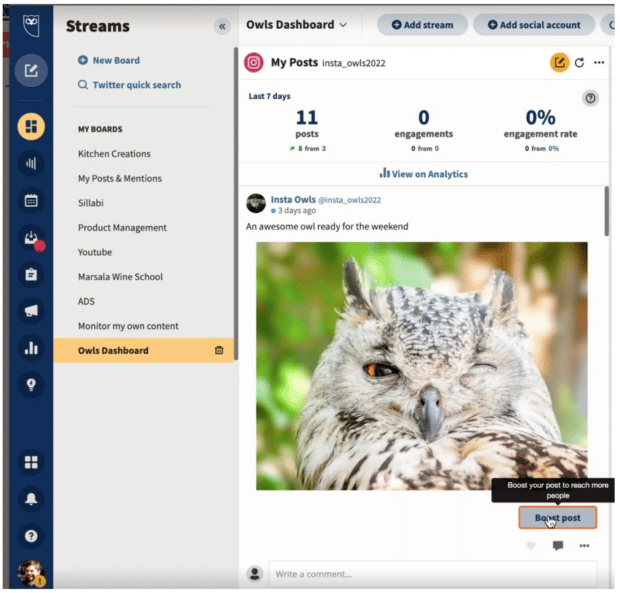 You don't have to be a Hootsuite Enterprise user to advertise on Facebook directly from your dashboard. All paid Hootsuite users can create mini ad campaigns on the go by easily boosting organic Facebook posts from Streams.
Pros
Identify and promote high-performing posts in Analytics directly from your dashboard.
Interests, age, gender, location, demographics, or behaviors can all be used to target your boosted ad.
Set your campaign budget and duration.
Encourage people to share your post on Facebook, Instagram, or both.
Cons
There are no drawbacks here!
Pricing
Hootsuite begins with a 30-day free trial. Following that, the Professional plan costs $99 per month.
4. Facebook Ads Manager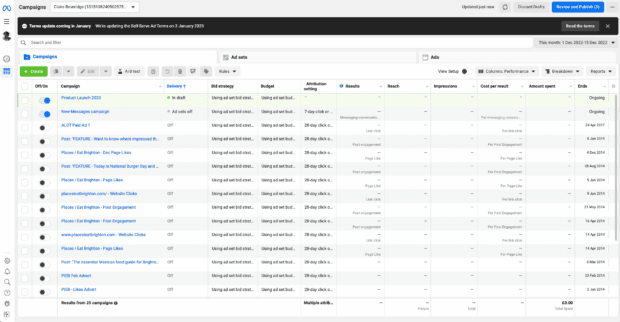 What better place to manage your Facebook ad campaigns than on Facebook? Facebook Ads Manager allows you to create ad creatives in the Creative Hub, track campaign performance in the Analytics tab, and automate ad posting with Automated Ads.
Pros
Third-party integrations such as Google Tag Manager, Shopify, and Big Commerce are available.
Ads that are automated save you time and money.
Pixel tracking for more precise audience targeting
Analytical depth
All of your campaigns will be visible in one place.
Cons
For newcomers, the platform can be difficult to grasp.
Meta's constant updates make it difficult to stay current.
Pricing
Facebook Ads Manager is a free tool, but keep in mind that running Facebook Ads will require spending money, which varies depending on the scope of your campaign.
Facebook ad design tools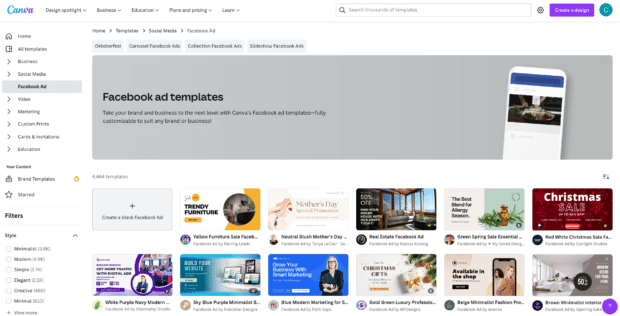 Canva is the perfect design solution for anyone and everyone, with a reputation for being extremely user-friendly and requiring no prior design experience. It has set a high standard for creating Facebook ad images with ease.
With its pre-made templates, the tool can save you valuable time, especially if you are in a hurry to launch your creative Facebook ads.
Pros
Simple drag-and-drop interface
It's ideal for those on a tight budget (hint: it's free!)
Over 250,000 customizable templates for various campaigns and goals
Ads appear professional and have a pleasing aesthetic.
Stock photography is available for free.
Cons
Not as sophisticated as other editing tools (Photoshop, Illustrator)
Because it is template-based, creativity can look a little samey unless customized.
Alignment can look a little skewed, and not as accurate as other professional tools.
There is no option to download RAW files.
Pricing
Canva has a free plan for marketers who want to use the platform's features right away. If you want to take things a step further, consider a paid plan, which starts at $149.99 CAD per month.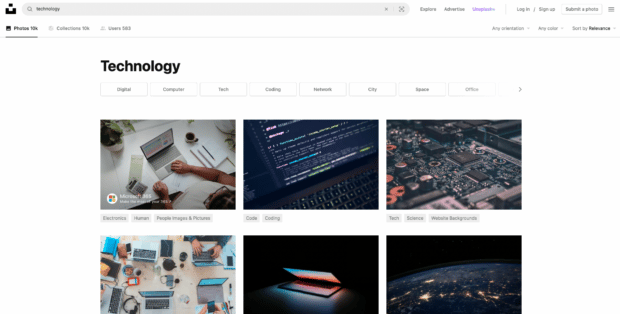 Unsplash is extremely popular because it allows marketers to gain free access to high-quality, professionally shot images for use in Facebook ad campaigns.
Pros
Simple, user-friendly interface
Images are organized into categories for easy searching.
The free plan includes over 3 million photos.
A premium plan grants access to the iStock library.
No permissions are required for image use.
Cons
Unsplash has gained immense popularity, which implies that other companies may also use the same images as you for their campaigns, leading to confusion among your audience.
Unless you intentionally give credit to the photographer, they won't receive any appreciation or acknowledgment for their work.
Pricing
While Unsplash is a free platform for image use, it also provides Unsplash+ for marketers seeking unrestricted downloads and improved legal safeguards for image usage
7. Your smartphone
Nowadays, smartphones are equipped with exceptional cameras and apps that empower you to create Facebook ads quickly, irrespective of the brand you are using, be it Apple, Samsung, Nokia, Sony, LG, or any other. You can capture a behind-the-scenes glimpse of your latest product being shipped and run a Facebook ad that promotes a landing page, requesting your audience to sign up for exclusive access. It's pretty amazing, isn't it? Feeling uncertain about your photography skills? Check out this useful guide on capturing photos with an iPhone.
Pros
Anyone on your team can use their smartphone to take photos.
Images and designs created on your phone are genuine, original, and one-of-a-kind.
Your brand has the opportunity to run campaigns that show different aspects of your business, such as behind-the-scenes, coming soon, team shots, office life, and so on.
Cons
If the Facebook ad creative is not edited correctly, it may appear scrappy. This could be a potential loss of time and resources for those who lack a photography eye.
Pricing
Free (unless you count the cost of your smartphone or the cost of downloading image editing apps!)
Other helpful Facebook ad tools
8. Mobile Monkey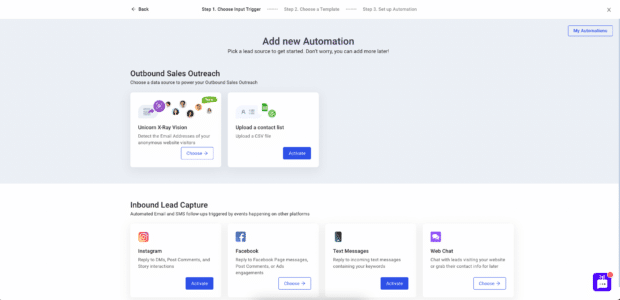 Why confine your Facebook ads to the standard newsfeed? Mobile Monkey allows you to reach new audiences by advertising through Facebook Messenger (another product in Meta's suite). You also get access to Mobile Monkey's SMS and chatbot features, as well as the tool's ability to create drip campaigns.
Pros
Drag and drop interface that is simple to use
Integrates with popular apps
There are numerous features available, not just for Facebook Ads.
Cons
Inadequate analytics and reporting
Pricing
It is difficult to assess Mobile Monkey's pricing as their pricing page does not provide any pricing information or a free sign-up button. In case of interest, we recommend requesting a product demo and inquiring about costs.
9. AdView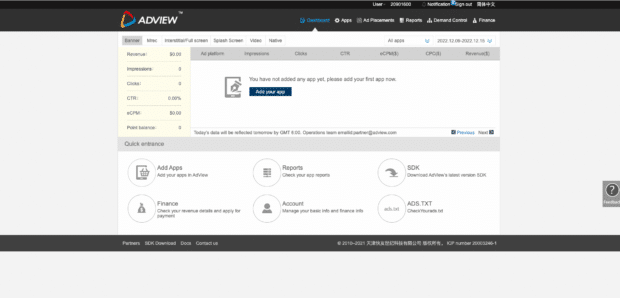 It's normal for your target audience to comment on your advertisements. Adview is a fantastic tool for helping you monitor the conversation because it allows you to respond to comments on the fly or by using prebuilt templates (the ultimate time saver!). The tool also provides insights into which ads are generating the most chatter and includes a handy filter option to easily sort through which comments have been read and replied to.
Pros
Respond to comments using pre-built templates to save time and resources.
It includes analytics to help you understand which ads are generating the most comments.
Ads can be monitored on one Facebook account and unlimited pages.
Cons
Pricing
Adview costs $7 per month per account, with additional accounts costing $7 per month.