"Nothing is more simple than greatness," wrote Ralph Waldo Emerson. "Indeed, to be simple is to be great."
Instagram, of course, is easy. It is so easy that half a billion people use it every month to create, express to themselves, and connect with others. And all these people generate a tremendous amount of content—95 million posts per day—which could make it difficult to stand out, particularly as a business.
As a marketer, here are 8 ideas you could borrow from the famous brands which have found a method to cut via the noise using Instagram Stories.
Create tutorials, like Etsy
People are hard-wired to chase instant gratification, to keep away from a delay. Seizing the reward at hand is an evolutionary trait, bred into the human condition over hundreds of years.
Brands, like Etsy, that make tutorial Instagram Stories, are capitalizing their followers' innate desire create the things they want quickly and seamlessly.
Go behind the scenes, like The New York Times
A deeper, more intimate and authentic look into something we love and appreciate could be a fascinating experience. That is why "behind the scenes" content is so compelling to followers: it goes beyond the surface, scratches a knowledge itch, and ultimately, makes the followers feel special, distinguished.
The New York Times, for instance, took its followers behind the scenes at the Westminster Kennel Club Dog Show, giving followers the richer, more satisfying experience they crave.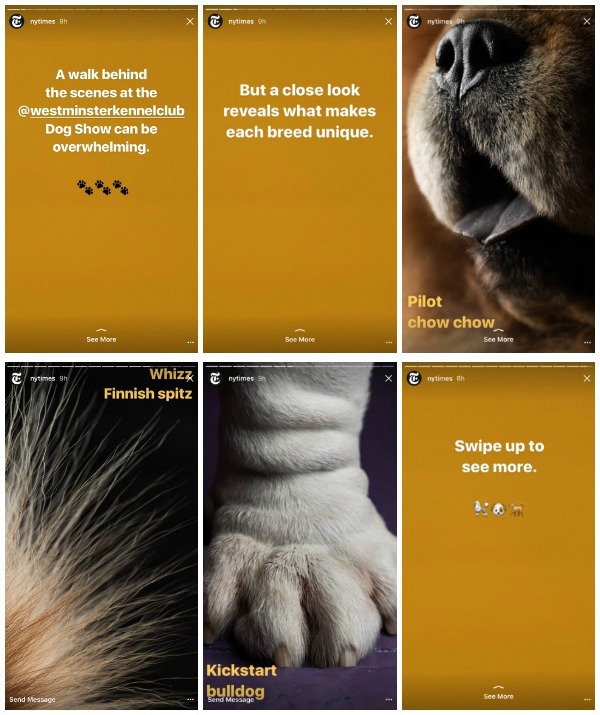 Break news, like Ben & Jerry's
Firms that use Instagram Stories to make announcements are keeping their followers apprised and in-the-know, which is valuable to followers and brand advocates.
Whether your business has made an acquisition, hired an industry influencer, or launched a new product, breaking the news through an Instagram Story will reinforce the notion that people who watch your content are well-informed consumers.
Every time Ben & Jerry's releases a new flavor, for example, they post a Story—and people eat it up.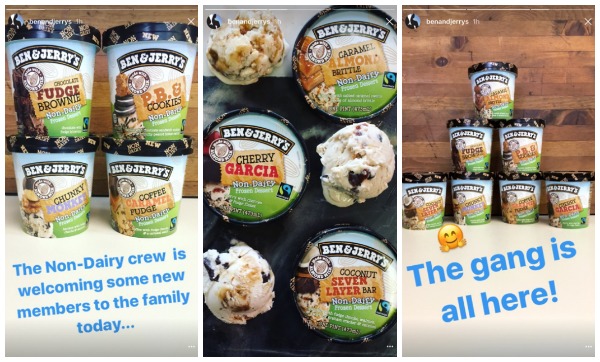 Create listicles, like National Geographic
Listicles are here to stay because they are simple to skim and digest.
"Lists tap into our preferred method of receiving and organizing info at a subconscious level," writes New Yorker columnist, Maria Konnikova. "From an information-processing standpoint, they usually hit our attentional sweet spot."
In that sense, Instagram Stories are an ideal medium for creating listicles, particularly for highly visual brands, like National Geographic.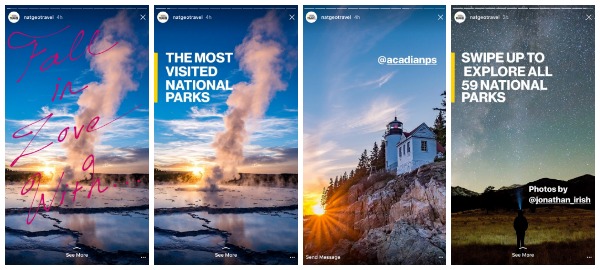 Host a takeover, like Maybelline New York
Back in 2012, brands such as GE and Burberry began inviting influencers to "takeover" their feeds as a method to cross-promote content and reach new followers. The strategy caught on—and has since stuck—because, when done right, everyone wins.
"Takeovers aren't only fun," explains Gary Vaynerchuk, "but are also an excellent example of 50/50 value exchange—a partnership that is mutually and equally beneficial."
For instance, when Maybelline New York had teen influencer, Jordyn Jones, take over their Instagram Story for an inside look at New York Fashion Week, each brand was able to garner relevant attention and engagement from the other's followers.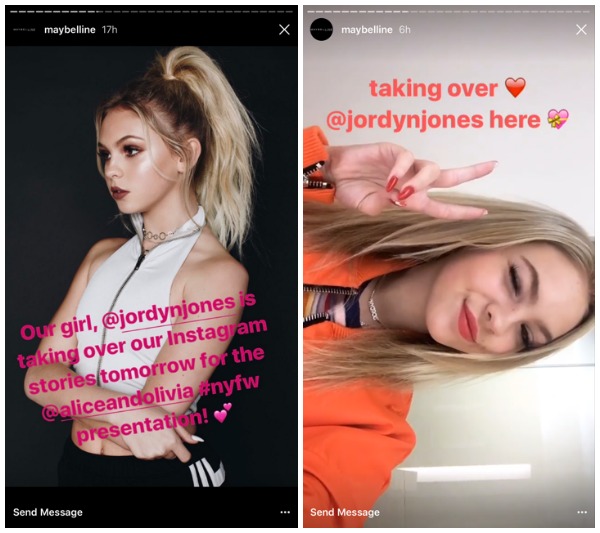 Share a Q&A, like The New York Times
Question-and-answer Instagram Stories are good at bringing multiple perspectives on a single topic to the surface, making a deeper, more illuminating experience for followers. The format also enables a brand to interact directly with its audience, who could take part in the Q&A by direct messaging their questions.
During protests at Standing Rock, for instance, The New York Times used this tactic to broadcast various points of view on the topic.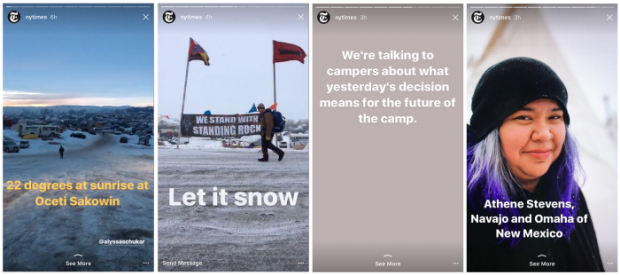 Pictures via PR Newswire's Journalist and Blogger Community Blog
Give shoutouts to followers, like Starbucks
Not like other, more formal channels, Instagram Stories is a casual medium, which makes it an appropriate place to speak directly with your followers.
As a fan, few gestures are as satisfying as seeing your work recognized by the brand you like.
During Starbuck's #RedCupContest, for example, the coffeehouse large invited users to share content that includes the brand's iconic red cup. The best posts were then curated into an Instagram Story that gave shoutouts to the individual creators.