Hey there! Are you struggling to get your first 1,000 Instagram followers? Not sure what kind of content will attract your ideal target audience? Don't worry, we've got you covered! Check out our article for a step-by-step strategy on how to grow your new Instagram audience organically. Let's boost your Instagram presence together!
How to Quickly Grow Your New Instagram Audience
Are you ready to grow your new Instagram audience? Follow these steps to begin attracting more followers right away.
#1: Increase the Visibility of Your Instagram Profile
Allocate a few moments to perfect your profile setup before posting your initial Instagram content. This can enhance your profile's visibility in searches and motivate your intended audience to follow you upon encountering your profile or posts. Conversely, an unfinished profile is unlikely to attract numerous followers.
Begin by refining your Instagram display name. Alongside your brand name, include a brief tagline or description of your business. Choose keywords relevant to your audience while retaining a relatable tone.
Next, utilize your Instagram bio to incorporate more keyword-specific information about your business. The bio presents an excellent opportunity to showcase social proof, such as awards received, the number of satisfied customers, or names of noteworthy businesses you have partnered with.
In your bio, consider incorporating branded hashtags to help new followers discover more of your content and encourage user-generated submissions. However, there's no need to add unbranded hashtags to your bio as they won't contribute to your profile's visibility in in-app searches.
#2: Schedule a series of introductory Instagram posts
Next, create content that will likely resonate with customers and encourage them to follow your account. Because an empty grid will not help you gain followers, schedule a series of introductory posts to publish right away. For example, you could introduce your company, its products and services, and its team.
Don't be too concerned about the timing of these posts. Select a time during business hours to post to your Instagram profile. Once you've gained followers and are posting regularly, your Instagram account insights can help you determine when your target audience is online and the best time to post.
#3: Include Relevant Hashtags in Posts
Hashtags alone won't magically grant you immense reach or significant follower growth. However, they can enhance your visibility and help your brand capture the attention of potential followers. This is because hashtags provide context to your content, aiding Instagram in understanding the essence of your posts. As a result, the platform can deliver your content to a more relevant audience.
By adding hashtags to your Instagram content, you can potentially feature in related hashtag feeds or on related hashtag pages. For optimal outcomes, abide by Instagram's official guideline of employing three to five hashtags per post or reel, including a branded hashtag, and subsequently measuring the outcomes.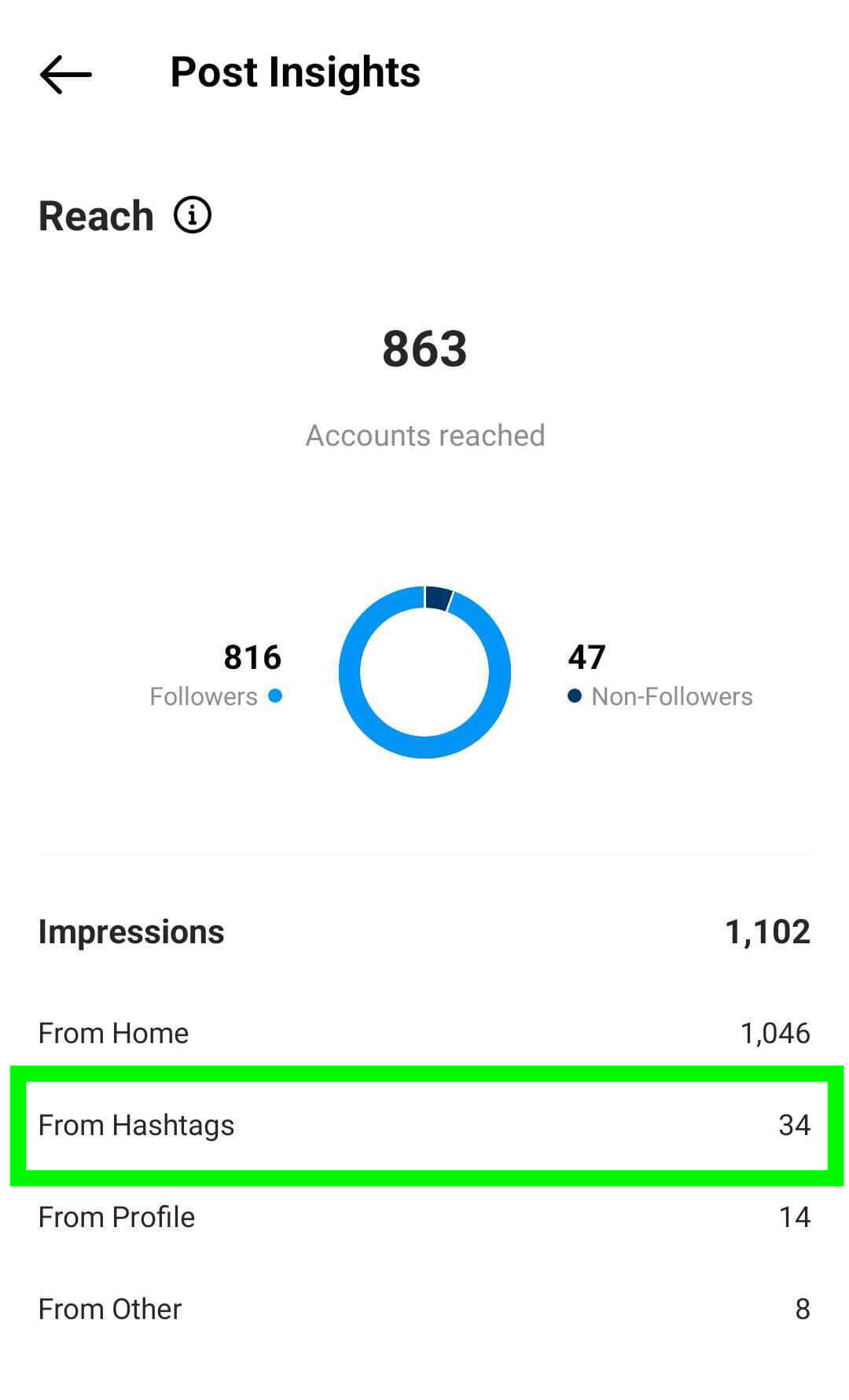 While Instagram's in-app insights do not furnish analytics for individual hashtags, you can analyze the performance of particular posts. By incorporating only a handful of hashtags in each post, you can systematically evaluate which ones yield the most favorable outcomes for your account.
#4: Add a Geotag to Your Instagram Content
Instagram geotags can also help you get on the radar of the right potential customers when you want to attract a local audience. Begin by looking into local geotags. To find the best one to use, enter the name of your region, town, or neighborhood into Instagram's search bar. (i.e., one with relevant recent activity).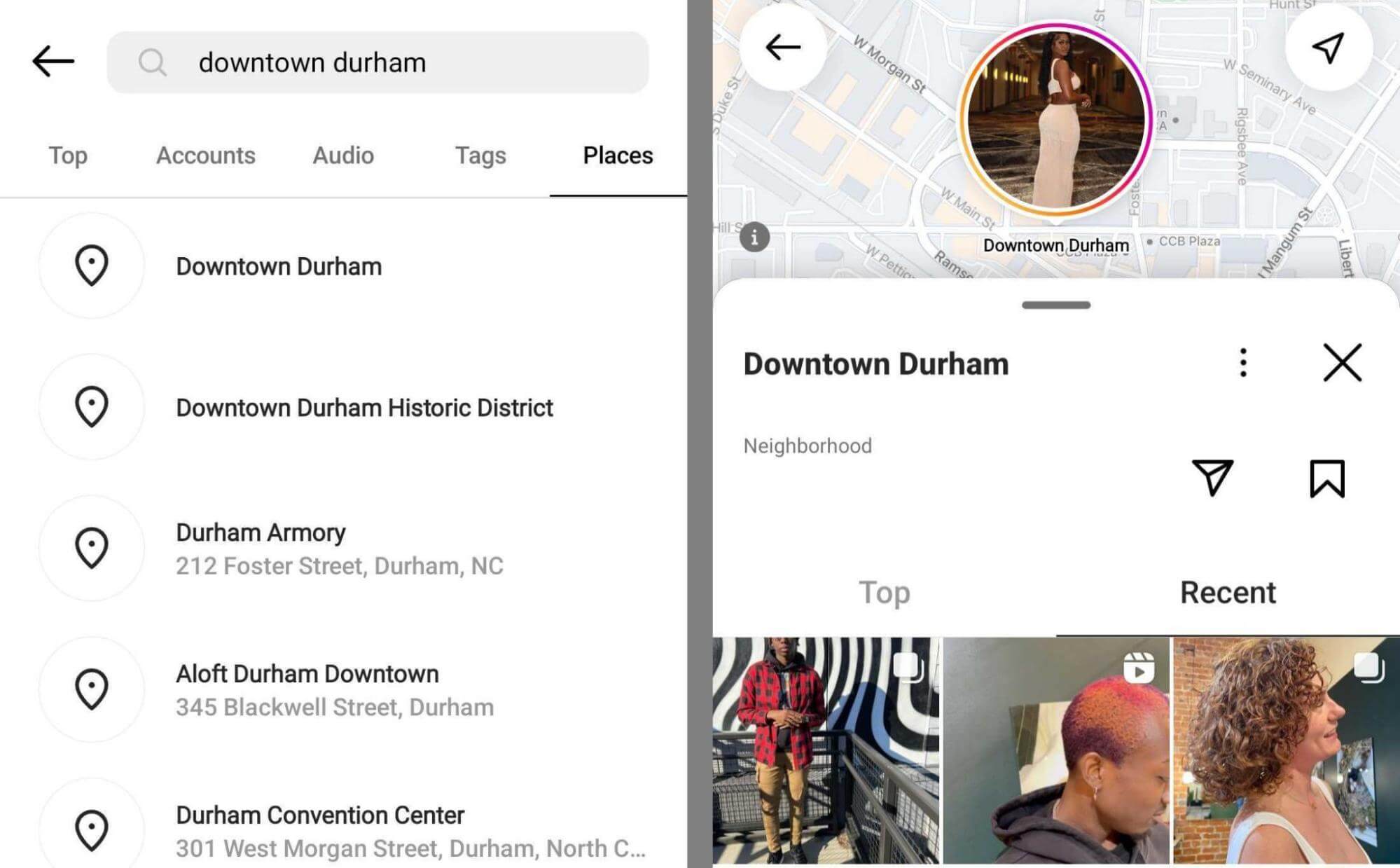 It's fine to change up your geotags for each post as long as they're relevant to your content. Geotags, for example, are excellent for increasing visibility if your company participates in pop-up events at various locations.
#5: Create a Recognizable Aesthetic
With Instagram introducing separate tabs for Reels and feeds for Stories, it's understandable to assume that the grid is no longer relevant. While maintaining an exquisitely designed grid may not hold as much significance as it used to, adhering to a recognizable aesthetic is still relevant. The more recognizable your brand, the more customers will remember it, and the more it will stand out amidst a crowded Instagram feed.
To ensure that your aesthetic is unforgettable, establish a style guide for your Instagram content. Outline the overall tone, color schemes, fonts, and filters to use for your content, as well as the templates to use for reels and stories.
#6: Make Use of Strong Calls to Action
Even if Instagram users appreciate your brand and content, they may not click the Follow button without a clear call to action (CTA). Encourage viewers to follow your account by incorporating CTAs into captions, creatives, and conversations.
Steer clear of empty CTAs that don't offer potential followers any worthwhile incentive. Instead, provide them with a compelling reason to follow you, such as Instagram live sessions with your founder, exclusive content that you don't post on any other platforms, or a sneak peek of your special offers.