Ever had that moment when you're just casually scrolling through Instagram, having a good laugh at a Reel, and then bam! You accidentally refresh your feed, and poof – that hilarious video is gone forever? Or, picture this: you come across the absolute perfect Reel for that blog post you're working on, but, oops, you forget to save it. Wouldn't it be awesome if Instagram had, like, a super easy way to check out your Reel history? As people who are all about using Instagram Reels for our biz, we're giving a big ol' yes to that! Sadly, though, Instagram lacks a built-in watch history feature. But no worries! We've been dropping hints in their suggestion box about it. In the meantime, here's the lowdown on how you can find your Instagram Reels history.
How to find your Instagram Reels history?
There are three ways to check your Instagram Reels history, but, fair warning: None of them are flawless (at least, not yet).
1. Download the data from your Instagram account
If you're looking for a less time-consuming and more straightforward way to check out your IG Reels history, downloading your account data might not be your speed. It's a bit of a marathon, taking up to 14 days to complete. So, if time is of the essence, let's explore another option.
Here's a quick guide:
Step 1:
Fire up your Instagram account, but do it on your desktop. Unfortunately, this method won't work on mobile.
Step 2:
Look for the Hamburger menu hanging out in the bottom left corner of your screen. Easy peasy!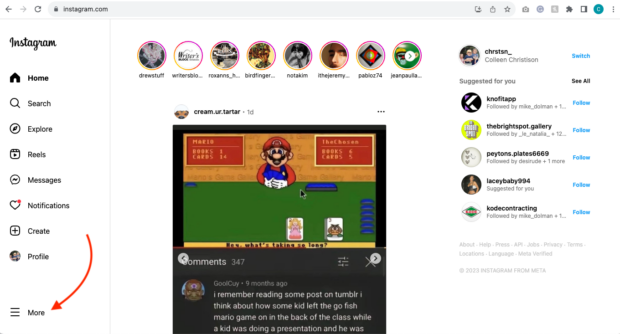 Step 3: 
Select Your activity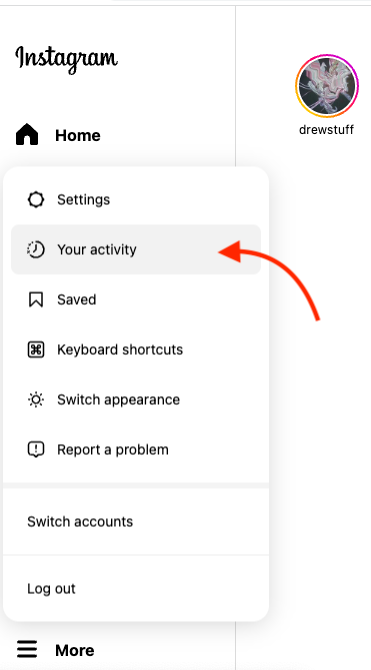 Step 4:
Go to the Download your information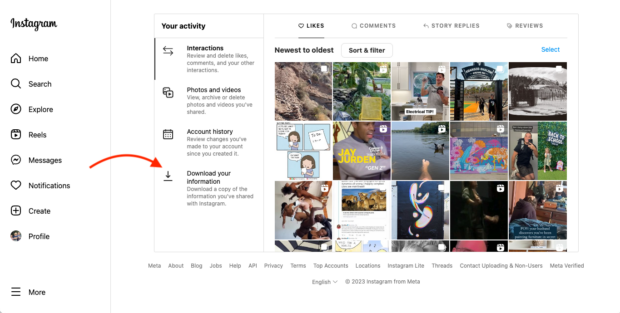 Step 5:
Double-check that your email is correct, pick the format for the information (HTML or JSON), and hit the Next button.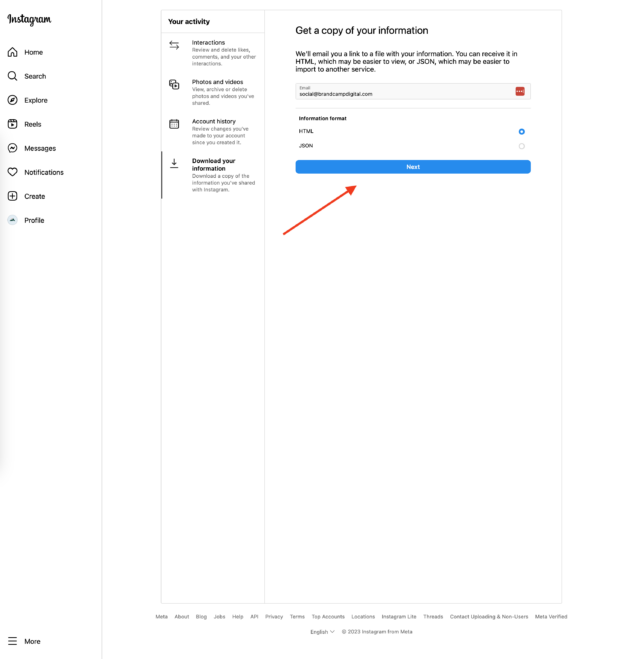 Step 6:
Enter your password and press the Request download button.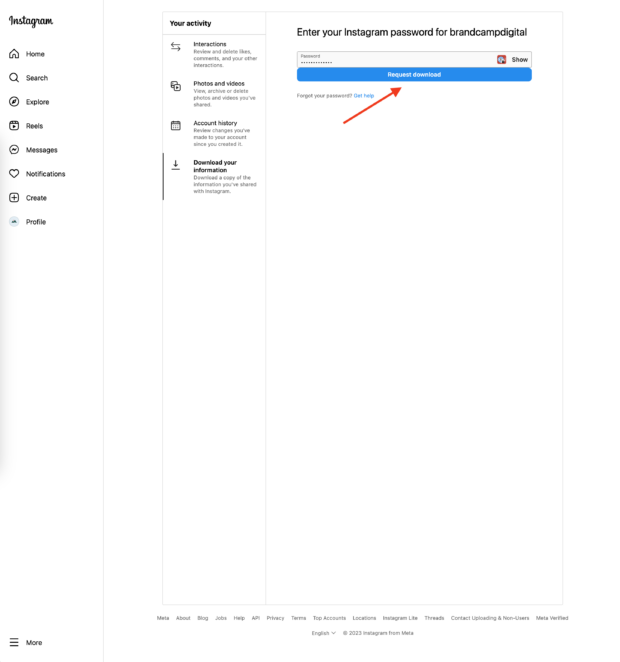 Step 7:
After clicking Next, a confirmation screen will pop up, letting you know your download has been requested. Expect it to show up in your inbox within a maximum of 14 days. Keep in mind, you can only request your data once every 30 days.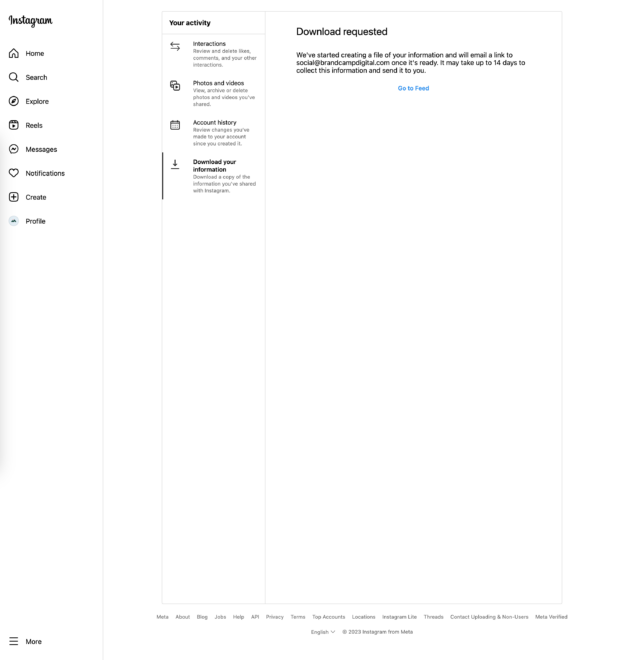 Step 8:
Instagram will send you an official email; click Download Information.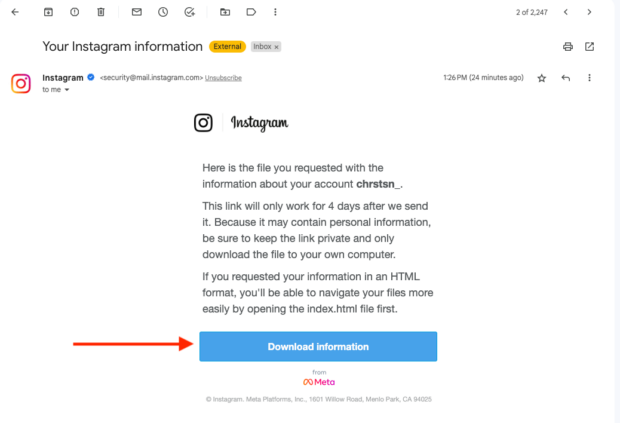 Step 9:
This will return you to Instagram's desktop site, where you will be prompted to log in.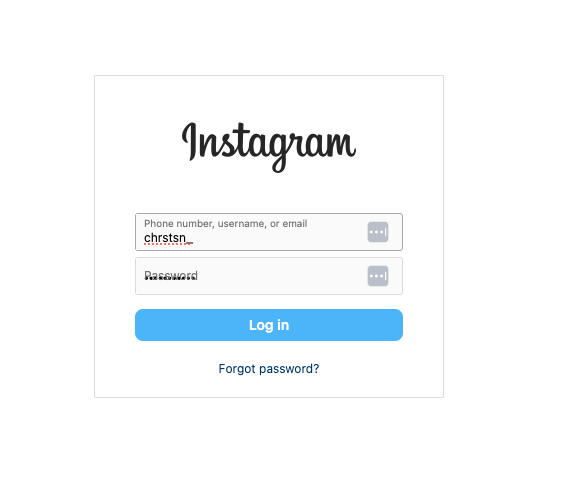 Step 10:
A page with information about your download will appear. Click Download information.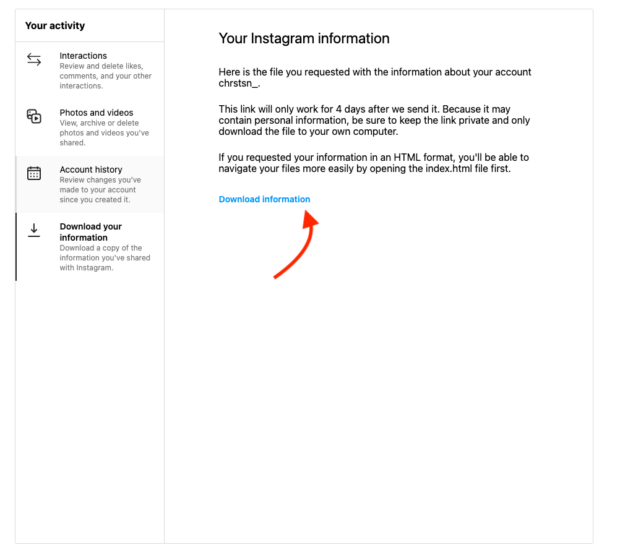 Step 11:
Open the downloaded file and go to the ads_and_topics folder. Open it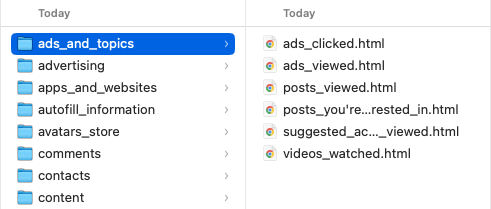 Step 12:
Locate and open the file titled videos_watched.html.

Step 13:
Voila! You now have a lineup of links detailing every video you've ever viewed, Reels included. Keep in mind, that these aren't direct links to the videos but rather display the account name and the time you watched them. With this info, you can play detective on Instagram, sniffing around accounts for Reels posted after your viewing time.
Quick heads up: The reels.html file you spot is actually a history of Reels you've uploaded in the past, not the ones you've watched. Apologies for any disappointment!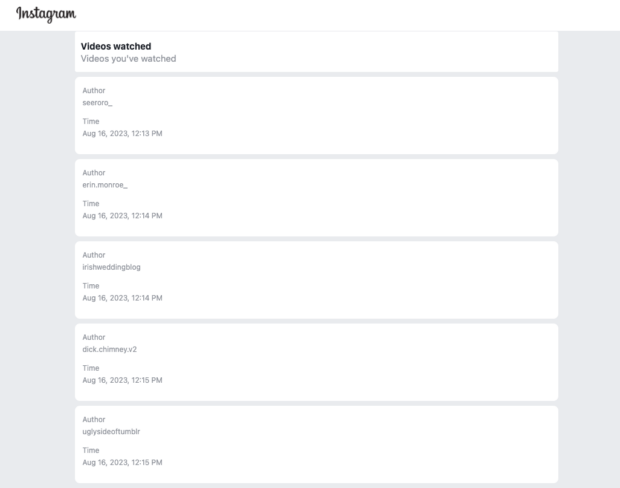 Limitations: Although the data download can take up to 14 days, it's worth noting that Instagram often delivers it in just a few hours. However, it's essential to keep in mind that the provided data includes only the account name and the time you watched the video.
2. View previous Reels engagements in the Your Activity tab
One of the simplest methods to check your Instagram watch history is by using the Your Activity tab.
Here's how:
Step 1: Log in to your Instagram account using your desktop. This won't work on mobile.
Step 2: Find the Hamburger menu located in the bottom left corner of your screen.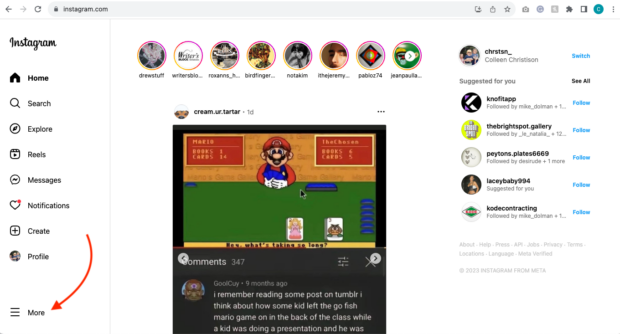 Step 3: Click on Your activity.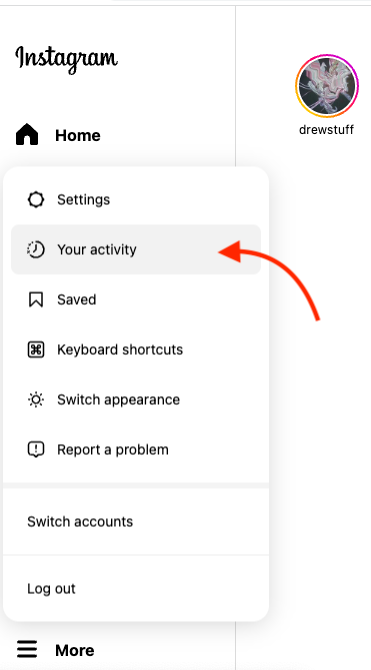 Step 4: Head to the Interactions tab on the left-hand menu, where you can check out all the content you've engaged with before. You can sort them from freshest to oldest or the other way around. Plus, you can filter by likes, comments, Story replies, and reviews.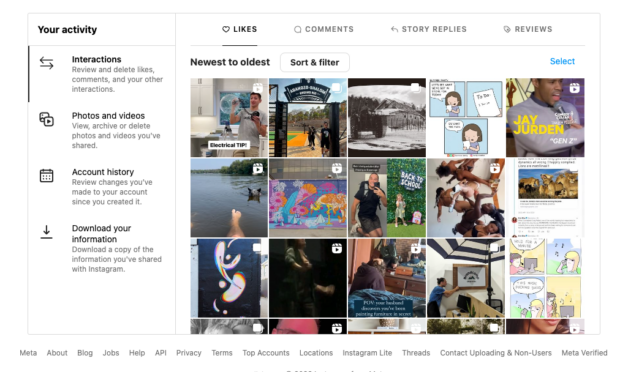 Here, you can easily spot which content pieces are Reels – just look for the icon in the top-right corner of the thumbnails.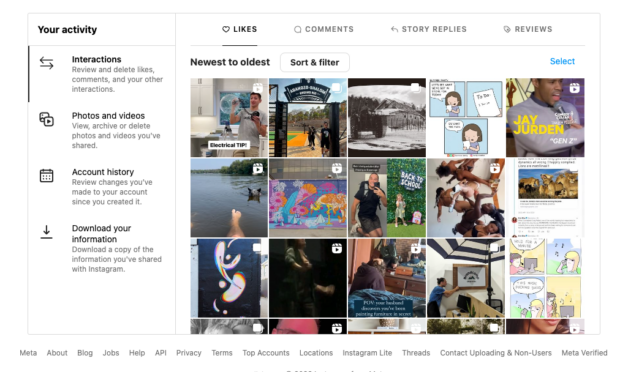 Limitations: To view a Reel in your history, you need to have interacted with it before. If you merely watched it without liking, commenting, or sharing, it won't appear in your history.
3. Try your Saved tab
Saving content on Instagram has been a game-changer for me, especially when it comes to keeping track of Reels. If you haven't explored the magic of the Saved tab, let me show you how to save Reels for later.
Step 1: Spot a Reel you want to keep? Click on those three dots chilling in the bottom right-hand corner.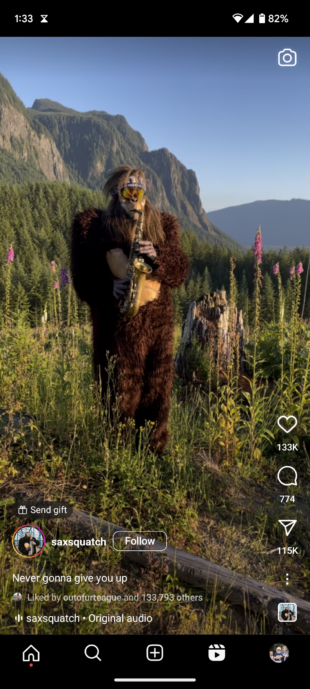 Step 2: To save the Reel, click the bookmark icon.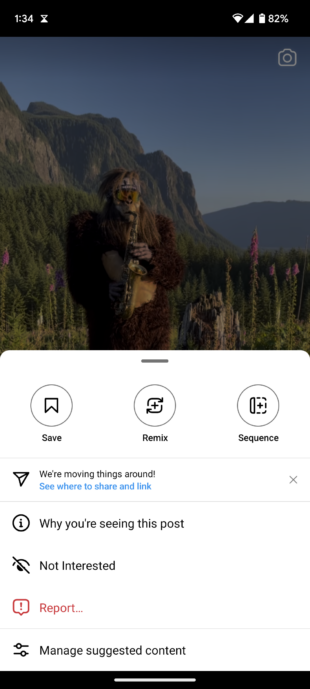 Step 3: If you want, you can pick a Collection to stash it in or whip up a new one. Alternatively, you can leave it be, and the Reel will snugly find its place in the All Posts section.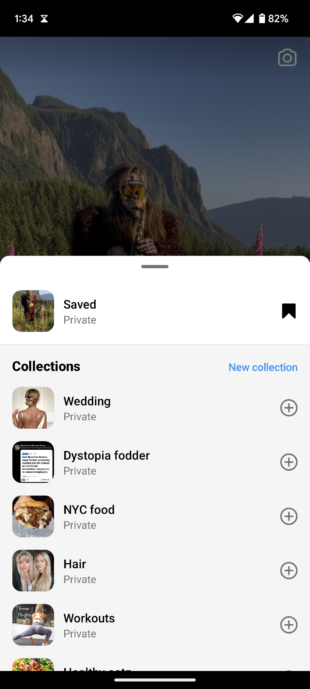 Step 4: Go to your profile and select the Hamburger icon.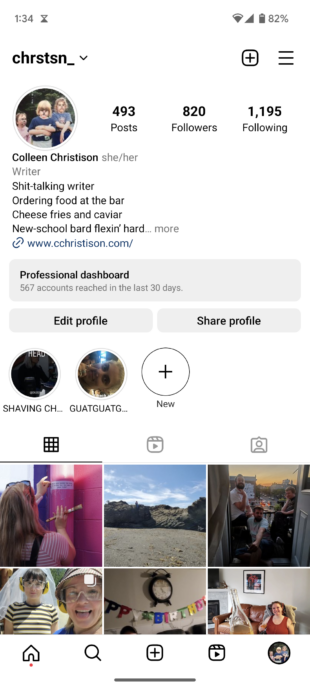 Step 5: Go to Saved posts.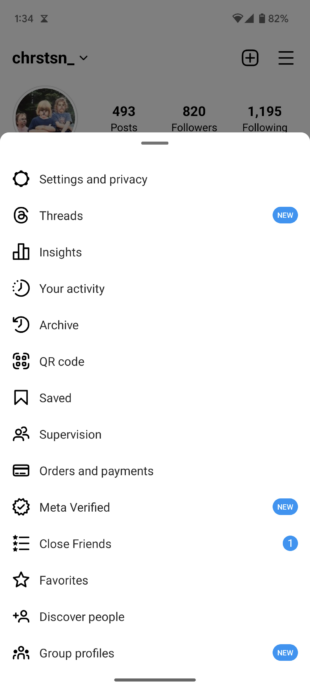 Step 6: Locate your saved Reel in the collection where you stashed it.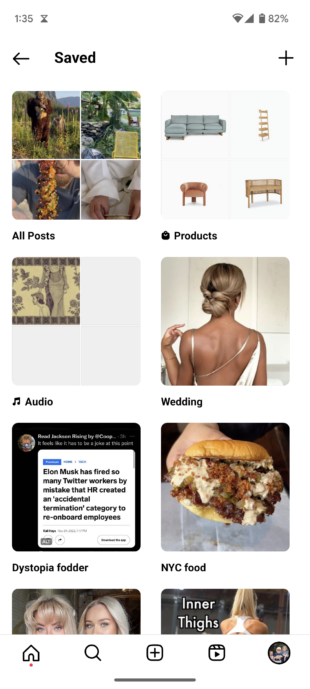 Limitations: You must have saved your reel to track it this way.