Welcome to part 2 of the comprehensive tutorial on how to make memorable Instagram stories! Instagram stories are a great way to engage with your audience and keep them coming back for more. With the right strategies and techniques, you can create content that will delight your followers and make a lasting impression. This tutorial will guide you through the process of creating captivating stories that will help you stand out on the platform.
13 Tips to Make Unforgettable Stories on Instagram
#7: Assess Your Followers' Knowledge With Quizzes on Instagram Stories
Do you want to find out if your followers have been keeping up with the content you've been sharing on Instagram? Quizzes can be a fun way to review important information such as sale dates or product details. They can also reveal the level of familiarity your followers have with your products, team, and company values.
To use this feature, select the quiz sticker from the story tray on Instagram. Then, add two to four multiple-choice options. Make sure to indicate the correct answer so that users can know if they got it right or wrong. If a user selects the correct answer, Instagram will display a celebratory confetti animation.
#8: Attempt a New Trend
You may consider Reels as the prime location for publishing trending content on Instagram. But don't overlook the potential of Stories. Specifically, Stories can work well for trends that have a limited lifespan.
As seen in the @counterculturecoffee Instagram story, the brand puts its own spin on the annual Spotify Wrapped trend by showcasing its best-selling coffee beans instead of its top music. By tailoring the trend to the coffee brand, the Instagram story joins the viral conversation while maintaining relevance to the company.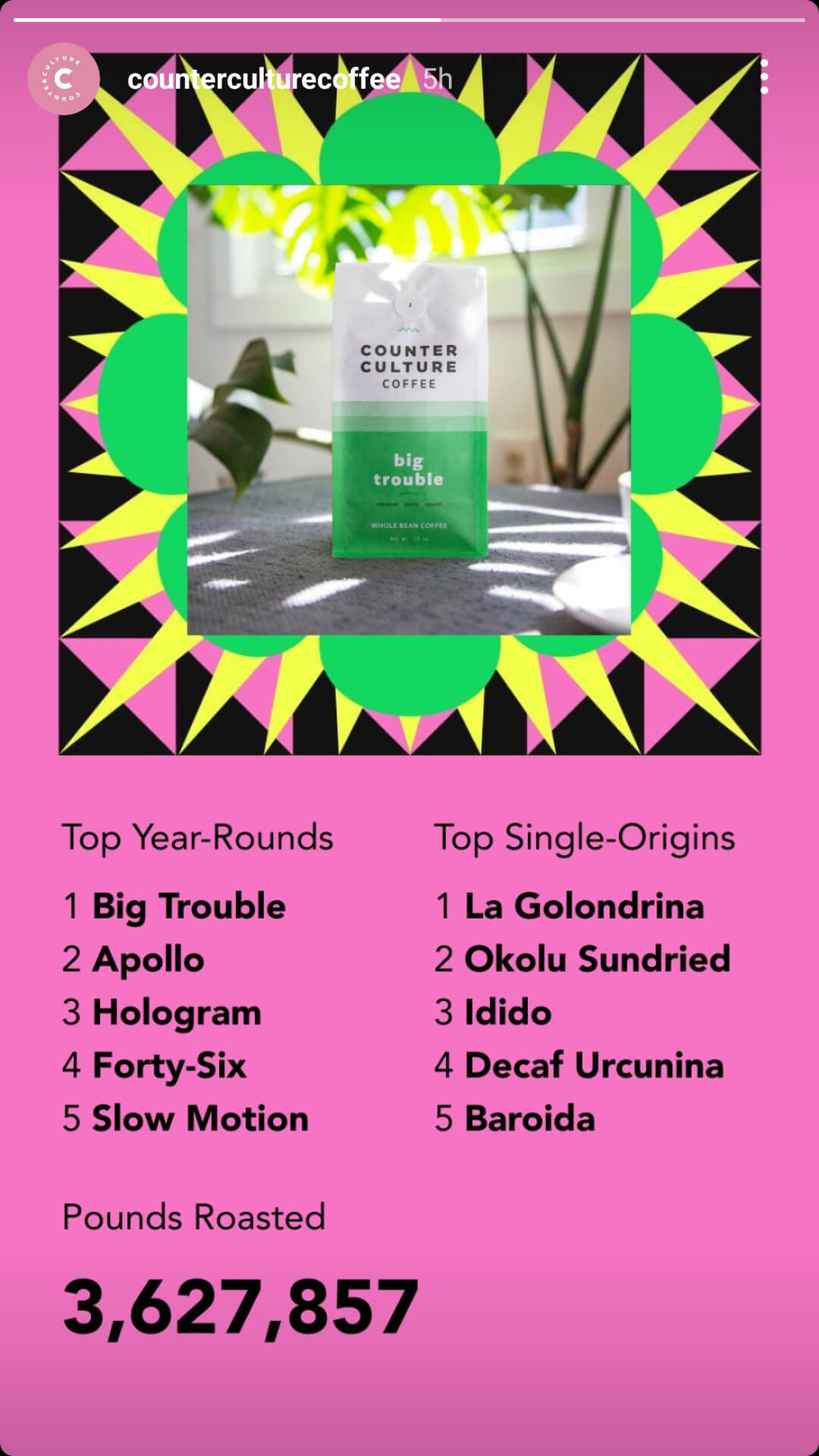 #9: Create Your Own Trend with the Add Yours Sticker
Instead of following existing trends, why not start your own trend on Instagram with the Add Yours sticker? With this tool, you can publish interactive content that drives engagement and shares, creating memorable experiences that resonate with your audience.
The Add Yours sticker, the newest addition to the Instagram story stickers, allows creators to publish interactive content by creating a prompt for others to participate in. Simply tap the Add Yours sticker on your Instagram story, and others can add their own story to the original thread, which is publicly visible.
To get started, select the Add Yours sticker from the tray, and tap the dice for a few random prompt ideas or write your own. For example, ask followers to share their product hack, styling suggestion, or anything else relevant to your brand.
#10: Attract Prospective Clients with Get Quote Stickers
Want to convert casual followers into potential leads? The Get Quote sticker allows you to encourage Instagram users to express interest in your business and request to be contacted by your team. When a user taps the Get Quote sticker, it opens a lead form pre-filled with information from their profile, similar to the lead forms in Meta that are paid for. These lead forms can request contact information and ask up to three custom questions, allowing you to quickly assess if a prospect fits your business.
When setting up an Instagram lead form for the first time, you have the choice between a standard form or a custom form that lets you gather specific contact details and ask three questions. Once the form is set up, you can add a prompt to get followers engaged. You can entice them with your products and services, or offer a limited-time deal to increase leads and expand your list quickly.
It's important to note that only one active lead form can exist at a time. So, if you already have a form attached to your profile's action button, that form will be automatically applied to your Get Quote sticker.
You can manage all lead forms created through the action button on your Instagram profile. To access this, edit your profile, select the Action Buttons option, and choose Get Quote. From there, you can edit existing forms or create new ones.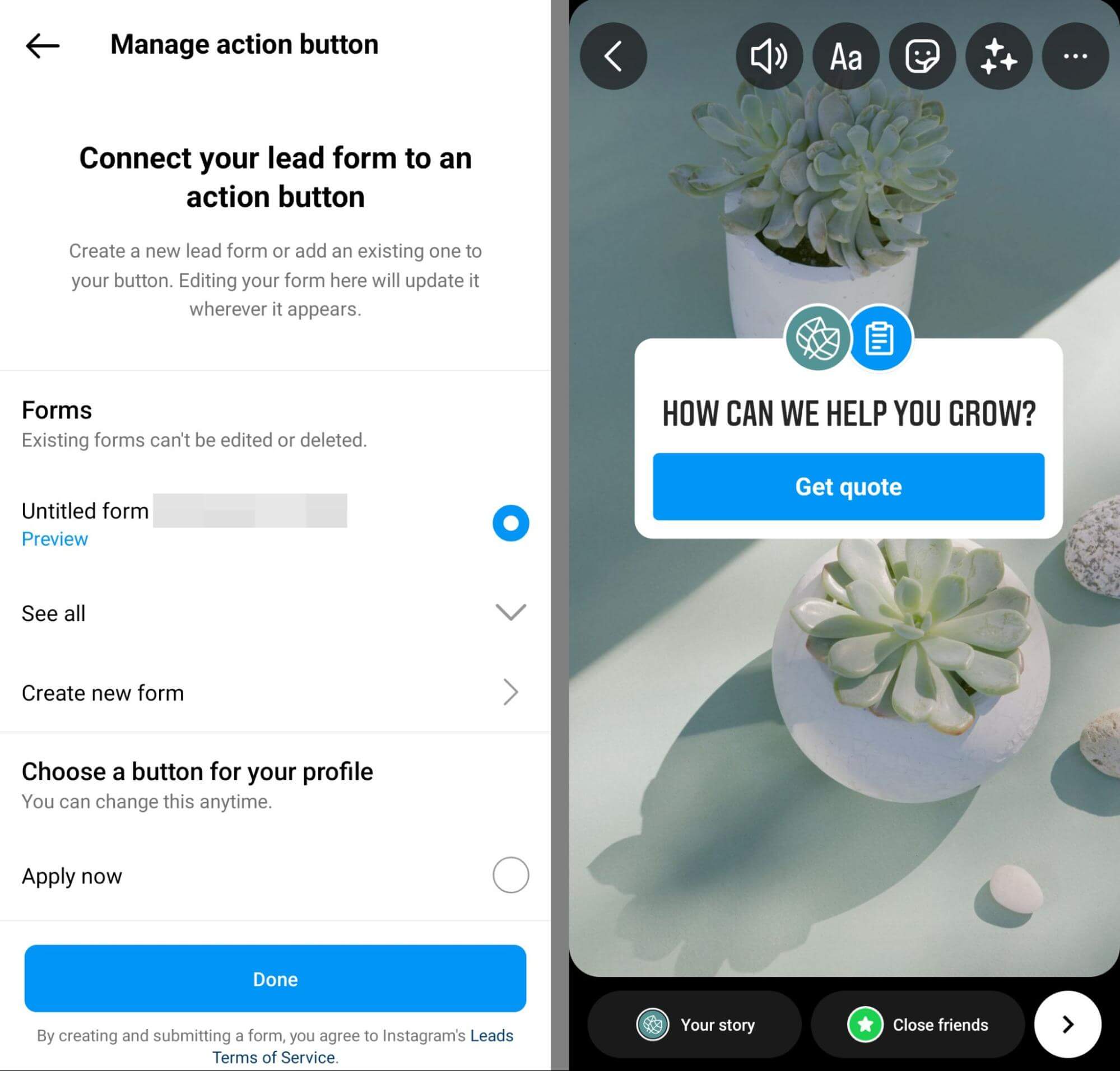 #11: Drive Traffic to Your Site with the Help of Link Stickers
To direct followers to your website and avoid redirecting them to your Instagram bio, you can use link stickers. These stickers allow you to lead people to an external site without the need to go to the bio.
You can collect prospects' contact details directly on your site by using a link sticker for a lead magnet. You can also direct followers to e-commerce products, blog posts, and content on other platforms like YouTube.
When adding a link sticker to your Instagram stories, you'll be able to customize the call-to-action (CTA) text. So take the time to experiment and see what works best for your audience. To increase the number of taps on your link stickers, you can create visually appealing prompts within your story and place animated stickers to draw attention to the link.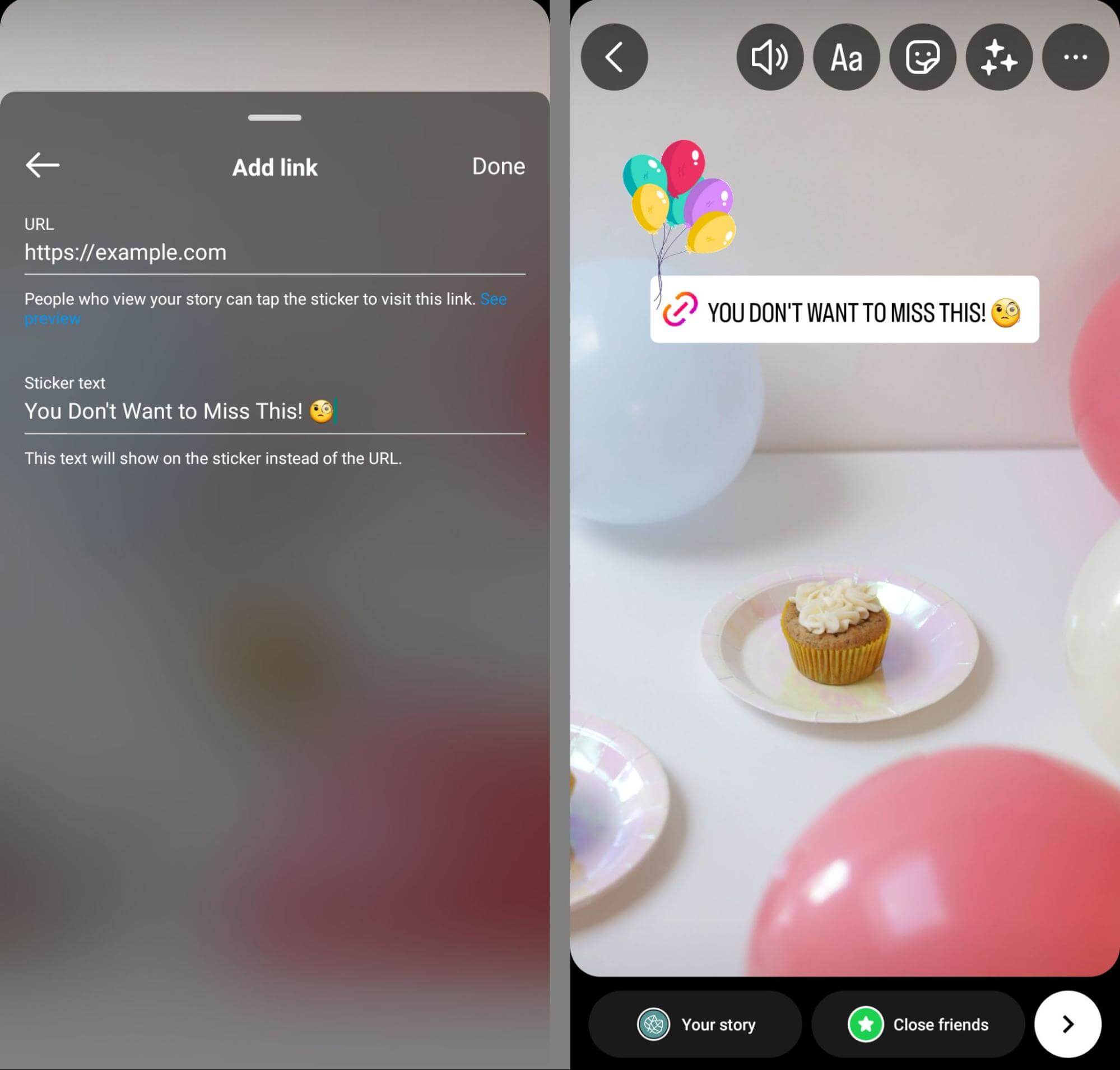 #12: Maximize the Visibility of Your Feed Content with Sharing
Want to make your feed content more noticeable? You can easily share it with your stories by clicking on the paper plane icon located beneath any post or reel. If your post has interactive elements, such as a reminder, it will be seamlessly integrated into your stories.
To enhance the impact of your shared content, consider adding stickers. For instance, you can include a link sticker to provide more information or a countdown sticker that your followers can share in their own stories.
#13: Highlight Your Most Effective Stories for Increased Impact
Even though your stories are engaging, their ephemeral nature makes them easily forgettable once they disappear. This can be a good thing when the trends have died down or promotions have ended, as you don't want outdated content cluttering your feed.
However, some Instagram stories are worth keeping. You can highlight stories that perform well with your audience or perfectly embody your brand. To do this, go to your story archive on Instagram and tap the Highlight button. Then, either create a new highlight or add the story to an existing one.
To maintain the lead-generating, traffic-driving, and sales-boosting potential of your highlighted stories, keep them well-organized. Categorize them based on topics that are relevant to your business and appealing to your audience, such as special offers, lead magnets, frequently asked questions, behind-the-scenes content, and others.
Conclusion
Although stories on Instagram are temporary, it doesn't mean they have to go unnoticed or unappreciated. Engage your audience, delight your followers, and make memorable content with the above Instagram stories tips.