In the last post of this series, we provide you with more stats about TikTok and the way to use it for your business. Let's see more of everything brands need to know about TikTok.
TikTok demographics
India
China
United States
Britain
TikTok advertising figures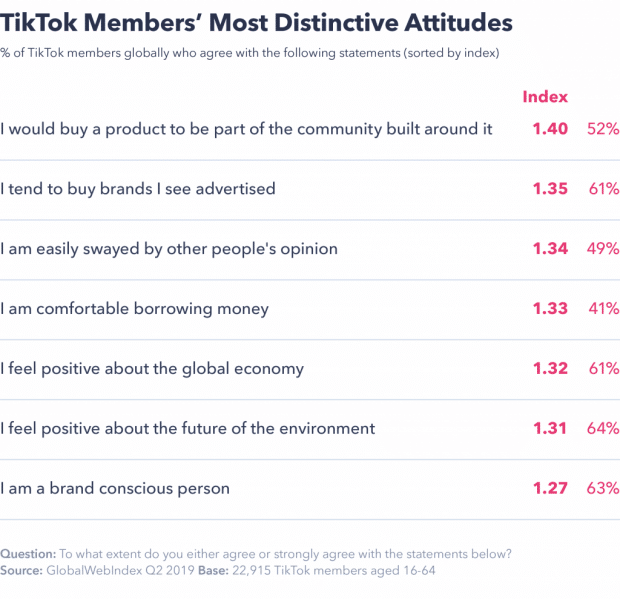 The way to use TikTok for business
Last year TikTok launched a self-serve ad platform for advertisers.
Branded hashtag challenge
So far, branded hashtags challenges seem to be the most popular strategy for brands on TikTok. Tons of musicians and companies like the NFL, Sunsilk, and Universal Pictures have run campaigns. Even TurboTax is getting in on the action.
These campaigns allow users to make videos around a specific hashtag, often using a specific song or set of dance moves. As TikTok points out, the baked-in virality of challenges could also be why they're favored: 35% of customers have participated in one. 16% of all videos on the platform are related to hashtag challenges.
Campaigns like Pepsi's #SwagStepChallenge have also spilled over Twitter and YouTube.
In addition to the feed, branded hashtags will be shown in the Trending section of the Discover tab. When a consumer clicks on it, they're brought to a Challenge Page that includes a brief description. Brands can pay more money to secure the upper banner position. Sources tell The Verge that this can cost hundreds of thousands of dollars.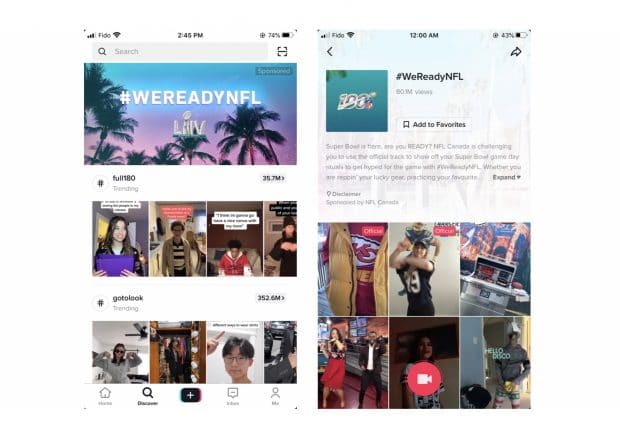 In August, Kroger was the first brand to attempt the shoppable Hashtag Challenge Plus option. With this feature, the Challenge Page includes a Discover tab where people can buy products. Links opened to Kroger's website.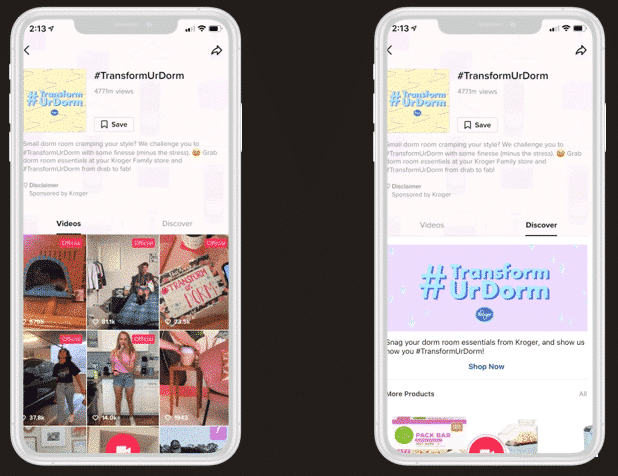 K-pop channel hello82 hold a contest around a TikTok hashtag challenge.
Brand takeover ad
A brand takeover ad pops up once someone opens TikTok. It can be a three-five second in length, full-screen video, GIF, or image, and links to an external or internal landing page. TikTok only allows one advertiser for this format per day and guarantees five million everyday impressions.
In-feed video ads
These 5-15 second-long ads are essential for promoting TikTok videos.
They appear in the "For You" feed and can drive clicks to an internal or external page. Customers can share, like, comment, and click-to profiles as they can with organic content. These ads are available through the auction model.
Maybelline's recent in-feed ad campaign earned the cosmetics retailer 48.7K likes and nearly 3,000 comments in one day.
Top-view video ads
TikTok's top-view ads include both takeover and in-feed video ads. They begin with a takeover, and transition to an in-feed video, lasting a total of 15 seconds.
Based on TikTok's leaked dek, this format will be available in the U.S. in May.
Branded lenses
Brands can collaborate with TikTok to create 2D and 3D lenses for users to "try on" and share. Doing so will lands companies in the Trending section of the Discover tab for 10 days.
Based on TikTok, 64% of its customers have tried face filters and lenses.
Branded songs
Keep in mind jingles from old-school advertising days? Songs are a big part of TikTok, so having a branded track can help a campaign take off.
Home Depot got lucky on this front. Inexplicably, its theme song went viral all on its own.
OREO created a tune and teamed up with TikTok influencers like @glitterandlazers to promote its #WhatsYourStuf challenge. So far the hashtag has almost 2.9 billion views.
Some brands have teamed up with artists. For this year's Super Bowl, Chipotle teamed up with Justin Bieber to promote his single "Yummy."
TikTok influencer partnerships
A variety of brands have teamed up with influencers to promote hashtag challenges, or just to advertise products. TikTok even provides lists of essential creators to brands.
Amazon's #FoundItOnAmazon partnership with @glitterandlazers included a call to action to shop via the link in her bio.
The future of TikTok
What's coming in 2020? TikTok is reportedly beta testing shoppable ads with select influencers in the United States. Since November, these creators have been able to include links to product pages in their videos.