Facebook targeting tools and resources are so effective that they've earned the platform billions in advertising revenue and helped brand to target customers with Facebook ads.
More than two billion people use Facebook, Instagram, Messenger, or WhatsApp every day. That allows Facebook to collect a trove of information about its users, which advertisers can use to connect with their target audience.
For a look under the hood, see how Facebook uses your data to help marketers reach you.
But Facebook data is only part of the equation. Facebook defines audiences in three ways:
Core Audiences rely on Facebook data to target ads
Custom Audiences use data from your customer management system, website, or mobile apps to target people you already know.
Lookalike Audiences help advertisers find new audiences by combining Facebook data with your Custom Audience data.
Before you launch your next Facebook ad campaign, learn which targeting options you can choose from to ensure you reach the right people.
36 Ways to Target Customers With Facebook Ads
Finding your Facebook target market is easy, especially if you know what options are available to you. Here are all the Facebook ad-targeting possibilities currently available.
Core Audiences
Location targeting
With location targeting, advertisers can deliver ads based on people's postal code, city, region, or country. You can target up to 25 countries, or 250 cities, or 50,000 postal codes at a time.
Option 1: Everyone in a location
Target anyone and everyone in a location within a given time period.
Option 2: Locals
Target Facebook members who list a location as their home.
Option 3: New residents
Reach people who have recently changed or updated a specific location.
Option 4: Visitors to a location
Find travellers and those who have checked in or been tagged in a place that isn't their home location.
Option 5: Within a radius
Input an address to target people within a one- to 50-mile radius.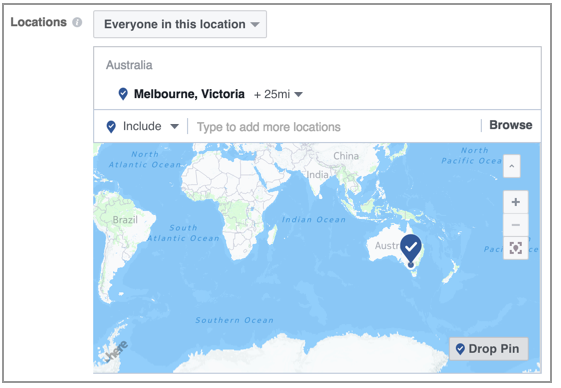 Regional targeting
Marketers with broader ambitions may wish to target Facebook ads based on specific geographical regions.
Option 1: Free trade areas
Depending on your business agreements and regional availability, it may make sense to target people within eligible trade areas. Options on Facebook include NAFTA (North America Free Trade Agreement), European Economic Area, and APEC (Asia-Pacific Economic Cooperation), among others.
Option 2: App Store countries
Marketers with app-specific goals may wish to target audiences in iTunes app store countries, or Android app countries. For Android app countries, advertisers can choose countries where purchases are available, or all countries.
Option 3: Emerging markets
For Facebook, emerging markets include: Egypt, Kenya, Nigeria, South Africa, China, Indonesia, India, Malaysia, Philippines, Thailand, Vietnam, Poland, Russia, Turkey, Argentina, Brazil, Chile, Colombia, Mexico, United Arab Emirates, and Saudi Arabia.
Option 4: Euro area
For Facebook, the Euro area represents the following countries: Austria, Belgium, Cyprus, Estonia, Finland, France, Germany, Greece, Ireland, Italy, Latvia, Lithuania, Luxembourg, Malta, Netherlands, Portugal, Slovakia, Slovenia and Spain.
Learn how to use Facebook Audience Insights to target the right market for your next campaign.
Demographics targeting
Demographic targeting allows marketers to direct ads at people based on the details they share publicly on Facebook.
Option 1: Age
Target people within an age range. Note that Facebook prohibits certain content directed at those less than 18 years old.
Option 2: Language
Target people who speak a specific language. Facebook recommends only doing this if the language being targeted is not the primary language in the location you've chosen.
Option 3: Gender
Target ads to people who identify as women or men, or people of all genders.
Option 4: Education
Show ads to people who are university graduates, who currently attend high school, etc.
Option 5: Political views
Facebook uses interest and behaviour data to help advertisers target people based on their political views. For obvious reasons, Facebook has clamped down on political ads. Advertisers wishing to run political, election, or issue-specific content are required to complete an authorization process.
Option 6: Relationship status
Aim ads at people list their relationship status as single, in a relationship, engaged, or married. Or, if you're advertising single excursions, you may choose to exclude those who are otherwise engaged.
Option 7: Family Status
Reach parents, families of a specific size, or even those who have children of a specific age.
Option 8: Life events
Find those who have recently moved, started a new job, recently married, or shared another significant milestone.
Option 9: Careers
Connect with people who have certain job titles, work in specific industries, or even based on their office type.
Interest targeting
Knowing what hobbies and interests people into your brand share can help you target Facebook members based on what they like. Facebook also refers to this as "detailed targeting."
Option 1: Interests
Facebook targets interests based on consumer and lifestyle categories such as culture, fashion, fitness, or sports. When you add an interest or behaviour, Facebook may recommend a few more ideas.
Option 2: Activities
Target people based on the activities they engage with on Facebook.
Option 3: Pages they engage with
Target ads based on pages people engage with and like.
Option 4: Posts they like
Show ads to people based on content they've liked in the past.
Option 5: Posts and comments they make
Find your Facebook target audience based on posts and comments people share on the platform.
Behaviour targeting
Option 1: Mobile device
Include or exclude people based on the mobile device they are using. You can also target those who have made a recent mobile network or device change.
Option 2: Desktop browser and operating system
Under Digital Activities you can include or exclude browsers and operating systems.
Option 3: Ads people click on
Target people based on ads that have prompted clicks in the past.
Option 4: Speed of network
If you plan to run video ads, you may want to target people with network speeds that support video content. Otherwise, consider slideshow ads as a lightweight alternative.
Option 5: Wi-Fi users
Target people who have used Wi-Fi.
Multicultural affinity
This Facebook ad targeting option is only available in the United States. It is not based on ethnicity, but rather the culture that people have expressed an affinity to based on their interactions.
Housing, employment and credit ads are not eligible for multicultural affinity targeting.
Connections targeting
Facebook also allows brands to connect with people who have already connected with them in the past.
Option 1: Facebook Page connections
Target people or friends of people who are connected to your Facebook Page. You can target the friends of these people, too.
Option 2: Facebook Event interactions
Target people who have interacted with one of your Facebook Events.
Option 3: App activity
Target or exclude people who use your apps.
Custom Audiences
Create custom audiences using your own data in order to find your customers on Facebook. Once you've decided which custom audience is right for your campaign, follow our step-by-step guide on how to create one.
Option 1: Contact lists
Upload phone numbers or email addresses from any customer lists you have so you can target them on Facebook.
Option 2: App users
Create an audience of people who use your app. To do this you will need to register your app and install the Facebook SDK in your app.
Option 3: Site visitors
Capture the attention of people who have visited your website in the past. You can get specific by showing people content they engaged with on your site. You'll need to install Facebook Pixel for this to work.
Lookalike audiences
Lookalike audiences rely on your customer data to help you find new audiences that have a lot in common with your current customers. We can say that Lookalike audience options are the same as custom audiences—contact lists, app users, and site visitors—only they target new people based these sources.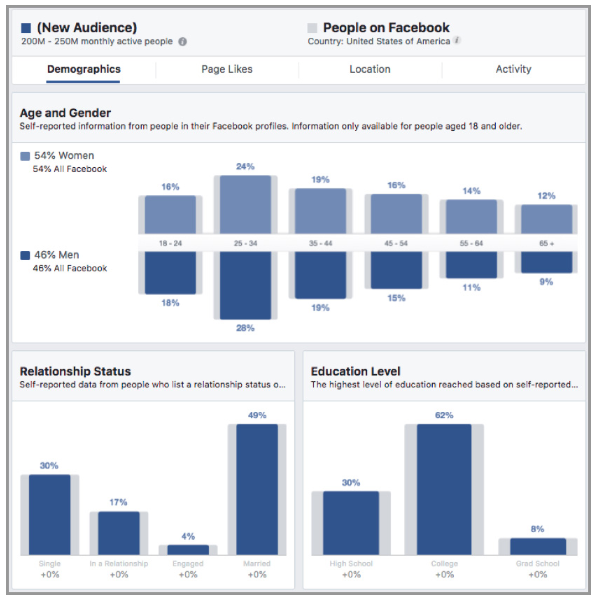 Learn more about Facebook Lookalike Audiences.
Now that you know all of your Facebook ad targeting options, explore all the Facebook ad types that will help you connect with the right people.