Keep reading to know how to customize Instagram fonts by using different tools.
This one is different from other tools and apps on this list as it is not exactly a font-generator, but actually a custom keyboard. This is an alternative for the regular default mobile phone keyboard. To use this keyboard, go to your settings then replace your existing keyboard with this one.
Right when you start using this keyboard, you can add customized fonts, emojis, and many more to practically anywhere you can type. Unlike other tools on this list, where you need to write separately and copy-paste, with this one, you can simply type in a particular font. You just need to go to the font change option in the keyboard's settings and select the font that you like. And, when you type using this keyboard, you will simply be able to type using your chosen font.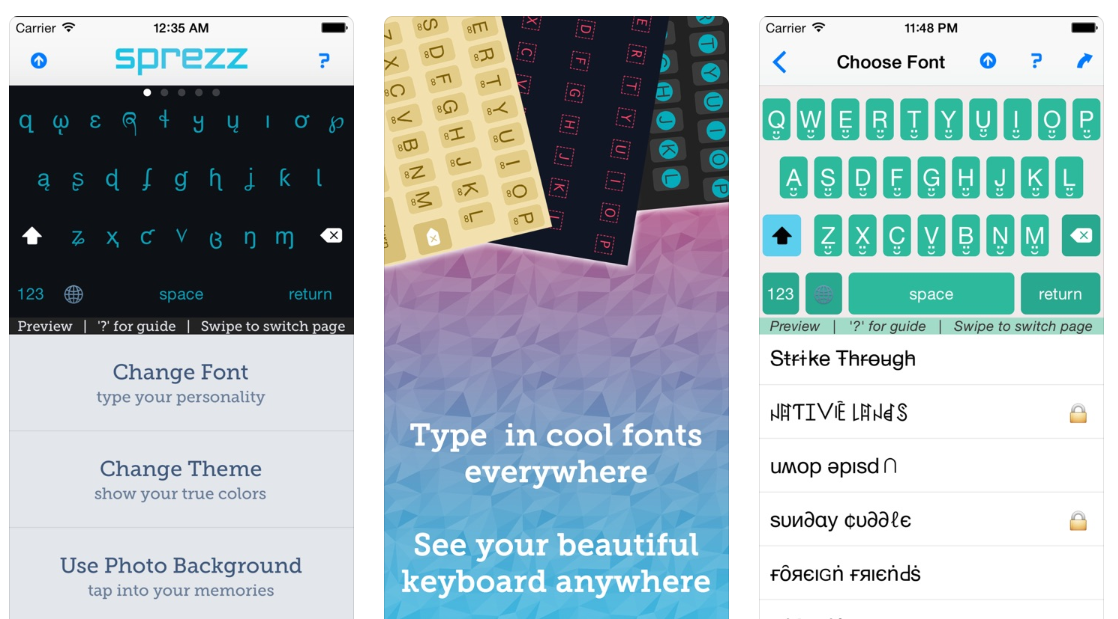 This is another easy-to-use, web-based Instagram font generator tool that works in a similar way as the "Instagram Fonts" tool. Type the text in the type box and you will see the same text in different font-options in another box on the right. Select the font that you like from the list of over 90 different styles. Once you select your font, you will have to copy that text and paste it wherever you want it on Instagram.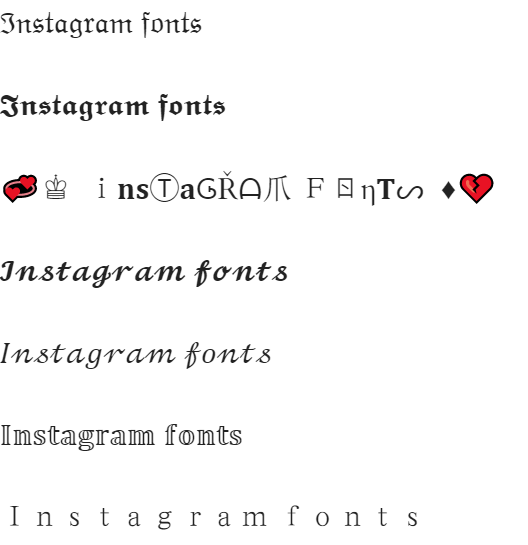 This is a web-based tool used to generate fonts for Instagram bio, captions, comments, etc. This tool has a large list of more than 100 font options to select from. You can also use this to add symbols along with the text, to make it more interesting.
This app works similar to any other web-based font generator where you type your text and it appears in different fonts that you can choose from. Then, copy the text in your preferred font and  paste it on your Instagram.

Best Practices for Customizing Instagram Fonts
Now that you know several ways in which you can change fonts on Instagram, let's discuss a few best practices that you need to follow. Make sure that you do it right and don't make any rookie mistakes the first time you try to customize Instagram fonts.
Here are the top important things to keep in mind when customizing fonts for Instagram:
The most important thing to remember is that you should not go overboard with your use of fancy fonts and symbols. This is especially true for business accounts, as using too much decorative text will make your account look informal and childish.
Another best practice that you should follow is to select a font that is clearly readable and is not overly decorative. There is no point in using a font that your audience cannot understand.
You might want to keep your font style consistent for all your Instagram text, as it contributes to your overall brand aesthetic.
Conclusion
Instagram, as a platform, is very user-friendly and aesthetically pleasing. And yet, it does not offer much variety when it comes to customizing fonts for any type of text on the platform.
Instagram Stories has five font options, but other text like that in bios, comments, etc. does not have any customization at all. For that, you can use a third-party tool or app where you write in your preferred font and then copy-paste that text on Instagram. There are several web-based tools and mobile apps available for free, apart from the ones listed here.
You can use the tips and tricks mentioned in this post to customize your Instagram fonts. Let's make your text more unique, interesting and engaging.
Frequently Asked Questions
How do you customize Instagram fonts?
Instagram doesn't have many options when it comes to customizing fonts. You can't customize the font type to make it look more aesthetically pleasing. To do this, you have to use an app or tool outside Instagram.
How do you find fonts for Instagram?
Instagram lets you change the font both for Stories and in your bio, captions, and comments. Annoyingly, you can't specify a font by name, or upload specific font families. Instagram provides five different font options for Instagram Stories. For your Stories, you will have to create an image and add text to it separately or use an Instagram Stories template. In other places, you can change the font by writing in a different format on an app or web-based font generator and copy-pasting the text.
How do you get different fonts on Instagram?
As we have seen in this article, the way you get different fonts on Instagram depends on where specifically you want them. There are already five in-built fonts for Instagram Stories. Alternatively, you can create an image and add text to it separately, using any photo editing app. For your Instagram bio or the text in comments and captions, you can change the font by writing in a different format on an app or web-based font generator and then copy-pasting the text to Instagram.
What is the Instagram logo font?
Instagram uses what looks like an italic font in its logo. In its original version, Instagram modeled its logo on a commercial font called Billabong. This is most noticeably different from the current Instagram font because it has a Looping I with a noticeable tail. In 2016, Instagram altered its logo to be similar to the Blue Vinyl font.
How do I identify a font?
One of the issues with Instagram is that you can't upload fonts to it by name. Font generators offer fonts you can upload to Instagram, but most merely suggest fonts by appearance, unnamed and without font families. One way to identify a font you find somewhere is to use the free iOS WhatTheFont mobile app. This identifies a font from a photo you upload. Alternatively, you could try the websites www.whatfontis.com or www.MyFonts.com to identify fonts if you don't have an iOS device.
Can you use italics on Instagram?
Instagram, unfortunately, doesn't have a sophisticated enough text handler to allow you to use an italic version of its in-built fonts. One solution is to use our Instagram Fonts Generator, enter your text, and look for a font suggestion that has a look similar to italics. Some of the other apps we cover in this article would work similarly. Another option is to go to YayText, which converts any text to italics or bold, which you can then upload into Instagram.