If you are an Instagram influencer, the Instagram Money Calculator will help you measure your estimated earnings from your Instagram account.
In this guide, we will show you some stats that are related to engagement on Instagram.
Instagram Influencer Money Calculator
You may know that you can sell space on your videos and channel page for advertising at a rate decided by Google. Unlike YouTube, Instagram doesn't pay its users for running ads on their photos. Instagram influencers and brands who work together don't have any set rates. So, the rates can vary depending on how brands deal with Instagram influencers. However, there is one consistent condition in all cases. Influencers who have a high number of followers and engagement rates can get more money for each sponsored post. Brands have learned that influencers can buy fake followers who are worth nothing. Brands are way more interested in having active followers who interact with your posts.
Compared to other social media platforms, Instagram is now the hottest one with high interaction levels. For example, Facebook and Twitter users have an average of 0.5-1.0% of engagement. Instagram accounts, though, have an average engagement rate of 3%. If you have a higher engagement rate than 3%, together with a high number of followers, you can consider yourself an influencer amongst your peers. So, you can measure the rate for your sponsor post.
Here is an example: If your engagement rate is less than 8% and you have less than 1000 followers, you can expect to get paid less than those who exceed the average engagement rates on their posts.
From a brand's point of view, the different niches have different rates too. The fashion industry is more likely to collaborate with big influencers than those who sell bathroom fittings. And businesses set their budgets accordingly.
Instagram Fake Follower Checker [Instagram Audit Tool]
Audience Credibility has become the main concern as many Instagrammers pose as influencers by purchasing bots to falsely manipulate and therefore skew their follower count and engagement statistics. You should check the credibility of potential influencers to effectively choose one to promote your product.
Take a look at this guide to know to detect fake followers or bots and ensure you are working with the best.
Instagram Follower Growth Tracker [Free Follower Checker]
It's essential to track your Instagram Follower Growth over time – use this free tool to track any Instagram account's Follower Growth.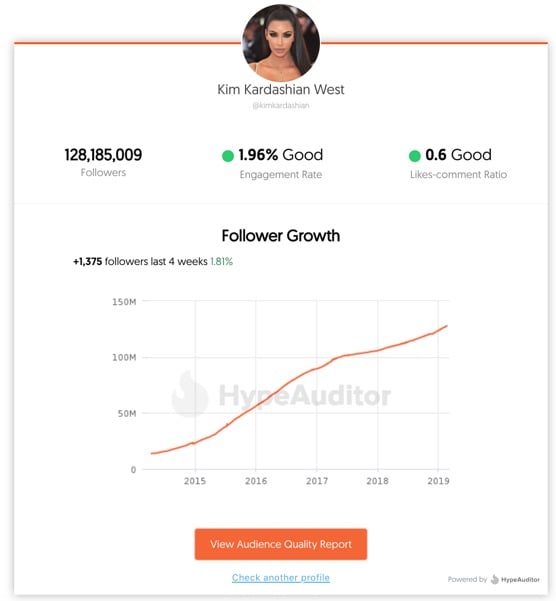 Micro-Influencer vs Celebrity Engagement Calculator
Measure the Estimated Cost per Instagram Post, Average Engagement Rate, and Estimated Media Value per post for Micro-influencers vs Celebrities. Who delivers the highest engagement rates and ROI? Let's check this photo below from Influencer Marketinghub.
Growing your Instagram Account [Free Instagram Hashtag Generator]
Instagram does not have a standard method of earning money, unlike YouTube and Google Ads. As an Influencer, it depends on you to find out a brand that is willing to pay you directly.
One caveat to this is if you are large enough to be accepted into one of the influencer marketing platforms. In this circumstance, you can register your interest, and if they accept you as being influential enough, they will include you in their databases, and suitable brands may well come to you if you meet the profile of the kind of influencer they are searching for.
Any Instagrammer who wants to get paid from this platform needs to build a strong and loyal fan base. Let's improve your standing by:
Perfecting your bio, so it is very clear who you are and whom you want to follow you
Posting consistently. Like most social media, Instagram likes to see evidence of regular publishing – not sudden splurges when you feel you have some free time
Publish high-quality original photos. Take photos using a decent camera, rather than simply using the one on your cellphone. You need to be known for producing seriously great content (which in the case of Instagram, is high-quality pictures)
Include relevant hashtags, so people in your niche will find you by your tagged photos
Engage with your followers – comment on and like their posts, and they are more likely to do the same in return to yours.