Explore more techniques to help you beat the Instagram algorithm without cheating.
Make Short Video Posts
As internet speeds have improved, the video has increased in popularity. While YouTube used to have the video market to itself you can now include video in quite a few other social networks, including Instagram.
Both video output and engagements have been gained for publishers. BBC News, for example, now includes a video in 85% of their Instagram posts.
Since March 2016 you can post videos of up to 60 seconds on Instagram. Newswhip surveyed 20 publishers and media brands of the Instagram video in June 2017. They found video lengths ranged from 10.6 seconds for E! News to 60 seconds for Buzzfeed News. Overall, though the typical BuzzFeed Instagram video post only averages 14.4 seconds.
The average video length from these top 20 Instagram publishers was 30 seconds.
Newswhip found that the important elements to video success on Instagram were to:
Use relatable or pop culture memes your audience would resonate with
Show your viewers something different from their everyday life
Feature action-packed feats, stunts, or sports
Show an inside look at the lives of celebrities or athletes
Show interesting collages or animations
Tell heartwarming stories and tales that personify animals
Newswhip also discovered that videos tend to generate about twice as many comments as still images, meaning more engagement and a subsequent boost in the feeds.
Another use for Instagram videos if you have a successful YouTube channel, is to create teaser trailers for your YouTube videos on Instagram.
Use Your Pictures to Better Tell Stories
One way to make a theme is to tell an ongoing story through your posts. You can post a pre-planned sequence of pictures regularly, which along with your captions tell a compelling and interesting story.
If you hook your audience early enough, they will look at Instagram at regular intervals expecting to see the next part of your tale. If they actively search for the next installment, it won't matter whether the algorithm places your posts at the top of their feed.
You can expand on your story in your comments section, where you can tell more about the relationship between the photos in your story.
Instagram helped this process when they introduced Instagram Stories.  These collate a series of posts from a 24 hour period into a slideshow format. You can gradually build up your story over the day – although they do disappear after 24 hours. One of the greatest things about Instagram Stories is that they sit separately from your feed in a bar at the top, so they will not get lost if you have more than one post on that particular day.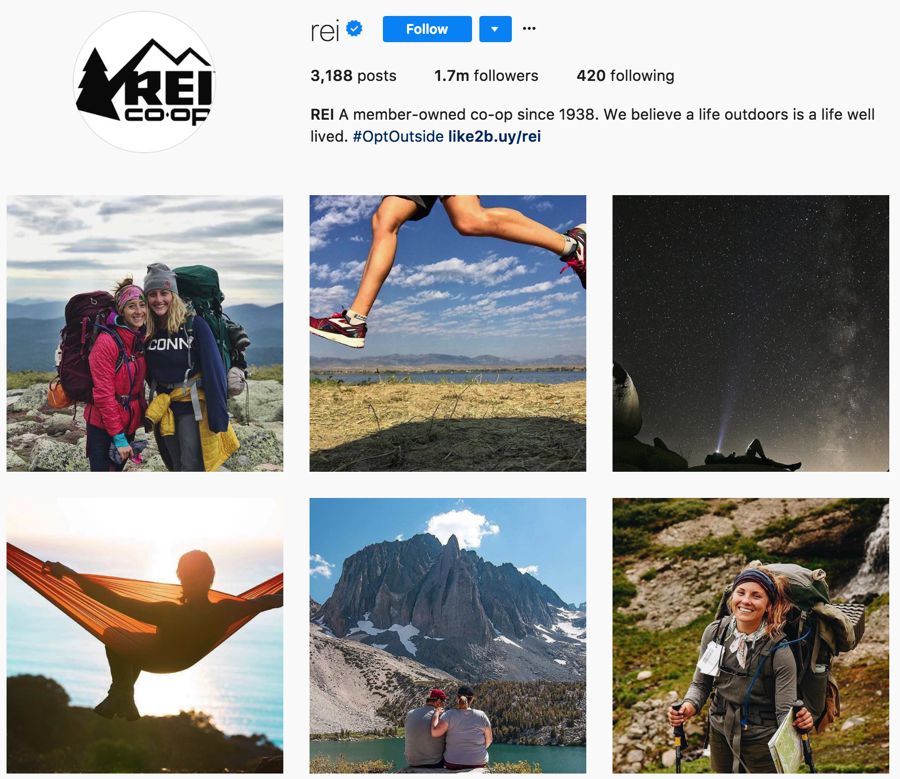 The Newswhip survey of the top 20 Instagram video publishers showed that many of them use videos approaching 1 minute to tell stories. BuzzFeed News, BuzzFeed Tasty, Fox News, BBC News, and CNN all use 60 seconds of Instagram video to tell compelling stories. These were stories of human interesting moments, often animal stories, that invoked empathy, joy, or positive sentiments.
If you need an example, REI is one brand that does an excellent job of telling stories with their Instagram posts.
Build Your Instagram Page Around a Theme
With the Instagram algorithm now paying more attention to how a person has reacted to content in the past, it makes sense to build your audience around a theme. If people like your theme and engage with your posts, they are more likely to be fed your future posts near the top of their feed.
You could perhaps begin this by looking at your analytics to see which posts have resonated most in the past. Are there any trends in there that suggest a theme for you to pay attention to in the future?
As you tell Instagram stories, take note of what makes your audience interested. These can offer you suggestions for future themes that work well with your audience.
Find Your Optimal Posting Times
Although Instagram no longer displays posts in the order they are made, you can still take advantage of making posts at certain times, compared to others. This is partly because for Instagram to know how good your post is, it needs to first show it to a sample of people. If the first sample likes and engages with your content, then Instagram will jump it higher up the queue for other people.
This means that you want to post a time when you have followers who will engage with your posts as soon as you post them. It's a great idea to look at your Instagram Insights analytics to determine the times when the greatest number of your followers are online and schedule your posts then.
Include Calls to Action in the Middle of Your Posts
Although you can't place a clickable link anywhere apart from in your bio, you should consider putting a Call To Action into your post – either in the caption or on the image itself. While this will have just a bit effect on where your posts appear in peoples' feeds, it can help drive traffic to your site, and help gain your conversions.
You can easily add some interesting statements like "double-tap if…", "enter our competition on our website to win…"  or "tag your friends" to drum up excitement and engagement.
Host a Giveaway Contest to Engage Followers
One Call to Action you could consider using is to host a contest and encourage your followers to join in. If you host some form of giveaway competition this should help you engage more, which will also help boost your posts up the rankings.
You should be careful not to overuse them, though. You want any giveaways to appear fun and attractive to your customers. If your followers perceive you to be constantly holding competitions you risk losing that special edge that encourages more engagement.
Go Live on Instagram
As with telling an Instagram Story, going live on Instagram allows you to bypass the main feed altogether. You will be shown at the front of the stories at the top of your supporters' feeds. Also, having the LIVE logo makes your profile more prominent compared to others.
There can also be a flow-on effect. If people regularly see you live, they will also probably look for your non-live material, and the extra searches will help boost that in the rankings.
Conclusion
One of the reasons that influencers are so successful on Instagram is that they don't have to worry about the way to make their posts visible to their followers. They produce high-quality posts that people want to see. Influencers produce posts that jump to the top of feeds, simply because people want to engage with them.