With more than 2.4 billion users around the world, Facebook is one of the most used social network. People don't just use it for socializing, it has a huge impact on people's purchasing decisions. An average Facebook user clicks 11 ads in a month. More than 90 million small businesses use Facebook to connect and engage with their target audience. It is impossible for businesses, brands and marketers to ignore Facebook's massive reach.
As the number of businesses using Facebook for marketing is going up, the competition has skyrocketed. Organic reach is extremely challenging. You can't expect your posts and content to organically reach your target audience. Your competitors are already using Facebook ads and in case you don't, you'll be left far behind.
One of the most popular Facebook advertising types is Boost Post. It's a simple yet effective way to increase the engagement of your post. The boosted post is showed to users on Facebook in their News Feed. You can choose the targeting options to show your post to the right people. There are several techniques and tips to increase the effectiveness and reach of your Boost Post on Facebook. Here are 7 Facebook boost post tips for your brand.
7 Tips for Successful Boost Post on Facebook
1. Set Clear Goal
You must make clear goals for your boosted post. There could be tons of purposes of a boosted post such as engagement, brand awareness, page likes, sending traffic to your website, generating leads, etc. You need to make sure about what exactly you intend to achieve by boosting your post.
Having a goal for your boost post campaign allows you to measure your performance. If the goal is completed, your campaign is successful. If you fail to complete your goal, you need to find out what went wrong. Tweak your campaign and move on.
For instance, if you are boosting a post and your purpose is to send traffic to your website. Results show that people reached your post but didn't click the URL. You don't have to consider this a successful campaign despite its high engagement. It failed to complete the goal so you must stop the ad.
One of the greatest benefits of having a clear goal for each boosted post is that you can pause the ad on the right time and save your money. A boosted post that doesn't work well must be paused or else it will exhaust your budget and will not lead you anywhere.
2. Boost the Right Post
You don't have to boost every single post. Boost posts that are doing well already. Go to Insights on your Facebook page and click Posts to check post performance.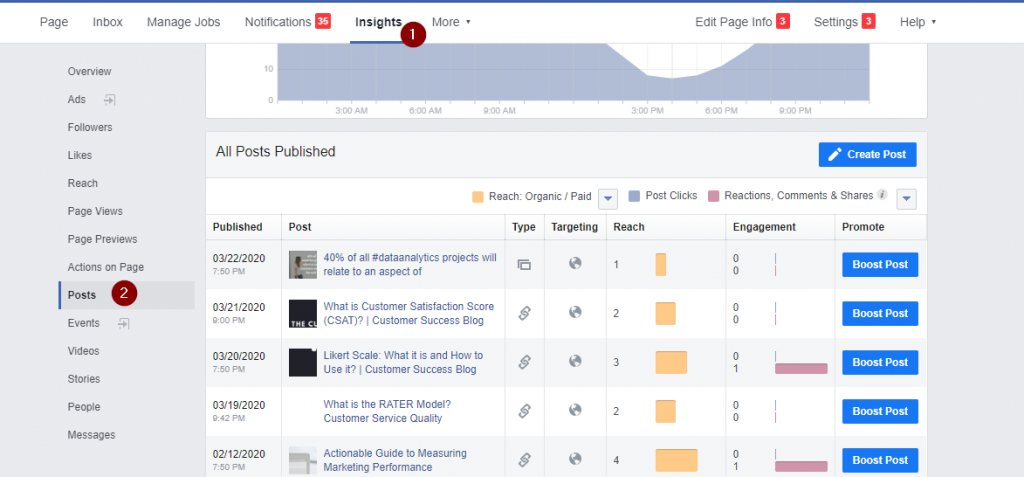 You can see all the published posts with both of their organic and paid reach. Choose a post to boost that has:
High engagement
Is relevant to your goal
If your main purpose is to send traffic to the website, boost a post that has already received post clicks.

A post that has already received clicks organically is more likely to drive clicks when boosted. Similarly, a post with high engagement (likes, shares, or comments) is more likely to engage your target audience than a post with no organic engagement.
3. Improve Targeting
The ability to target your audience precisely makes Facebook become marketers' best choice. Facebook provides a lot of data about its users. As an advertiser, you can use this data to make your ads visible to the most relevant people.
Facebook provides you with three main targeting variables:
Demographics
Interests
Behaviors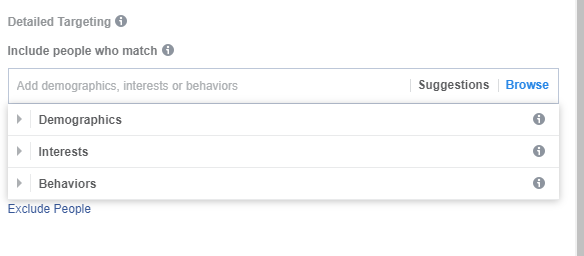 Each of these targeting options has several sub-sections. For instance, click Demographics, then you'll see several categories: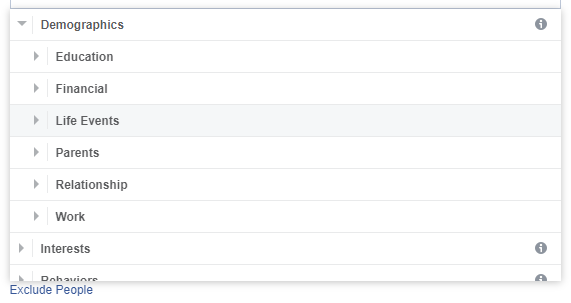 This lets you show your post to the most appropriate people who are most likely to engage with it.
To get started, look at the demographics of the people who have already liked your page. Go to Insights and click People from your Facebook page. Select Your Followers from the top to check the demographics of people who have already liked your page.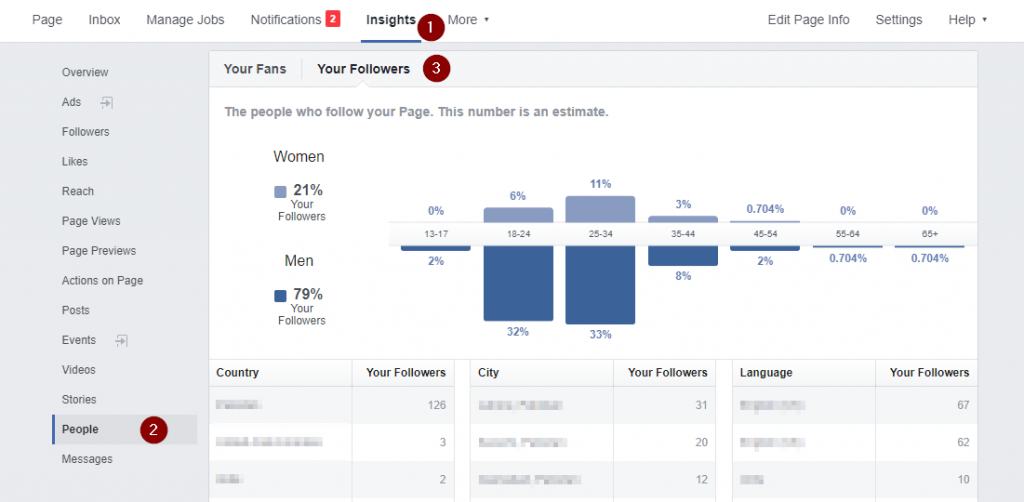 As you can see 79% of followers are men and 65% are between 18-34. This is the group you should target. It won't be a great idea to target females for your boost post.
These insights will give you a great idea of your target audience and people who are most likely to like your page (and engage with your post).
Generally, it is a great idea to keep your audience narrow. You should use layered targeting which refers to using multiple combinations of demographics, interests, and behaviors. For instance, you can target men living in California, who are between 18-24, are interested in luxury cars, have income above $50K per month, and are single.
To give you an idea of how granular Facebook targeting could be, a marketer targeted his roommate with extremely targeted Facebook ads. The guy thought he was being cyberstalked.
With this type of laser targeting, you can kill it with your boost post when done right.