Keep reading to know more about how Gen-Z reshapes influencer marketing in COVID-19 pandemic.
A Changing Landscape
A More Consumer-centric World 
This consumer leverage is essential because it marks a shift in the power dynamic. Before the advent of the digital age, marketing and advertising were predominantly a top-down industry. However, because of the rise of social media, it has become a dialogue.
More so, customers are now the ones who are directing the conversations as evidenced by the examples above. Brands, if they want to thrive in the post-Covid world, must meet them where they are.
Empathetic Advertising 
In the current climate, listening to consumers is incredibly essential. And what they are saying is clear.
A report by Kantar shows that 74% of consumers feel that brands should not exploit the current state of the world and engage in self-promotion or push a product. Instead what consumers are looking for is empathy.
Empathetic advertising is a kind of advertising that takes into consideration the context and circumstances of consumers. Nike is a great example of this.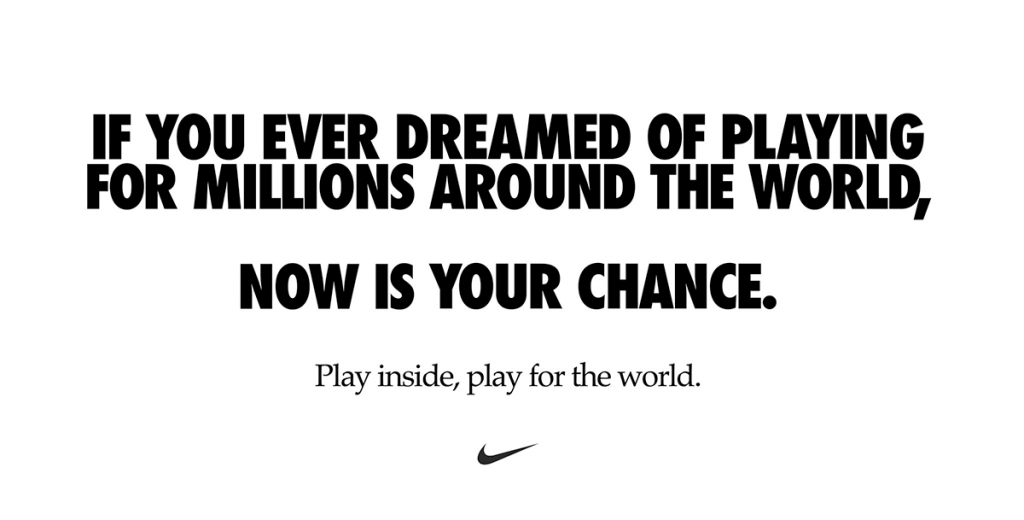 Here is an instant of Nike's play for the world campaign
Their advertisements during the beginnings of the COVID-19 pandemic eschewed product placement to pay attention to a message of solidarity and social responsibility.
Moreover, the mantra of "Play Inside, Play for the World." not only emphasizes the shared circumstances of the greater collective but also perfectly incorporates the message of empowerment that has historically defined the company.
The Migration of Brand Experience 
In this consumer-centric landscape, customers find themselves with more control over when, where, and how they experience a brand.
Always online, today's digital natives are pros at switching through apps and feeds on the fly, parsing through a lot of information in a small amount of time to find the message that resonates most.
And that message is increasingly personalized.
Personalized Interactions
According to a study by Epsilon, 8% of consumers are more likely to buy a product or service that provides personalized experiences.
But just what constitutes a personalized experience?
Personalized interactions can run the gamut, from music or product recommendations to interactive user experiences that allow consumers to tailor how they shop or view a particular website.
Furthermore, brands can leverage the data collected to enhance the consumer's experience over time, saving preferences, past purchases, etc to achieve a deeper level of personalization.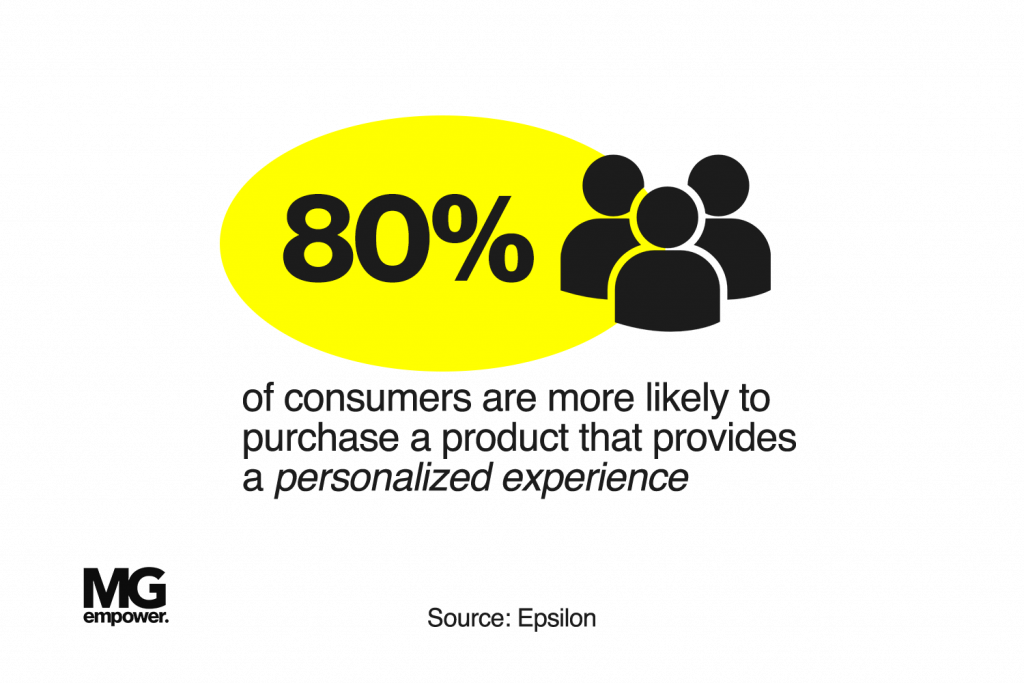 The rise in overall online time and lack of in-person options has meant that, during the COVID-19 pandemic, digital experiences have had to become more robust. During this pandemic, Live streaming has emerged at the forefront of experiential content.
Back in may Stream Elements reported that live streaming increased by 45% over the course of a month. From the previous year, the industry showed 99% growth.
And while that growth wasn't evenly distributed, with Twitch seeing the huge growth, it does help paint a picture of how the pandemic has changed the ways in which consumers interact.
Both with content and each other.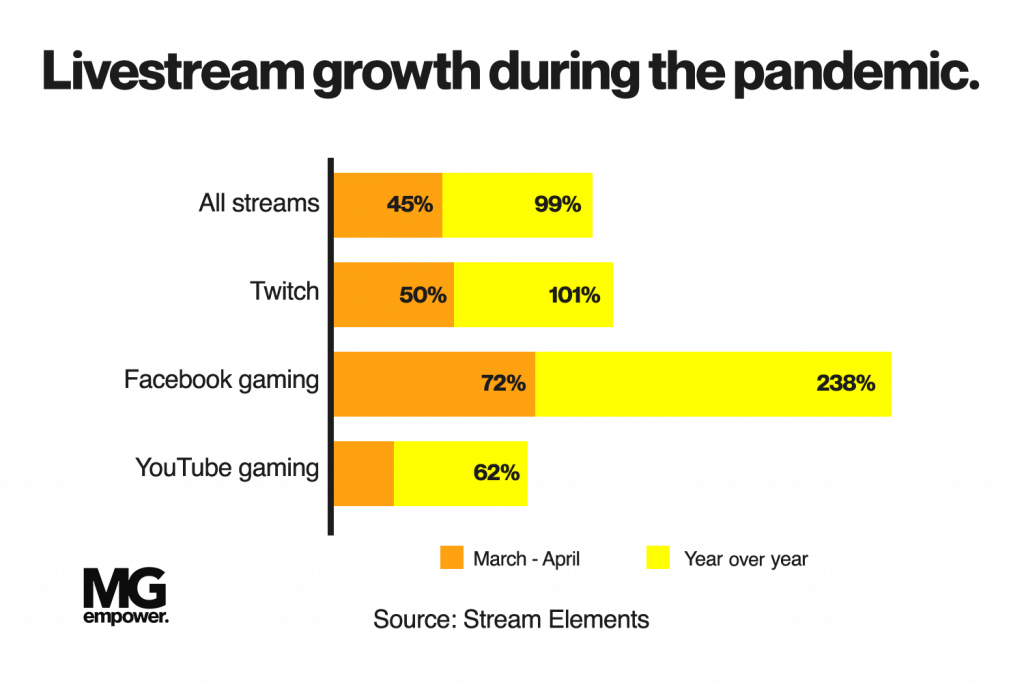 More Diverse Experiential Content
At the same time that we have seen power migrate from brands to customers, we have seen the physical sides of our lives migrate online.
Experiential content is content that, beyond providing a relatable message, provides an experience to customers that surpasses what we've come to expect from our digital spaces.
Diverse experiences such as live stream shopping, where users tune in from anywhere in the world to shop products while seeing them modeled and asking questions of the host, fall under this banner.
So to do extensions of existing services, for example, Netflix's "party" feature.
The Power of Shared Experience
One Size Does Not Fit All 
The post-Covid world is one of shifting values and two-way conversations. It's a place where demographics are beginning to be superseded by collective behaviors.
Going forward, brands should get that these values can be different as much between members of the same generation as they can between generations.
In short one size does not fit all
The Rise of Value-Based Communities
Value-based communities are groups of consumers who eschew categorization in traditional demographics such as age location and gender and are instead united by shared values and behaviors.
These values can easily cross generations. For example, teachers and gamers are two groups where demographics can vary wildly but behavior and values are more consistent.
More importantly, rather than being bonded by factors outside of their control, members of the Value-based community's connections are more personal because they revolve around choice and shared experience.
Going Forward
Going forward, the brands and influencers that will do well in the new normal will be those who can bring something relatable to the shared experiences and values that drive these communities.
But what does this look like in action? Well, for starters, brands should be looking to put a better emphasis on storytelling rather than product placement. And the stories that they tell need to relate in some way to the values held by the community they are targeting.
Creating a better online experience is also crucial. It's more than just an easy case of meeting customers where they are at. However, taking into consideration the circumstances many consumers are dealing with through the pandemic.
Lastly, brands need to be looking to not only reflect the values of their target audience but to empower those values through actionable items. Brands that offer discounts or buybacks to support sustainability or who donate to social causes give their customers the opportunity to make a difference while taking a stance.
This kind of empowerment turns customers from passive recipients of a brand's message, into an active part of the process, turning influence into a dialogue. And it is this kind of empowerment that will define the industry in the years to come.