Keep reading to know more Instagram trends to follow in 2020.
4. Instagram Shops set brands up to cash in on conversions
Instagram Shops promise to make it easier for brands to make money, too. Shops let businesses create a storefront directly in the app, so people can buy without the need to visit a website. By eliminating this friction, brands should be able to drive significantly higher conversions and sales.
In May, Instagram and Facebook launched a phased rollout to businesses globally. The plan is for the shopping experience to eventually be integrated across all of Facebook's apps. Once complete, it will mean that when someone puts something in their cart on Facebook, they can check out later on Instagram using stored credit card info or Facebook Pay (which will likely be integrated, too).
Source: Facebook
To improve discoverability, Instagram will soon have a dedicated Shopping tab, like the Explore tab, which already features a shopping section. Accounts with shops have a View Shop button on their profiles, as well as a shop tab. Businesses can customize how collections appear, connect loyalty programs, and benefit from the platform's built-in AI to create personalized experiences.
There are now more ways to spend money in Stories, too. In addition to product tags, companies can share gift card, food order and donation Stickers.
Set up Instagram Shopping so you can sell your products.
5. Shopping and advertising get AI-powered upgrades
More people shopping across Instagram and Facebook means more data. And more data brings the company closer to its vision of "making anything shoppable while personalizing to individual taste."
To make anything shoppable, the Facebook engineers have developed an A.I called GrokNet that can automatically tag the products in a business's catalog in seconds. The A.I., which is already used on Facebook Marketplace, can scan photos, identify attributes such as colour and style, cross-reference with catalogs, and suggest descriptions. On the flip side, this data helps to deliver better search results and targeted ads to users.
Rotating View is another A.I. project that aims to enhance social shopping. The feature, which allows people to create 3D-like images, is currently being tested on Marketplace. Maybe it will crop up on Instagram, too.
Instagram may soon introduce ads that use augmented reality to let people "try on" beauty products or preview furniture in their homes. Facebook already offers an AR ad format, and Zuckerberg recently announced more developments are on the horizon.
Read our complete guide on how to advertise on Instagram.
6. Instagram Guides accompany the rise of "info-social"
Users often ask brands and influencers for recommendations, from "where should we eat in Marrakech?" to "how do you talk to your kids about climate change?". In the past, users can find the answers for these requests in the highlights or blog posts. Now you can directly create guides on Instagram.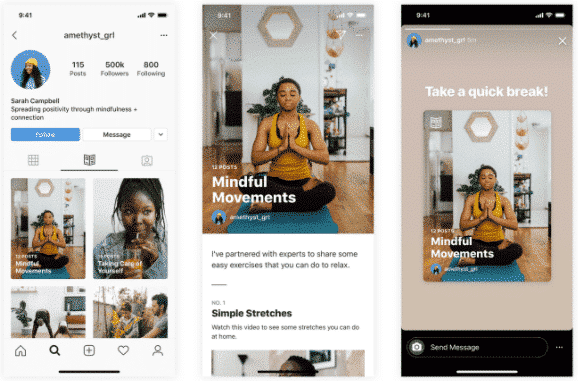 Source: Instagram
According to Instagram head Adam Mosseri, guides were initially developed for travel, but that idea was curtailed by the coronavirus outbreak. Instead, they launched under the theme of wellbeing, with more themes coming up. Instagram recently assembled a racial justice resource guide, too.
Guides have their own devoted tab on profiles, and users can share them to Stories or appear in the Explore tab. They can include curated posts and videos with added notes and tips.
There's a growing appetite for informative social content. On TikTok, educational videos are surging in popularity, especially in China, with a reported 14 million "knowledge-based" posts created last year. In the United States, career coaches, personal finance experts, and fitness experts are finding success on the app.
On Instagram, everything from "practice accounts" to doctor and nurse micro- and nano-influencers are popular, proving that engaged communities are much more valuable than high follower counts.
7. Values take center stage
Authenticity is a big buzzword in the influencer industry. But it's not just an influencer trend. Consumers increasingly demand authenticity from brands, too, especially in the form of transparency.
As brands and influencers use their platforms to take a stand, promote values, and support causes, transparency will be more necessary to retain authenticity. For example, sustainable beauty brand Elate Cosmetics goes into great detail to explain the eco-attributes of its products and practices.
Influencers will share more about their decision making in general, and be more upfront about why they partner with specific brands. To maintain trust, disclaimers and clear labelling between spon-con and regular posts will be necessary, particularly in Stories.
With social advocacy on the rise, Instagram has added several fundraising tools, including live fundraisers and donation stickers. The company is also reportedly testing the option to add fundraisers to profiles. Nonprofits already have access to account Donate buttons.
Instagram is also adding context to posts from high-reach accounts. In April, the company started piloting a feature that shows location and where followers are based on posts from these accounts.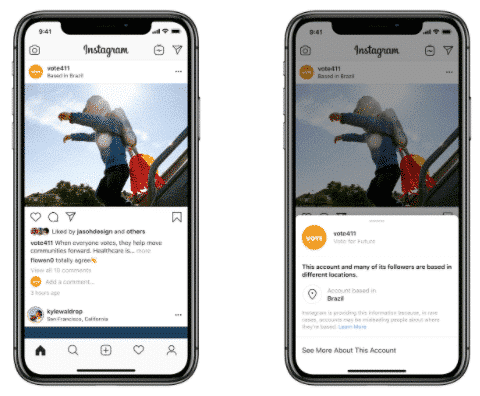 Source: Facebook
8. TikTok, Twitter, and Giphy invade Instagram
The days when Instagram was only a place for beautiful images with filters are long gone. Instagram's feed now features everything from memes and Twitter takes to TikTok challenges, special effects, music, and more.
To keep up with competition from TikTok and Snapchat, Instagram's been on a feature-adding bonanza—especially in Stories. The recent acquisition of Giphy, which already sourced 25% of its traffic from Instagram, will add to a collection of interactive features that already includes stickers, filters, and other special effects.
Despite more content variety in the feed, the Instagram aesthetic still creeps in. As Arimeta Diop points on in Vanity Fair: "It's the end of the iPhone-Notes-App-Apology Era." Bold typefaces, templates, and hand-drawn sketches have proven more popular, thanks in part to Instagram's strong design community. Infographics and visual storytelling have taken off, too.
Most cross-platform sharing is up to the users, except when it comes to Facebook's family of apps. Further integration between Instagram, Facebook, WhatsApp, Messenger—on the front and back end—is looming. Beyond a fully integrated shopping experience, Facebook is developing an option for users to view and reply to Instagram Stories from Facebook.
Facebook is also planning to merge messaging across its apps by the end of this year. Once complete, Instagram users would be able to message friends on WhatsApp and Messenger, even if those friends don't have Instagram accounts. This level of integration would make the app family comparable with the WeChat, the super app that dominates in China.