Like most social media trends, Instagram trends develop quickly. And in 2020, change has been fast and furious, with a global pandemic, social uprising, and competitors, shaking things up.
Trends make the difference between looking out of touch or ahead of the curve. That doesn't mean you should throw your social media content calendar out the window. It means you should stay informed and stay flexible.
There's a lot to stay on top of at Instagram. From Instagram Story trends to Live Shopping, and Instagram Shops, we will go through the top biggest trends on the app in this article.
Top 8 Instagram trends in 2020
These are the top 8 trends on Instagram for you to follow right now.
1. Brands and influencers reckon with racial inequality
On June 2, Instagram feeds were checkered with black squares in support of Blackout Tuesday. The original concept, The Show Must Be Paused, was created by music executives Brianna Agyemang and Jamila Thomas, as a day for the industry to "take a beat for an honest, reflective, and productive conversation about what actions we need to collectively take to support the Black community."
But the black squares swiftly became symbols of performative allyship. The posts inadvertently drowned out the #BlackLivesMatter hashtag, a channel activists use to relay vital information. Many brands and influencers who participated were called out for virtue marketing or hypocrisy, spurring calls for transparency and action.
Designer Aurora James's #15PercentPledge initiative calls on big retailers to pledge %15 of shelf space to Black-owned businesses. Brands including Sephora, Rent the Runway, Cupcakes and Cashmere have since made the pledge. UOMA Beauty founder Sharon Chuter launched #PullUpOrShutUp to challenge brands to back their marketing with employee diversity statistics.
Instagram plans to reexamine how its policies, tools, and processes impact Black and other underrepresented communities on Instagram. The company will focus on addressing harassment, account verification, content distribution, and algorithmic bias.
Black creators and professionals have also been speaking out about tokenization, pay disparities, and being sidelined. Several celebs, public figures, and influencers have responded to this disparity by sharing Black influencers and businesses or hosting account takeovers. As a result, many Black creators have seen their followings double overnight.
The social momentum behind Black Lives Matter is stronger than ever. But as initiatives like #PullUpOrShutUp demonstrate, brands should know the difference between social trends and social movements. As eTalk CTV reporter Tyrone Rex Edwards said, "My trauma is not a trend."
Anti-racism, inclusive marketing, equal pay and opportunity are not trends. They're the new norm and the bare minimum of what consumers expect from brands going forward.
2. Instagram goes Live
Stay-at-home orders and event cancellations have helped propel Instagram Live viewership figures to new heights. Between February and March, the number of people tuning in for live broadcasts rose by 70%. More than 800 million people now watch live video across Instagram and Facebook every day.
Live lineups have been packed with star power. DJ D-Nice's #ClubQuarantine sets have featured shoutouts to Rihanna, Zuckerberg, and Joe Biden as the viewership count soared above 100,000. Former U.S. President Barack Obama and Justin Bieber were among the 50,000 viewers punctuating a live convo between NBA star Stephen Curry and Dr. Anthony Fauci with emoji.
As people look for ways to replace in-person activities, brands and creators have jumped on live, too. In fact, 80% of live broadcasters have fewer than 1,000 followers.
Instagram Live sessions include everything from cocktail and comedy hours to virtual protests, yoga classes, and drawing tutorials. Desktop functionality, added in April, has made tuning in a lot more practical.
Just like Instagram Stories, live videos tend to be more intimate and spontaneous than posts on the feed. Hosts can also respond to questions and comments in real-time, which is why Live videos tend to average six times more interactions on Facebook.
It's too soon to know what staying power Instagram Live may have in a post-COVID world. For now, Instagram is rolling out enhancements, such as the option to save videos to IGTV and run fundraisers. Live Shopping and Badges allow creators to monetize livestreams.
Instagram is also testing showing two-rows of Stories in the feed, with live videos up top.
Until in-person activities resume, expect to see more memes and innovation on the Instagram Live front.
3. Creators can now make money directly on Instagram
Since its inception in 2010, Instagram creators have mostly monetized their audiences through affiliate marketing and brand partnerships. New features introduced in May now allow creators to make money directly.
Instagram is now testing Badges with a small group of creators and businesses. During a live broadcast, viewers can spend 99 cents to $4.99 for heart badges to stand out in the comment stream and unlock features. During the test phase, creators will receive 100% of revenue earned from these badges.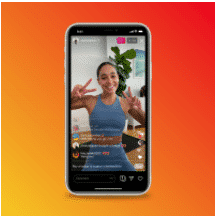 Source: Instagram
Tests for IGTV ads are underway as well. These ads can last up to 15 seconds and appear after someone clicks to watch the full IGTV video. On par with YouTube, 55% of ad revenue is shared with the creator. In addition to ads, Live Shopping tools now let creators and brands tag products during live videos.
Source: Instagram
These changes come as competition to retain creators heats up between platforms. They also cater to a cohort of "specialized" creators who monetize their audiences by offering valuable content, rather than featuring valuable products and experiences in their content. It's why many are shying away from the label influencer in favor of the term creator, or even ambassador.
Brand partnerships will still remain an important source of revenue, but they've already become a lot less transactional. Expect to see some fine-tuning in the Brand Collabs Manager from Instagram (and Facebook).