In case you have ever used Instagram, you definitely know that it does not have a lot of options when it comes to customizing fonts. Instagram Stories still offers some limited options, but the text in bio, comments, captions, etc. has the default font. Instagram doesn't offer options for customizing the font type to make it look more aesthetically pleasing, per your preference. Don't worry! All hope is not lost just yet. You can still use fun and interesting fonts on Instagram with our suggestion. In this post, we will help you learn how to customize Instagram fonts.
Free Instagram Font Generators:
1. Instagram Fonts Generator by Influencer Marketing Hub
This is an easy web-based font-generator tool that you can use to create Instagram-compatible fonts. All you need to do is go to the website. Then type in the box, and select what you want from the list of fonts that show up below the box.
Steps to Change Instagram Font
There are several steps involved in customizing fonts for Instagram Stories and everything else on Instagram. Therefore, we will discuss both of these separately. Keep reading to find out how to customize fonts on Instagram.
For Instagram Stories
Instagram provides users with five different font options for Instagram Stories. In case you type something on your story then it will first appear in the default "Typewriter" font. You can change this by clicking on the text first and then choose the name of the font at the top center of the screen.
As you click on the name of the current font, you will see the next font option. Check the image below to explore the five font options.

However, these choices here are limited so there's really not much that you can do about it. You can always take a photo and add text to it and upload directly on Stories. However, in case you want to type the text via Instagram Stories interface then there are only five fonts to choose from.
So, in case you want to use other fonts for your Stories, you will have to create an image and add text to it separately. This can be done using any photo editing app such as Canva. You can add a background image, text, emojis, filters, and a lot more using those apps. Overall, you can create engaging Instagram Stories on these apps and upload them directly on the Instagram app.
A different way to customize fonts for Instagram Stories is to use an Instagram Story template. These templates have preset backgrounds, fonts, and design elements. The only one thing you need to do is to add your content to it. This is a better choice for beginners than using a photo-editing app because all of the work is already done for you.
If you don't have any design experience, you can use templates or you can a photo-editing app to create the design yourself. These are the two best options to customize your Instagram Story fonts.
For Bio, Captions, and Comments
For any other text on Instagram, these customization options are not available. Whether it is your Instagram bio or the text in comments and captions, there are no options available
However, you can change the font by writing in a different format on an app or web-based font generator and then copy-pasting the text to Instagram. There are many Instagram-compatible font generating apps and tools available for free.
You can use any of these to write every text you want to post on Instagram. After writing, you can select a font from a tons of options provided by that particular tool. Once you finish customizing your text, you simply need to copy and paste it wherever you want on Instagram.
In case you want to change the font of your Instagram bio and name, you can do it by clicking on the "edit profile" option. You will see a list of options like name, email, and bio and boxes next to these. You can paste the text in your chosen font in these boxes, check this photo below: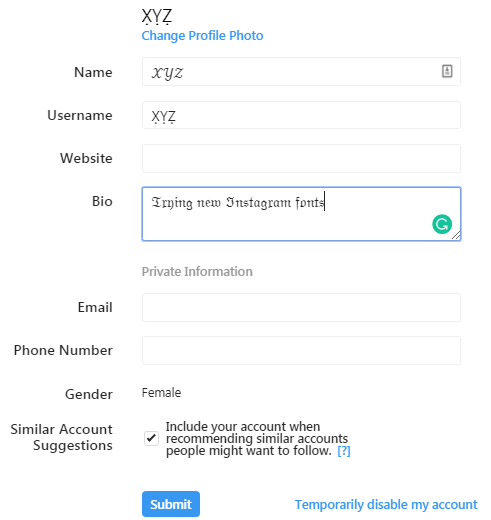 Fonts for Instagram is a mobile app. This is a useful tool for making Instagram bios and captions using different types of fonts. You can also add text decorations and emojis using this tool. It is an all-in-one tool to create interesting Instagram bios, captions, and comments.
Let's check some of the options that you can choose from, using this app. And, as it is a mobile app, it comes in quite handy when you want to customize font for your Instagram.